DomainSponsor made sure the attendees first evening in Seattle was one to remember by hosting a Casino Night party that drew rave reviews from everyone. You never get a second chance to make a good first impression and Roundtable hit all of the right notes on their opening day.
A member at DNForum.com who uses the handle NameYourself, made the trip to Seattle and had this to say, "the first day was awesome! This has been my very first conference and I've been impressed with what I've learned, but more importantly, meeting with the other people here. I think networking is the key reason to be at these events. In the first day I've met with DomainSponsor, Moniker, SEOs, other domainers and even got to eat dinner with the CEO of Sedo.com (Matthew Bentley). I don't think it's possible to place a price on this type of thing. To those who do this full time and wish to expand, learn more and develop relationships with others in the business, it is well worth the traveling and other associated costs. It has only been one day and I can't wait for tomorrow!"
The big event on the Day 2 schedule Thursday (May 26) was the CEO Roundtable featuring eight of the industry's best-known executives. Attendees packed the room to hear their presentation and pepper the company leaders with questions.

Above - CEO Roundtable Panel featuring (left to right): Peter Forman (Register.com), Clint Page (Dotster), surprise guest Dr. Bruce Tonkin (Melbourne IT), Jonathon Nevett (Network Solutions), Bob Parsons (GoDaddy), Paul Stahura (eNOM), Eric Harrington (Moniker) and Rob Hall (Pool.com & NameScout.com)
Howard Hoffman was among those listening in at the CEO session. He told us "much of the focus was on the current and future role of registrars in serving their clients. The registrars with the strongest client base among corporate America, Network Solutions and Register.com, stressed issues like the need for companies to make sure they know who is on the Whois record for their domains."
Hoffman added "GoDaddy CEO Bob Parsons forcefully spoke of the challenges facing the domain industry and the Internet industry as a whole, including phishing, pharming, spam and registrars created only for the purpose of acquiring seats at the domain drop table. Parsons also spoke optimistically of the Internet's future, and backed up his optimism with facts and figures."
Another point Hoffman took away from the session was that "it was pretty much agreed by all that the domain aftermarket is the domain market, much the same as it is in housing or other real estate. There are many more transactions of note in the aftermarket than there are in new registrations, in spite of the fact that net new registrations has become so strong in the past year," Hoffman noted.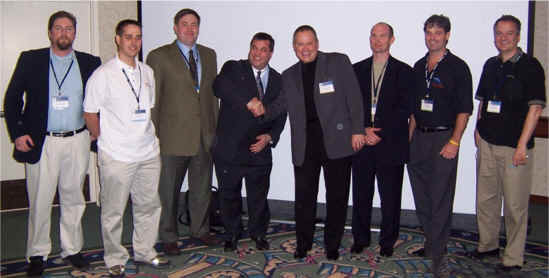 Above - Photo taken just after the CEO Roundtable discussion showing (left to right): Jothan Frakes and Jay Westerdal of Name Intelligence, Rob Hall (Pool.com), Peter Forman (Register.com), Bob Parsons (GoDaddy!), Clint Page (Dotster), Eric Harrington (Moniker), and Paul Stahura (eNOM).
Thursday's schedule included a popular session on the WhoIs - Past, Present and Future featuring Mark Jeftovic of EasyDNS, Christine Jones of GoDaddy, Joseph Loomis of NetEnforcers, Alan Murphy of Spamhaus, Jonathon Nevett of Network Solutions, Dr. Bruce Tonkin from Melbourne IT and Jay Westerdal from Name Intelligence. Scott Donahey, a WIPO panelist, also presented on the Registrar Transfer Dispute Resolution Policy. Chris Sheridan from VeriSign talked to registrars about the upcoming EPP transition in .COM and .NET and Ray Fassett from Employ Media and Stewart Lawley of ICM registry held a special session to talk and answer questions on the future of .jobs and .xxx.
Hoffman thought a lot of good points were raised in the .xxx discussion in which Mr. Lawley said "since there is no official organization representing the adult internet industry, membership in some key online adult communities will be considered to be one indication of whether or not prospective domain owners qualify to purchase .xxx domains. There will be a set of premium generic word domains - just a hundred or two of the most obvious ones - set aside that will not be available in the trademark sunrise period. Before that period, there will be a personal certification period where one can establish that one really is or really intends to be in the adult space." Hoffman said the Powerpoint presentation Lawley showed in Seattle was the one that was actually used to try to convince ICANN of the desirability of launching of the proposed .xxx registry.

Hoffman added, "one of the most interesting points was what the registry will do with the xxx keyword domains that will be reserved initially. The plan is for those to be handed out to enterprising adult industry individuals who prepare written proposals indicating how they will market not only their own websites, but also the .xxx brand, for the benefit of .xxx in general. The obviously valuable keyword domains will not necessarily go to the highest bidder, although the proposals will need to include offers of funds, which will be used by .xxx as a part of its own brand marketing."
After a mid-morning coffee break there was a panel on dropping names that included Chris Ambler of eNOM (the man behind Club Drop), SnapNames founder and former CEO Ray King, Taryn Naidu from Pool.com, Derek Newman from Newman & Newman, Mike Davidson and Jay Westerdal from Name Intelligence. Tina Dam from ICANN spoke on multilingual or internationalized domain names (IDN) and Tempy Evans from VeriSign gave a presentation to a packed audience of corporate domain portfolio managers about domain administration basics.
Attendee Ron James of NamePros.com especially enjoyed the session on dropping domains. "There was an interesting debate about how registrars and drop catching services are evolving around the new drop process and what rights the original registrant should have once a name goes past its expiration date. It appears that more registrars will be sending expired names to auction for resale before they enter the actual drop process. Network Solutions already does this now through Snapname's "Transfer Fulfillment" service," James said.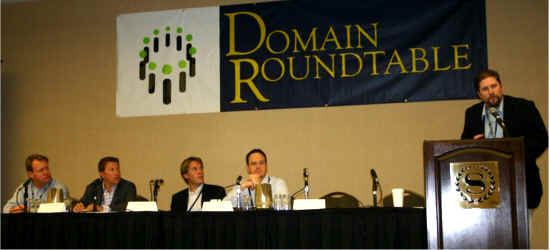 Above - Panel on New TLD's and Your Portfolio Value featuring (left to right) Stuart Lawley (ICM Registry - .xxx), Dan Schindler (CentralNic), Tim Schumacher (Sedo), Brian Taff (BuyDomains) and moderator/panelist Jothan Frakes.
In another Thursday seminar new TLD's (top-level domains) and ccTLD's (country code TLD's) were discussed as to whether their introduction would dilute the value of .com or other portfolio names that a domainer or corporate client might have.
That was followed by an excellent panel on legal and business issues. Samantha Frida (Name.com), Rob Garner (Agency.com), Doug Isenberg (GigaLaw), Christine Jones, Devon Ryning (Miller Nash) and Karla Valente (Verisign) covered an array of topics on the current issues facing the domain industry. Multiple sessions were going on simultaneously throughout the Roundtable event and at the same time Jessi Clark from VeriSign gave a presentation on market trends, registration and renewals. Attendees who had to pick which sessions to choose from those running concurrently will be able to catch up on the ones they missed when Name Intelligence releases recordings of the week's sessions.