(Editor's Note: The .fr extension (the official country code for France) recently begun a deregulation process. The formerly tightly-restricted TLD belongs to a country of 11 million Internet users and represents one of the world's largest economies. The first stage of deregulation extended registration rights to any French-registered organization (previously one needed to demonstrate Trademark rights before being able to register a domain); the second will open registration to anyone with a French address (like Germany's .de, foreigners will likely be able to register .fr domains through a proxy program).

To tell you how the liberalization of .fr will impact the French domain market and what new opportunities might result, Francois Josse, the Country Manager for Sedo France teamed up with Meredith Croyle, a senior broker on Sedo.com's English team, to produce a new article on France for our ongoing "Domains Around the World" series.
)
Introduction
While the .fr registration liberalization is great news for French companies and residents wanting to register their ccTLD, the main questions for the secondary market are (1) will a .fr market develop? and (2) will this liberalization encourage awareness of the secondary market in France in general? The answer seems to be buy and park now, sell later, and we'll have to wait and see.
Overall Structure
The .fr ccTLD (including .tm.fr, .asso.fr, .nom.fr, .com.fr, .prd.fr, and .presse.fr ) is operated by French Network Information Centre (AFNIC), a non-profit association, governed by French law. Registration of .fr domains has been highly regulated with AFNIC's aim being to maintain "the Internet with confidence". In line with this policy, AFNIC has placed heavy regulations on .fr domain ownership, which reflects their aims to keep the .fr ccTLD French-specific and maintain valid ownership identification records.
While these two aims are certainly admirable, the heavy regulations have resulted in a virtually non-existent .fr market, with regard to registration as well as buying and selling. In response to internal demand for more liberal .fr regulation policies, along with ccTLD success in a number of other European countries, AFNIC has decided to liberalize .fr registration. This liberalization will take place in 2 phases. The first phase went into effect in May 2004, and involved the opening up of .fr registration to any registered French organization. The second phase will open up .fr registration to all French residents.
A Brief History
In the past, .fr domains could only be registered by entities located in France. Furthermore, companies were limited to registering domains reflecting a company's official, legally documented name and/or trademarked term(s). In addition, AFNIC strongly discouraged the buying and selling of domains. Their aim was a .fr TLD only applicable to French companies with legitimate, legal claims to a domain. The resulting stunted growth of the .fr market might also have been a factor influencing generally negative perceptions by the French public of a for-profit domain market. On the other hand, AFNIC's strict regulations could be a result of that perception- a classic chicken and egg scenario. Either way, we are left with two main characteristics of the secondary market in France: (1) there is currently little movement within the .fr market and (2) low awareness of the secondary market among the general population.
French Market Share
Currently French domain owners tend to favor gTLDs over their own ccTLD as a direct result of AFNIC'S heavy regulation of .fr registration and transfer. Consequently, with little movement in the secondary market in general and even less in the .fr market itself, France markedly lags behind other ccTLD secondary markets such as .co.uk and .de. Historically, .fr registration has been about 2.5% the size of .de registration and 3.9% the size of .uk registration (source: zooknic.com).

With .fr liberalization, more companies and individuals will be able to register .fr domains, so these numbers stand to change in the near future. Considering that France has one of the highest percentages of Internet users in Europe, the comparatively low number of .fr registrations suggests a ccTLD market just waiting to take off.
Figure 1: Growth in the number of .fr domains registered - Note the sharp increase following liberalization.
Source: http://www.afnic.fr/actu/stats/evolution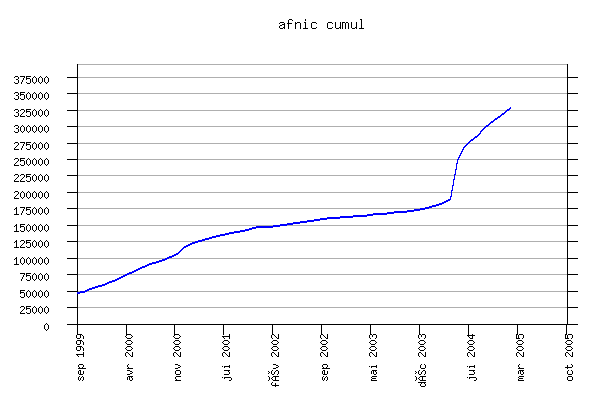 Secondary Market
However, it could be quite a while until these numbers really take off and translate into the development of a secondary .fr market. Lets consider a sample timeline: .uk domains were first used in the 80's followed by the creation of Nominet to oversee .uk registrations in 1996. Considering that the .uk market has been liberalized since its inception and is just now really taking off, those looking to buy and sell domain names would do well to register now and sell later. Most significantly, Nominet never discouraged buying and selling of .uk domains, while AFNIC will basically not approve a transfer if money is known to be changing hands. There is no indication that AFNIC will be changing this policy of discouraging a secondary .fr market.
The Future and .fr Parking
As the secondary .fr market could take some time to get going, parking .fr domains is a great intermediary option. Since the 1st phase of .fr liberalization was put into effect, the number of .fr domains parked with Sedo has grown by over 150%, with revenue growth up 300%! Once the 2nd phase of .fr liberalization is implemented and .fr domains begin to be registered in greater numbers, parking could be the perfect solution for those waiting to develop their .fr domains as well as those waiting for the .fr market to develop further. Sedo's parking program combines geo-targeted language-specific landing pages with a rapidly growing number of French advertisers to make sure that each visitor sees relevant ads in his own language. Even if your familiarity with the French language is limited to bad memories from high school French class, Sedo's optimisation technology will automatically select the right keyword as long as you've put the domain in the correct catalogue category on our website.
Sedo is working hard to expand awareness of the secondary market among potential French domain buyers and sellers. Along with the .fr liberalization, we will continue working to raise awareness of the opportunities in the .fr market as it grows and develops. Already, our .fr parking program has shown incredibly strong growth, and we plan to see that growth continue. Moreover, .fr domain sales overseen by Sedo have increased dramatically as well. The past six months have seen over 20 .fr sales, a huge leap forward considering that the entire 18 months prior saw only three .fr transactions. Despite this growth, the number of .fr sales still trails French-language .com sales, and 20 .fr sales pales compared to 116 .co.uk sales and a whopping 1,330 .de sales during this same six-month period.
On the positive side, the fact that the .fr secondary market is in an early stage means that it is a great time to get good deals on purchasing .fr domains. In our chart showing a selection of recent .fr sales, we see that in the .fr extension even very valuable commercial terms such as "cigarettes", "Alps", "market", "condom", and "pearls" have been selling for low four-figure and even three-figure amounts. In the .de or .co.uk TLD, these same terms would most likely sell for amounts well in to the five-figures. For example, party.co.uk sold at the same time as party.fr for 15,000 GBP. (The French word for "party" is fête, but many French recognize the word "party" as well.) Compare 1,100 EUR for Hostels.fr to the $4 million paid for Hostels.com (including the developed website and business) back in 2003. (Again, it should be noted that the French word for "hostel" is auberge de jeunesse, so language of the term was naturally also a factor.)

FIGURE 2: Recent High Profile .FR Sales

DOMAIN

PRICE

DATE

Meningite.fr ("meningitis")

$16,047

12/04

Cigarettes.fr

€ 400

9/04

Alpes.fr ("Alps")

€ 4,000

2/05

Marche.fr ("market")

€ 1,600

10/04

Hostels.fr

€ 1,100

12/04

Preservatif.fr ("condom")

€ 580

9/04

Party.fr

€ 800

8/04

Perles.fr ("pearls")

€ 400

9/04

Source: Sedo.fr Recent Sales Data
Conclusion
With the .fr mar
k
et opening up, opportunities for quality new registrations will be numerous, while opportunities to sell might be a longer time coming. Again, this is a result of low secondary market awareness in France and that market's discouragement by AFNIC itself. So the moral of this story may be register/ buy and park now, sell later.


---

Our thanks to Francois Josse and Meredith Croyle for their work in producing this article. If you would like to comment, write editor@dnjournal.com.
Return to Domain Name Journal Home Page

Copyright 2005 - DNJournal.com