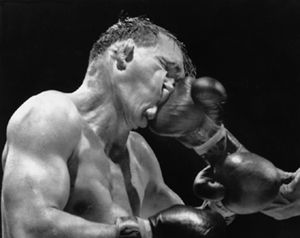 ICANN welcoming another domain registrant to the Internet? No, but this is what it is starting to feel like.
You can't blame domain registrants for feeling a little punch drunk as a seemingly never-ending battle with ICANN over huge (and possibly unlimited) price hikes in proposed new registry contracts continues to rage on. The organization charged by the U.S. Department of Commerce with oversight of the domain name system threw the first blow by negotiating (if you can call it that) remarkably one-sided contract renewals with the .org, .info and .biz registries. Those deals left the door wide open for those registries to charge people who register or renew domain names any price they felt like charging them, including different prices for different domain names (variable pricing).
Fortunately, before the ICANN Board could get those contracts approved, a Canadian domain owner, George Kirikos, who has kept an eye on ICANN matters for years, spotted the flaws in the proposed agreements and sounded the alarm.
The result was an enormous uproar from the Internet community and virtually unanimous condemnation of the agreements during the public comment period when people were able to post their opinions on the ICANN board. That forced ICANN to revisit the issue, but now they are back, just a few weeks later, with "revised" contract proposals that are still fraught with danger for everyone who owns a domain name or has a website that depends on one.
Another extremely brief public comment period was opened, one that few people even know about, and unless you make your voice heard by the end of the day Tuesday, November 21, it is possible that the train will leave the station with a sizeable chunk of your financial future on board. That's because ICANN will be considering approving those contracts in a meeting they have scheduled Wednesday (Nov. 22), coincidentally (?) the day before one of America's biggest holidays (Thanksgiving) when many people will be preoccupied with other things.
| | |
| --- | --- |
| The matter is on the agenda even though virtually all interested parties both inside ICANN (their various constituencies) and out, do not want this issue decided prematurely, and certainly not before the upcoming ICANN meeting in Sao Paolo, Brazil in two weeks. Why the big rush? It could be because the ICANN board is expected to lose several pro-registry members at that meeting and wants to ram these lopsided agreements through while they still can. | |

Some have let their guard down because ICANN had said they would postpone action on the contracts while an "independent" study into the underlying issues was conducted. For some reason, they apparently decided not to wait for the results of that study. In addition, many registrants heard that the revised contracts would limit the registries to a 10% price increase in any given year and thought that they could at least survive that extra burden. At a time when costs of providing registry services is falling, double digit increases are unconscionable enough, but what many people don't realize is that the threat of variable pricing, which could take away everything domain and website owners have worked for over the years, has not been eliminated in the revised contracts.

Phil Corwin, Legal Counsel
Internet Commerce Association

Phil Corwin, the Washington, D.C. based legal counsel for the new Internet Commerce Association (a trade group organized to help protect domain registrant rights), spelled it out for us. "Differential pricing under agreements that allow for unlimited price increases has greater potential for harm than differential pricing under agreements that allow for ten percent annual increases - but that 10% annual increase, even if targeted solely at domain names with greater market value/traffic, still has the potential to result in a near-doubling of registration fees over the six year term of the agreements."

"Until the agreements are revised to explicitly prohibit differential pricing - that is, to require that the same registration/renewal fee be charged to all domain names (which it should, because the basic service rendered to each domain by the registry is identical), something that is quite absent from these proposed agreements - I think one has to conclude that differential pricing is still permitted."

Corwin added, "My take is that the ten percent limitation is a trojan horse designed to look reasonable and get price increase permissibility built into the agreements...I'm concerned their handpicked expert will conclude that price restraints should be eliminated because there's sufficient inter-registry competition, and at that point the ten percent limitation could be dropped and unlimited price increases reinstated with no obligation to put out for comment or approve revised agreements. That's why our letter to ICANN says that the economic study should precede approval, not follow it."
So with the clock ticking down, what can you do? You need to post your comments immediately by clicking the comment link at the bottom of this page on the ICANN website. The page also has links to both the original contracts and the slightly revised ones that we believe continue to be a grave threat to domain registrants. It has been pointed out before, but if you are primarily a .com owner, who thinks you don't have a dog in this fight, there is little doubt that if ICANN is allowed to give the store away to the .org, .info and .biz registries, the .com registry will demand the same provisions in their next contract.

We firmly believe that if the ICANN board shoves these contracts through in the manner they are currently attempting to do (in violation of their own bylaws for ground up consensus), nobody will win except a handful of registries. Registrants will obviously lose big, but so will ICANN, an organization that can ill afford the permanent loss of trust and credibility that would be the inevitable byproduct of such an overtly anti-consumer power play here.

The organization has already been told by a U.S. Congressional committee that it needed to improve transparency and accountability in its operations. Rushing to approve these flawed contracts would confirm once and for all that ICANN has no intention of acting on that advice.

With other agencies around the globe interested in wrestling control away from ICANN this may not the best time for their image to take a beating.
Tidbits
Several other interesting news items have popped up in the past few days but as of this writing I don't have enough information to go into depth on them. I should be able to do that, either on our site or in the next newsletter, after I get some more background on these developments.

Among them are DomainSponsor's announcement that they will hold a globally-oriented DomainFest in Hollywood, California Jan. 31 - Feb. 3. That will apparently put another player on the major domain conference stage alongside the highly successful T.R.A.F.F.I.C. and Domain Roundtable conferences. As of this writing, details on the show's agenda have not been released. T.R.A.F.F.I.C. has already announced 2007 shows in Las Vegas in March, New York City in June (location and exact dates still being finalized) and Hollywood, Florida in October. We understand Roundtable intends to return for a third outing sometime next spring, but details have not been released yet.



Roger Collins
President, Afternic.com

One of the largest domain aftermarket sales venues, Afternic.com, announced they would no longer list adult and gambling domains, mirroring a move that other sales sites like BuyDomains.com have made. However, Afternic went a giant step further when President Roger Collins said they would also eliminate domains related to hate and self-destructive behavior in an effort to "make the site more comfortable for mainstream domain name shoppers, especially small business owners."

The move has sparked a considerable amount of debate and speculation, but so far the company has had no comment beyond its original statement. We have sent them a few questions to get more background on their decision and will pass any response we get along to you.



In another startling bit of news, an internal Yahoo! memo that leaked out over the weekend paints a pretty grim picture for employees at the #2 search engine (behind Google). The memo, written by Yahoo senior Vice President Brad Garlinghouse said the company needs a dramatic organizational shake-up and cuts in its workforce of up to 20%. Garlinghouse added that Yahoo! must consolidate its overlapping business units and establish a clear chain of command to improve its performance. The company reported a 38% drop in third-quarter profit last month as sales growth fell to the lowest in four years. Many people in the domain business have personal friends and acquaintances at Yahoo! and will be nervously waiting to see how deep any cuts might go.



---


That's it for this month.

We wish all of our
American readers a very

Happy Thanksgiving!

...and to everyone around the globe a joyous holiday season as we head into that most wonderful time of the the year!