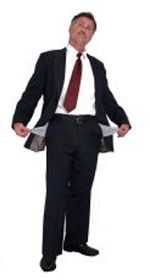 There is no doubt about the news that is most important this month. ICANN is considering incredibly ill-advised new contracts for the .org, .info and .biz registries that would allow them, for the first time, to charge any price they wanted for domain registrations and renewals, including different prices for different domains. In effect, if these contracts are approved, the registries can become your business partner, or shut you down, whenever they choose, by simply setting an exorbitant renewal fee for your domain.
In proposing these grossly one-sided contracts, ICANN is clearly violating their Agreement of Understanding with the U.S. Department of Commerce which states ICANN is to "support competition and consumer choice in the technical management of the DNS. This competition will lower costs, promote innovation, and enhance user choice and satisfaction." The obvious question is how is ICANN supporting competition, consumer choice and lowering costs when they propose to hand monopoly registries the power to charge anything they want? Especially when there are other capable companies out there who are more than willing to operate the registries at low fixed prices.
In a normal contract, a price is agreed on in exchange for services rendered. Who would enter a contract with someone that says you can charge us (or the people we are supposed to represent) anything you feel like charging us? Would any sane businessman sign a store lease that did not specify the monthly rent to be paid - instead leaving it up to the landlord to charge whatever the felt they could squeeze out of the business owner? Of course not. In our opinion, these proposals represent a complete abdication of ICANN's responsibilities to the Internet community.
Domain registrants are fortunate that this irresponsible giveaway is not already a fait accompli. George Kirikos, who has followed ICANN activities for several years, spotted the flaws in the proposed contracts and sounded the alarm just days before ICANN closed the door to public comment August 28. Despite extremely short notice, ICANN's public comment boards were flooded by protesters, including members of their own committees and constituencies. Condemnation of the proposed contracts was virtually unanimous with the exception of a couple of representatives from other registry operators who felt that leaving consumers open to potential rape was a wonderful idea.
The full ICANN board met Sept. 7 to consider public reaction to the proposals. No decision on the contracts was made and no minutes from the closed meeting have been released as of this writing. This is obviously a situation that every domain owner must keep their attention glued to, even if they have no interest in .org, .info or .biz domains. If ICANN chooses to ignore the outcry from the Internet community and approves these contracts, Verisign will undoubtedly be handed similar keys to the .com and .net stores when those contracts come up for renewal. No one will ever again be able to develop a domain with confidence that what they build won't be destroyed by price hikes from registry operators at some point down the line.
Before we continue, let's address a point of confusion, particularly among newcomers, about the difference between registries and registrars. A registry is the central organization that controls an entire TLD (for example PIR operates the central registry that controls all .org domains). The general public does not interact with the registries. Instead, you register your domains through registrars. They pay the central registry for each domain they register and any amount they charge you, above the fee the registry is entitled by contract to charge them, is their profit. So, if the registry is allowed to charge higher prices, every registrar is forced to pass along those price hikes, or go out of business.
| | |
| --- | --- |
| In addition to the threat to all current and future domain registrants, we believe these contracts also present a grave danger to the .org, .info and .biz registries themselves. How can that be, when they would have the power to pick the amount of revenue they wanted to extract from domain owners? It's really very simple. Who would develop a domain in one of those extensions knowing that the registry had the right to step in at any time and take away a domain by instituting an unbearable renewal fee? | |

Unfortunately, we would have no choice but to recommend that those extensions be completely avoided if these contracts are approved. Who wants to play Russian Roulette with the future of their business or non-profit organization?
That is not a position we want to be put in. We know executives at these registries and they are good people. The .info registry in particular has been great about keeping prices low, and even giving domains away. The .org registry, which provides the online home for hundreds of thousands of non-profit groups, is respected around the world. But what happens when today's executives move on and a new group comes in that might not be so honorable? That's why contracts exist and prices and obligations are clearly spelled out in them. Just saying "trust us" is not going to fly with domain registrants when their future is on the line.
This issue is so important that an online petition to the U.S. Congress has been started. We urge you, regardless of where you live around the world, to sign the petition at BadForBusiness.org. Americans can have added impact by going to Congress.org where you can enter your zip code in the box in the upper left corner to bring up direct email links to your Congressmen. This will allow you to quickly lodge protests with them, so they in turn can prevail upon the Department of Commerce (who oversees ICANN) to make sure these anti-completive, anti-business contracts are killed.
In the meantime, as hundreds of others have done, we call upon the full ICANN board to act first and and act responsibly by rejecting these fatally flawed agreements that should never have seen the light of day to begin with.

Will New Zip Code Network Energize .US?
| | |
| --- | --- |
| | Neustar, the .US registry, in partnership with Vendare Media, has quietly rolled out a local information network based on zip codes, that includes every single American zip code in the .US extension. Check any zip code, for example, the one for our Tampa, Florida office, 33625.us, and you will see what they have started doing. More local content is to be added to the sites and the registry expects the network to dramatically increase .US recognition. |
The registry had reserved all 5-number domains from the beginning, so they owned the complete set when the deal was struck with Vendare to handle the development. Marchex Inc. (who will be the subject of our September Cover Story, due out Monday, Sept. 11) has built a similar network with .com and .net domains but does not have the complete set of zip codes in one extension, so it will be interesting to see how the competition between the two networks plays out.
| | |
| --- | --- |
| Peter Christothoulou, the Chief Strategy Officer at Marchex, told us, "We have found that the majority of Internet users navigate the Web using .com or .net, and we feel fortunate to have acquired the majority of ZIPs in those areas." | |
"Additionally, the challenge of building out relevant Web sites, increasing Web site utility and promoting repeat usage at the ZIP Code level is in finding an efficient way to populate the pages with geo-specific content on a wide range of topics, such as hotels, restaurants and attractions," Christothoulou said. "Fortunately, Open List (Editor's Note: a content development company acquired by Marches this year) allows us to accomplish this type of integration and we are happy with the results we have seen to date on our ZIP Code Web sites. It will be interesting to watch what happens with this other effort and how they answer the challenge of creating deep, rich Web sites that benefit both consumers and advertisers."

DomainSponsor Invites Domain Owners to Meet in Los Angeles This Month
DomainSponsor.com is hosting a DomainFest in Los Angeles Wednesday, Sept. 20 through Friday, Sept. 22. The gathering at the Marina del Rey Marriott will give domainers on the West Coast a chance to get together in a convenient location to network, listen to speakers and enjoy some good times.

There is no cost to attend but space is limited. There will be no on-site registration so you need to go to the DomainFestLA.com website to fill out the required RSVP form. The show agenda will also be posted on the conference website. Afternic.com and the .Mobi registry are co-sponsoring the event.

Marriott - Marina del Rey
Los Angeles