To quench the thirst for connections and balanced information on the pros and cons of development, the upcoming conference will focus on that theme. Schwartz told us, "Development is something Howard and I believe domain owners need to check out every so often. I am of the school where timing is the single most important ingredient. In 1998 a site that may have cost you $750,000 to get up and running is now a $75 template and in many cases that $75 product is also better! That is just one tiny example."
| | |
| --- | --- |
| | "For domain owners that own many thousands of domains we all have a few where we have dreams of what it can be someday. Until then we park it at any one of the PPC companies and let the checks soothe the pain of having nothing developed. As time goes on, most of us will dabble heavier and heavier in development. Now that does not mean it will work or it will make more money. Development is certainly no guarantee. However, if you do hit pay dirt it can be extremely rewarding financially and its provides a great feeling of accomplishment." |
"It always seemed natural to me that a domain owner would hook up with a development company and work out a partnership agreement in an effort to take a $100 a day domain and develop it into a $100,000 a day business," Schwartz said. "10 years ago they laughed at such a silly idea. At T.R.A.F.F.I.C. West they will be embracing that idea and that has the potential to rearrange the chairs on the deck. I am working on such a deal right now with RumorMill.com that will be unveiled right at the show. I'm also working with other companies on a similar development situation," Schwartz said.
"Domain leasing looks like another area and opportunity coming our way in addition to various ways to structure joint ventures. 5 years ago there were only a handful of poor choices to monetize our traffic. In the next 5 years we will be flooded with new opportunities and payouts will rise dramatically."

"In the recent "Manifesto" I published and sent to all conference invitees, I go into depth about what I see coming and why I see it. That is the blueprint we will follow and that blueprint gets updated every single day. Some agree, some may disagree, but either way, it is what "I" see unfolding and just like the last 10 years, I like to be on record for what I see coming and I'll let future events grade how I do," Schwartz said.

Scene from last year's T.R.A.F.F.I.C.
West Conference in Las vegas
The T.R.A.F.F.I.C. conferences have also gained fame for hosting the live multi-million domain auctions produced by Moniker.com. Sales records are expected to fall again in Las Vegas as they have at every previous show. "The live auction is going to be another blockbuster of an event!" Schwartz said. "This will be the 4th Moniker/T.R.A.F.F.I.C. auction and we have had in excess of $10 million in domain sales. This particular auction can do as much as $10 million itself given the top quality names we have been getting and some of the bargain prices that the past auctions have provided."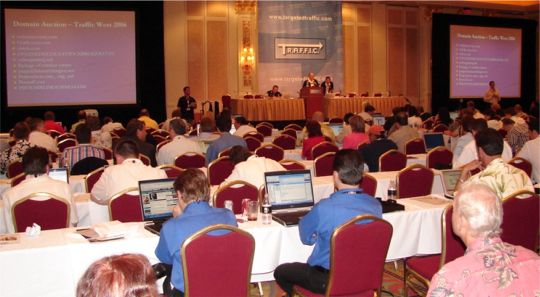 Scene from Moniker's live auction at T.R.A.F.F.I.C. West 2006
"Folks now come to the auction with a war chest and don't want to leave without at least one more gem in their collections. Each auction has garnered more interest and higher quality domain names. Moniker has been diligently working on improving and streamlining their system which will make it easier to participate, bid and see which domains garner the most interest."
The conference schedule is also packed with top notch speakers, seminars and special events. "We are happy to announce that online marketing legend John Reese will be our Keynoter on Tuesday night (March 6). John has been actively marketing online since 1990," Schwartz said. "John is most well-known for his "Million Dollar Day" when he did the unthinkable and produced over $1,000,000 in sales in less than 24 hours for a new product; and he did it without spending one penny on advertising! Reese is a master at performing online research and identifying new opportunities. He's also an avid tester and an expert at traffic generation and conversion. His web properties have generated over 1.5 billion visitors since their inception. Reese has owned over 35,000 .com domains and has been involved in the domain game since 1995."
"We also expect to have the GoDaddy girl giving out autographs at the show and TrafficZ.com, the new overall show sponsor, has the best party we have ever had planned for Tuesday night. It will be unlike anything that we have done in the past and a fun night that you will never forget. A chance to really unwind and share a different side of all of us," Schwartz said. "Bottom line, the show is going to be wall to wall with very important seminars, lots of food and the best networking in the business. There won't be a single moment that you won't be running!"

Schwartz said this show will lay the groundwork for the first New York City T.R.A.F.F.I.C. conference coming up June 19-22 at the Grand Hyatt in Manhattan. "There, we are going to shake things up to the core and I can tell you folks are going to take notice. After New York City, the face of the domain industry may change significantly," Schwartz predicted.

TrafficZ COO Ammar Kubba
His company will be the lead sponsor
for all 3 T.R.A.F.F.I.C. shows in 2007
T.R.A.F.F.I.C. continues to use a unique invitation only system for registration (anyone can request an invitation but approvals are usually reserved for industry professionals). "A guy that has 20 domains and has been in the business for 2 weeks is just not the guy we are aiming for," Schwartz said. "Let him be in the business a bit longer, understand domains a bit better and get a little history under his belt. I think the other shows are much more geared for these type folks than T.R.A.F.F.I.C. is. That said, I do believe we are likely to have a stampede of new folks coming into the domain business this year and for many years to come. We would rather produce a special T.R.A.F.F.I.C. for this group at some point than to water down what we have created and have the current attendees upset that we screwed up the chemistry that made T.R.A.F.F.I.C. what it is to begin with.

"

As the domain industry had grown by leaps and bounds more domain conferences, in addition to T.R.A.F.F.I.C., are starting to dot the calendar, both in the U.S. and abroad. As you might expect, Schwartz has some reservations about this. "We pay attention to the market and that dictates the direction we go. The others pay attention to us and then follow our path and our lead. So it's interesting that on one hand others want to take the lead and on the other, the map they use is by copying what we do, where we go and our successes," Schwartz said.
"Our job is to keep putting out a great and timely product. Others can copy a lot of things, but they can't copy the vision we have or our chemistry and formula so they will always be one or two steps behind. While they are generally one-dimensional and are looking to sell their product, T.R.A.F.F.I.C. has nothing to sell but the furtherance of the industry, development and investment in domains."

"By being the only event that is by invitation only, we keep the standards of the show very high and people know that everyone coming is qualified and serious. That may sound like a no-brainer, but with an open door policy you have no control over the quality of the attendee's portfolio, nor their professionalism. But hey, it's a free country and there is lots of opportunity. I hope they do well and represent the domain industry in the best light. I hope they bring new sectors in as T.R.A.F.F.I.C. has been doing," Schwartz said.

Rick Schwartz
T.R.A.F.F.I.C. Co-Founder
"One thing I do fear is that having so many shows in a relatively small emerging industry creates a danger of weakening the industry. The reason I say this is that we have had great momentum. Momentum, steam and direction like a hurricane. But just as we are about to strike the target, those upper wind current levels come and "shear" the hurricane and that weakens it. If it becomes splintered before we get strong enough, it can cause weakness."
Howard Neu
T.R.A.F.F.I.C. Co-Founder

"What we don't need are a bunch of look alike shows that could confuse the marketplace," Schwartz said. "What's the point of having sponsors and domain owners attend a dozen shows a year and shoulder all of the expenses that come with them? At some point they could all fizzle out. More may be better, but "more" may have some future and unpredictable costs that are not seen at first glance."

Schwartz added, "our main goal besides bringing us all together is to present the world with a thriving industry that should get noticed from Main Street to Wall Street to Madison Avenue and beyond. We have attendees that come from some 15 different countries and every corner of the world and they keep coming back. So we are doing something right and filling an important niche."

"As we move into the future, our dates for 2008 shows are in the works and we also expect to have our first international show in June 2008, if we can nail down the venue we are trying to get. So exciting things are coming your way and we will continue the march."
In conclusion, Schwartz said "T.R.A.F.F.I.C. is only as good as the folks that come. I have said that from day one and I will continue to say it. Howard and I may facilitate things, but it is the attendees, the domain owners and sponsors that make the show what it is. So a tip of the hat to YOU!"
The .ORG Registry is Seeking a New President and CEO
One of the best job openings to become available in the domain industry in some time is waiting to be filled by the Public Interest Registry (PIR), operators of the popular .ORG extension that has come to be synonymous with non-profit organizations. PIR, a not-for-profit organization with world headquarters in Reston , Virginia is seeking a new President and CEO.
| | |
| --- | --- |
| The organization was created by the Internet Society (ISOC) in 2002 to manage the .ORG top-level domain (TLD). Today, there are over 5.5 million .ORG domain names, representing primarily noncommercial organizations across a wide spectrum, and .ORG ranks as the third largest global TLD in the world (behind only .com and .net). | |
PIR delivers its services as a domain name registry through its partnership with Afilias, a global leader in advanced back office domain name registry services. As successful as PIR has been to date, the organization has the potential to play an even more significant role in the namespace and Internet communities.
According to PIR's job description, the new President and CEO will need to demonstrate exemplary leadership on the business side, in the namespace policy leadership space, and in finding ways that non-commercial organizations can be more effective and efficient through using the Internet. PIR's plans for the future are focused in several different areas, including increased public policy advocacy related to personal privacy and the internationalization of domain names, while constantly improving best practices related to registry operations.
PIR says "The President and CEO will need to be a passionate leader within the internet industry and will work diligently to articulate PIR's mission around the world. He/she will be an articulate and accomplished speaker, with collaborative leadership skills and adeptness at managing key relationships with all constituents, including ISOC, ICANN, and Afilias."

"The President and CEO will manage a team of six highly talented staff members, and will be based at PIR's global headquarters in Virginia . The role of CEO of PIR is a highly unusual position. Even as a not-for-profit organization, PIR has a successful business operation, while also serving to advocate for appropriate Internet and namespace policies. PIR has a small team but a sizable platform from which to support its constituencies and advocate for the public interest."
"Strong relationship skills and a thoughtful style of communication will be key ingredients for success in this role. The necessary combination of business acumen and policy/diplomatic savvy in a highly visible space makes this position unique. The new CEO of PIR will have the unusual opportunity to play a significant role running a substantial business while also serving the greater good of the Internet community."
Prospective candidates are encouraged to inquire about this position via email sent to: pir@kasearch.com. We're confident there is a qualified candidate among our readers or that you know someone who would be a perfect fit, so let's help PIR find the right person for this very important executive position.