Compelling agendas, attractive venues and new twists are the key weapons conference organizers deploy to attract new registrants and bring back old ones. Domain Roundtable made a splash last year with a series of technological breakthroughs including the first televised live auction (via the Internet) that allowed people sitting at home to take part as easily as those in the auction hall. We just published an exclusive preview of the upcoming Roundtable show in San Francisco in which new show Director Susan Prosser filled us in on what is in store this time around. I will be there to cover the event for our readers (our comprehensive review of the event will be posted a few days after I return from the west coast).
I'm also looking forward to T.R.A.F.F.I.C.'s first family oriented show at Disney World in May. I'll be bringing my daughter to a conference for the first time and she is looking forward to seeing what I really do for a living and what kind of people I hang out. She will have just finished her junior year in college so the timing is great for our whole family to do this event together.
I've noticed at other recent shows that more and more veteran domainers are bringing one of more of their children along with them. At the last T.R.A.F.F.I.C. West conference in Las Vegas in February, Larry Fishcher brought along his son Jeffrey and Dr. Chris Hartnett was accompanied by his daughter Heather. The month before, Rob Grant introduced his daughter Caroline to colleagues at the DOMAINfest Global conference in Los Angeles and Howard Hoffman brought his son Mitchell to a show before he graduated from Yale.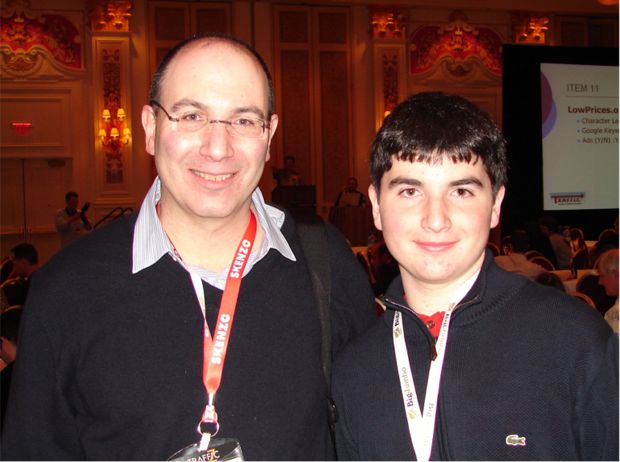 Veteran domain investor Larry Fischer and his son, second generation domainer
Jeffrey Fischer at T.R.A.F.F.I.C. West in Las Vegas in February 2008
Though the domain industry has grown much larger in recent years it still is small enough to have a "family" feeling about it. After all, there are very few people on earth who do what we do so there is a natural kinship there. That is reinforced when you get to know husbands, wives and children of your domain friends and colleagues. Disney World and its highly regarded Grand Floridian Resort will be a great place to do that.
Old Scams Never Die
The steady growth in the domain business means a constant flow of newcomers are always entering the industry. Those of us who have been around for awhile tend to forget that and assume that everyone knows the pitfalls to watch out for. One veteran, Kevin Ohashi, decided to go the extra mile to help forewarn newbies about the scammers and spammers who prey on domain lovers who are just starting to learn the ropes. Ohashi set up a website at DomainSpammers.com where he posts a frequently updated list of schemes newcomers should look out for.
The new site is a timely one. I just got an email this week from a reader who was excited about a big offer he had gotten for one of his domains. All he had to do to make it happen was to pay for a domain appraisal the "buyer" requested before completing the purchase. I can hear all of the old-timers collectively groaning now! This is one of the oldest scams in the business.

The phony buyer insists that you use an appraisal company he "trusts". Invariably it is a fly by night outfit that the "buyer" is either in cahoots with or owns himself. After the seller pays for the appraisal, the "buyer" suddenly disappears. There usually isn't a lot of money involved so the newbie who gets taken usually chalks it up to experience and is too embarassed to admit they got ripped off. The

fact that these kinds of crooks are out there is a sad commentary on society but its the world we live in. Check Kevin's site from time to time to bone up on current scams you need to be aware of. Forewarned truly is is forearmed.