We usually send out our monthly newsletter just before the end of each month, but I delayed this issue until after the 1st so we could get in the final 2Q-2009 domain sales numbers and go over those with you in this report.
As this most recent quarter progressed I had the feeling that things were going pretty well. The number of transactions reported to us each week were holding steady and a lot of small to medium sized business end users were clearly fishing in the aftermarket pool. So, I was surprised when I totaled up the figures this week and found the total dollar volume of sales reported to us came in at just $21.1 million. Not only is that a $7.2 million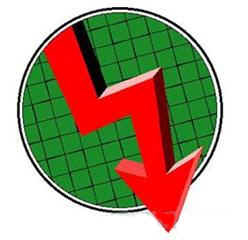 While the general economy is still a long way from being out of the woods, the fear level is nowhere near as palpable as it was six months ago. So why did we see a 25% drop in the quarter just completed? A closer look at the numbers shows that the decline was not as bad as it looks on the surface. Total dollar volume is just one measuring stick and it is one that can be heavily distorted by less than a handful of sales at the ultra high end of the market. Indeed, well over half of the quarter over quarter $7.2 million dip can be attributed to just the top three sales completed in each quarter.
A couple of blockbuster sales
(like Toys.com at $5.1 million)
can dramatically skew quarterly sales results.

The solid first quarter of this year (which came in higher than the average quarterly total registered in 2008) was fueled by a trio of seven-figure sales; Toys.com ($5.1 million), Fly.com ($1.76 million) and Auction.com ($1.7 million). By comparison the three highest sales of 2Q-2009 were Candy.com ($3 million), Webcam.com ($1.02 million) and Talk.com ($500,000). So, the top three sales of 1Q-2009 totaled just over $8.5 million while the top three in 2Q-2009 came in $4 million lower at a bit over $4.5 million. The bottom line is that the difference in just the three highest sales accounted for 60% of the $7.2 million dollar decline in total dollar volume from the opening quarter of the year.

A more accurate gauge of the overall market is the median sales price (the point at which half of all sales were higher an half were lower). That number also declined but by a much smaller amount. In 1Q-2009 the median sale price in our database was $2,600 (down from $2,750

a year earlier). In 2Q-2009 it slipped again to $2,488, but that represents a quarter over quarter decline of less than 5% (keep in mind that we track sales starting at $2,000 for .coms and $1,000 for non .coms. As a result the medians in our database are considerably higher than they would be if we followed sales below $1,000. As a point of reference, one of the major secondary market venues, the AfternicDLS, said their median price, including sales at all levels, was approximately $1,200.)
For domain sellers, the degree of pain you feel is directly related to the segment of the market that you target. My focus has always been on the small to medium sized business (SMB) market and I have seen no drop off at all in my own sales results. In fact they have been up a bit in 2009 as more people with business experience are starting up their own companies after losing their jobs to corporate downsizing. SMB sales typically fall in the low four-figure range in the vicinity of median sale price figures.
If you target the higher end of the market the recession has shrunk your pool of potential buyers considerably (especially if you are trying to sell anything other than true top tier domains in the five or six figure range). Just as we have seen everyday consumers move down market (from department stores to TJ Maxx or even Target) we are seeing domain buyers still active but being much more careful with their dollars. In addition to more frugal end users, professional domain investors have cut back because the huge decline in their PPC income has reduced the funds they have available for new investments.

Where go from here is anybody's guess. Some economists have been predicting the recession will end later this year. With all of the financial ills we still have to work through I have a hard time buying that but whatever happens I remain

When times are tough
opportunity often knocks.

very confident in the long term value of good generic domains and I have stepped up purchasing as a result. The recession has forced people to put a lot of domains on the market and drop many more than they would have otherwise. I believe that has created a real opportunity. It is worth remembering that the biggest fortunes in this business (the kind amassed by people like Frank Schilling and Kevin Ham) were made possible by the .com bust in 2000. When everyone else wanted out, they seized the opportunity to get in at fire sale prices.
A lot of people are going through rough sledding right now, but this too shall pass. When it's over many businesses will have folded but at the same time new empires will also have been created. I think most of those empires will be built on the web because it is the most efficient place to do business the world has ever known. Now is the time to put yourself in position to profit when the smoke finally clears.