The interactive element of VentureCamp involves a virtual gaming platform that will allow viewers to learn from and partake in the entrepreneur's journey...and oh, by the way, if you apply and are chosen to be on one of the teams - this priceless education and adventure will cost you a grand total of nothing - nada - zero!
Folkening, the founder of ECorp and Co-Founder of DomainHoldings, said "our Campers will have an opportunity to learn how to be successful entrepreneurs from the best and brightest
in business in an amazing setting." The mentors lined up by VentureCamp are indeed an impressive group, including such well-known business stars as Jeff Hoffman (Priceline.com), Mike DeLazzer (RedBox), Karl Mehta (PlaySpan/Visa), Albert Angel (CertiCall) and Sergio Fernandez De Cordova (Infrastructure Media Group). You can see complete bios for all of the mentors and the VentureCamp executive team here.
Success image from Bigstock

VentureCamp CEO and Co-Founder Giadha Aguirre De Carcer said, "part of our
mission is to empower entrepreneurs everywhere. Our curriculum and program
structure is designed to foster innovation, social entrepreneurship and job creation in a digestible and
and entertaining way. The Camp and Campers will be filmed for our docu-series giving the entrepreneurs an opportunity to raise their profile, and connect to future partners, investors and customers."
Folkening, a pioneering domain name investor and developer, noted that one big plus for those using VentureCamp to build real enterprises is that "each business launched at the camp will get instant access to targeted web traffic to jumpstart their companies by being awarded a premium domain."
Mr. Hoffman also likes the decision to conduct the camps in luxury estates around the world, noting, "there is no better way to inspire success than to be surrounded by it".
Hoffman also summed up why such high profile investors as himself have gotten involved in Venture Camp saying, "I don't spend time launching companies anymore. I launch entrepreneurs."
That desire is also part of the motivation that has drawn several major sponsoring partners to the program including the International Women's Leadership Association. VentureCamp is set up so all participants benefit, including the contestants, producers, investors, sponsors, estate owners and domain owners (who can provide the domain the business is built on) through an equity share. A portion of profits has also been earmarked for charity.
Positions are open for both sponsors and estate owners now. In addition to an equity share, benefits to estate owners include the opportunity to increase recognition through VentureCamp publicity and being able to monetize their properties during off peak periods.
The entrepreneurs you will see on the show will be selected from VentureCamp auditions designed to produce a pool of energetic, passionate and driven participants who are able to conceptualize unique and innovative ideas and who have demonstrated having the necessary stamina, business acumen, and entrepreneurial skills to successfully launch a business in under 8 weeks.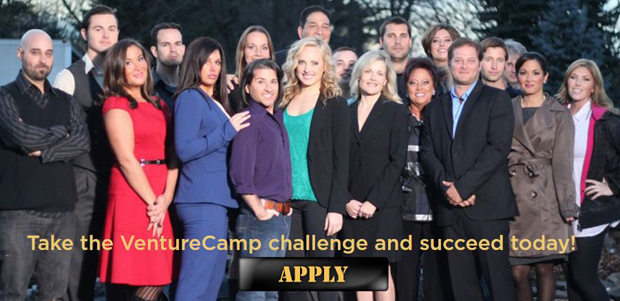 Once the teams are assembled they will start with a limited amount of resources and capital allocated to them, emulating the kind of resource scarcity usually experienced when starting a business from scratch. Weekly competitions will offer contestants a chance to win additional resources or perks. Each team will also have various opportunities to raise funding, expand their professional network, and build their executive team during the program.
If the VentureCamp concept proves successful the initial web-based docu-series could eventually migrate to TV, but those who catch the show on the web this summer will be the first to witness one of the most interesting business ideas we've seen to date.