The Covid-19 pandemic has made it virtually impossible for people in any business to gather safely in significant numbers. However, the biggest conference in our industry, NamesCon, has decided the solution to the "virtually impossible" is to go virtual - at least in the near term. While they still plan to hold the annual NamesCon Global conference live at a location still to be announced next January, they are going to fill in the gap with NamesCon 360° - a three-day virtual conference to be presented online September 9-11, 2020.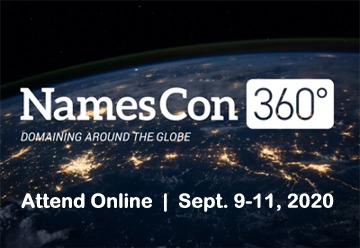 The official announcement of NamesCon 360° today said, "NamesCon 360° will feature live and on-demand presentations, workshops, networking, and deal-making opportunities on a scale not yet done in the domain industry. Besides bringing elements you love from NamesCon straight to your home or office, we're adding some new features that can only be done in a virtual environment."
The notice emphasized, "This is no Zoom meeting! You'll take part through your web browser and mobile device for a wide range of interactions. From presentations for a global audience to regionally-relevant content, NamesCon 360° will have something for you, wherever you are. While we all miss our face-to-face meet-ups, this is the right time to create a virtual event. You'll meet everyone who is serious about domaining: an easily-accessible virtual conference is a big step in bringing more domainers - with all their experience, perspectives, and of course portfolios - together."
With people around the world living in different time zones, some are sleeping while others are awake. NamesCon 360° organizers say you can forget the clock and join in at whatever time best suits you schedule, noting, "A domain never sleeps, and neither does NamesCon 360°! During the run of the event, you'll have all-day, all-night access to the event hubs, as well as on-demand content and networking with professionals in your region—and the other side of the world."
No pricing for the event has been set yet and there are many details still to be filled in over the couple of months but you can keep track of the latest developments by periodically checking in on the NamesCon 360° website.