The full agenda has been released for NamesCon Online, a 3-day virtual conference that is coming up September 9-11, 2020. The current Covid-19 pandemic forced NamesCon to make this edition of their popular show an online-only event but that doesn't mean they will be cutting any content corners. If anything, it looks like they are turning the volume up, with over 50 sessions across four tracks, a live domain auction, online networking and visits to a virtual Exhibit Hall all being shoehorned into a 72-hour sprint.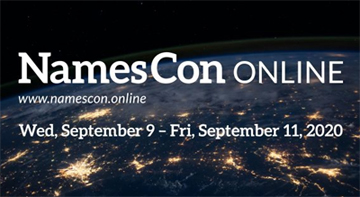 It all gets underway at 11am (U.S. Eastern daylight time) on Wednesday, September 9 with a Welcome Session featuring NamesCon President & CEO Soeren Von Varchmin and conference moderators Bill Sweetman, Christa Taylor, Braden Pollock and Michael Cyger. Bill & Christa will stay over to explain how to get the most out of the platform and network before the first business session begins at 11:30am. Opening day will proceed through 14 different sessions held across three tracks - the Keynote Hall, Breakout Hall and Americas Track.
On Thursday (Sept. 10) a fourth track focused on South Asia will start running. All told 17 business sessions are scheduled Thursday (including one at 11:30am Eastern when Giuseppe Graziano of GGRG.com will be joining me to talk about the State of the Domain Industry Aftermarket. That will be a timely topic with the show's live domain auction, power by GoDaddy, following just a couple of hours later at 1:30pm (US EDT).

In addition to being the final day, Friday (Sept. 11) looks like it will also be the busiest, with 20 sessions spread across the four tracks. As will be the case every day, the Friday sessions will be wide ranging, covering everything from domain monetization to marijuana and

blockchain domains to appraisals and how to guard against an economic downfall. These sessions will feature dozens on well-known industry experts (the speakers for each session are listed under the session title on the agenda pages.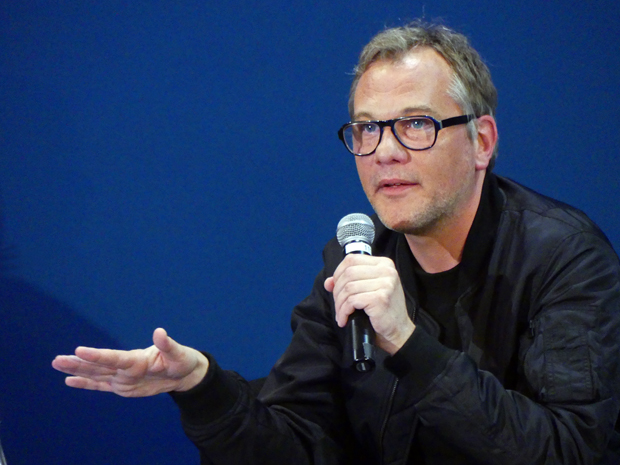 NamesCon President and CEO Soeren von Varchmin speaking at the
2020 NamesCon Global conference held in Austin, Texas pre-pandemic in January.
We are all navigating a new world right now and even though there will no hugs or shaking hands online, NamesCon Online is determined to deliver the same kind of enriching educational experience they always have to help you succeed in this business. The virtual model will also make it possible for far more people to attend as the financial barrier has largely been removed. While it typically costs hundreds of dollars to attend an in-person event (thousands when you add in the cost of travel and lodging), NamesCon Online is a true bargain with a standard registration fee of just $59 - and if you have never been to a NamesCon event before you can register free! Hope to see you all (virtually speaking) there!