I got a peak behind the curtain today when I signed into a rehearsal session for speakers, designed to familiarize us with the platform so we will know what to expect when we hit the virtual stage later this week (in my case, that will be at 11:30am Thursday (U.S. Eastern Daylight Time) when Giuseppe Graziano (GGRG.com) and I will get together for an in-depth discussion about The State of the Domain Aftermarket). I was immediately struck by how easy it was to enter the Backstage area where the technical hosts make sure any camera or microphone issues are fixed before your session goes live.
I've often had technical problems on other platforms but things could not have gone smoother on the StreamYard foundation NamesCon is using. You simply select your camera and microphone from a drop down list of the equipment attached to your computer, see a confirmation both are working, and you're good to go. You then wait a few minutes in this virtual green room until it is time for you move onto the live stage. There are no pre-produced videos for this show which - like walking a high wire with no net - requires a great deal of confidence in your platform. Things could go awry, but if they do the experienced tech team says they are ready to handle anything that happens.
During my rehearsal we had people from all corners of the world on together and everyone looked and sounded great in high def video and crisp sound. No choppy video, static-muddled sound, etc. In their ads for the conference NamesCon states - This is No Webinar, This is No Zoom Meeting, this is NamesCon Online! ....and now I see what they mean - there is a very noticeable difference and it is a good one. NamesCon President & CEO Soeren von Varchmin and his team obviously decided that upholding the NamesCon brand made it imperative for them to go big, so no one logs in, finds disappointment, and decides to go home (of course, they are already home, so I probably could have used a better metaphor, but you know what I mean)!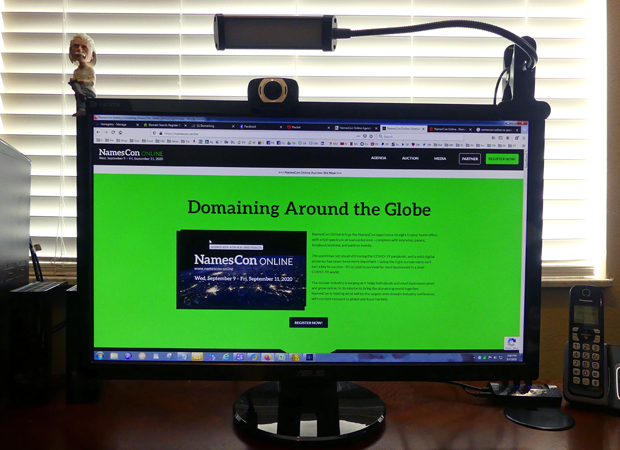 This is the view I will have from my "front row seat" at NamesCon Online this week - and also the view from the "virtual stage" I will be on for a session with Giuseppe Graziano Thursday morning.
The end result is a show agenda jammed with over 50 top notch speakers, content covering every aspect of the domain business in every major region of the world and, of course, a live domain auction. It all starts with the Welcome Session Wednesday morning at 11am (US Eastern Daylight Time) where Soeren von Varchmin will be joined by moderators Braden Pollock, Bill Sweetman, Christa Taylor, Michael Cyger and Jay Paudyal who will tell you how to make the most of your time at NamesCon Online.
Certainly, we will all miss seeing each other face to face, but I expect this to be the very best replication of the show experience possible with today's technology. Plus, there is a silver lining to this virtual cloud. A registration fee of just $59 (and free if you are a first time NamesCon attendee)! That should make taking a NamesCon seat in the comfort of your own home or office this week a no-brainer. Hope to see you there!