In the domain world it would be hard to find a more familiar family name than Castello. Brothers Michael and David Castello are true industry pioneers who have been at the forefront of the field since its start in the 1990s. As we detailed in a 2006 Cover Story about them, the two were partners in the music business as performers and producers before applying their creative talents to the Internet.
Michael's wife, Sheri, who co-founded DayCare.com with him in 1997, was also a talented actress before changing lanes with Michael. Given that lineage, it is probably no surprise that their gifted daughter Jessica Castello started making waves in the entertainment world before she was out of her teens! In 2019, Jessica, who happens to be celebrating her birthday today, played an award-winning lead role as Carlie Toft in the critically acclaimed feature film Oildale. Jessica's performance earned her a Best Actress Jury Award at the prestigious SENE Film Festival and added to a list of TV and movie credits she has been piling up since 2013.
Jessica's acting ability is equaled only by her musical talent (one of the many reasons she won the role in Oildale). In fact, the music video for "Blue Sky", an uplifting new song that Jessica wrote and performs, has just been released (you can also download the song from Apple iTunes). The production, produced and directed by Lennon Leppert, was shot primarily around Jessica's scenic hometown, Moorpark, California. Having first met Jessica when she was just eight years old, it has been amazing to watch her talent continually grow and blossom into a career that appears to have nothing but blue sky ahead. Check out the video to see for yourself!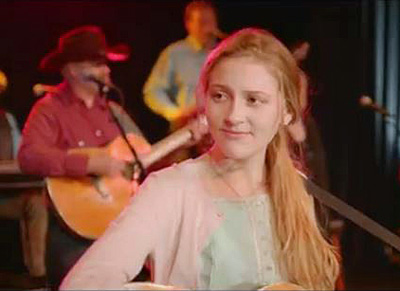 Jessica Castello in a scene from her
Award-winning lead role in the 2019 film Oildale.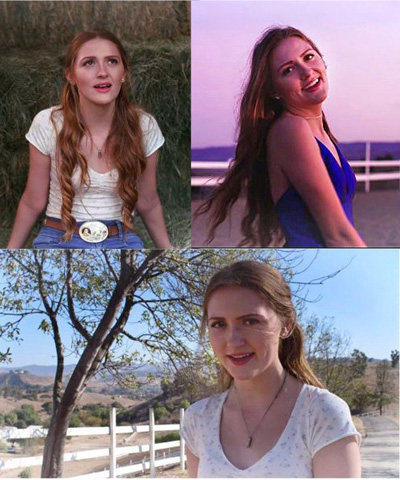 Scenes from the music video for "Blue Sky", an
uplifting new song written and performed by Jessica.