Bhavin Turakhia needs no introduction in the domain and hosting worlds. He and his brother, Divyank, found Directi and went on to sell the company for $100 million in 2013. Their successes, collectively and individually have gotten only bigger since then, including Divyank's $900 million sale of Media.net in 2016. In the meantime, Bhavin founded new gTLD registry operator Radix, messenger and online collaboration innovator Flock, Titan, a next-gen email suite for the small business customers of web hosts and domain registrars, and co-founded fast rising banking tech company Zeta with Ramki Gaddipati (Bhavin serves as CEO, Rami as CTO).
The Zeta venture is on the verge of upending how business is done in the banking world. After watching Bhavin's presentation (under 10 minutes) outlining what Zeta can do for banks and their customers, I want my bank to adopt it now! It is so impressive that Soft Bank announced a $250 million investment in Zeta Monday, valuing the company at $1.45 billion and producing the tech world's latest unicorn. The proceeds from this funding round will be used to accelerate Zeta's growth in the United States and Europe, including efforts to scale its operations, team, and platform to better meet the demands of its expanding customer base.
Turakhia noted, "Most banks are using decades-old software built at a time when Mainframes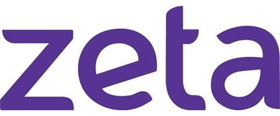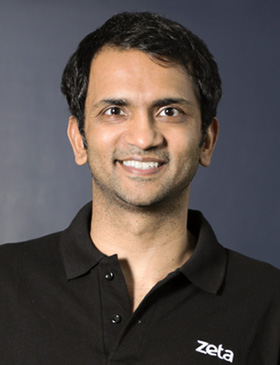 Bhavin Turakhia
Zeta CEO & Co-Founder
and Cobol were in vogue. As a result, they have been slow to innovate and provide poor user experiences. With Zeta, financial institutions can now leverage a modern, cloud-native platform and improve speed to market, agility, cost to income ratio, and user experience." Among its customers, Zeta counts over 10 banks and 25 fintechs across eight companies, including Sodexo, a leading issuer of employee benefits and rewards that touts over 30 million global users; Standard Chartered Bank; and HDFC Bank, the 14th largest bank in the world by market cap.
I had a call with Bhavin this afternoon to learn more about Zeta, as well as to catch up on the latest developments with Radix, Titan, and Flock. The interesting thing about Zeta is Bhavin told me when that journey began, the only thing he knew about the banking business was that it was broken! So he and partner Ramki, starting in 2014, spent a full year studying the banking industry to learn everything they could about systems, how they made their money, where improvements could be made, etc. They officially launched in 2015 and the company has been growing by leaps and bounds ever since and now has approximately 700 people on staff.
Bhavin Turakhia speaking at the 2019
NamesCon Global conference in Las Vegas.

We talked a good bit about how Bhavin identifies new opportunities and his process for finding solutions to problems others have failed to solve - something he has proven to be successful at over and over again. Turakhia said that he always tries to start off with no pre-conceived notions. Instead, he and his team members set about doing exhaustive research on the subject, gathering mountains of data that they then mine to zero on bottlenecks and how something can be done better.

Radix was built in the same way. Bhavin's team began by considering over 600 TLDs, a number that their research whittled down to 31 and, once competitive bidding began for the TLDs, allowing them to determine which ones were the best values, they finally pulled the trigger on 10 (including .tech, .host, .store and .online, among others). With just those 10 TLDs, Radix commanded over 25% market share of new gTLD domain registrations in 2020 and their revenue

has grown by double digits annually. Bhavin credited Radix CEO Sandeep Ramchandani and his entire team for that performance but was also proud to say he was absolutely certain that no one did more research and market study than Radix did before making their new TLD investments.
Another observation from our conversation today that I found especially compelling was Bhavin's comment that virtually every business idea starts with a domain name. An online presence is an absolute must (anyone who didn't know that before, in the wake of the Covid 19 pandemic, knows it now). Bhavin said that is creating a fabulous opportunity for domain registries, registrars and domain investors (the latter group is already benefiting from an aftermarket sales boom). We are fortunate to be in the right place at the right time.
While the Turakhia brothers have expanded their entrepreneurial reach well beyond the domain world, people in our industry will always have an interest in what they are doing. Their process works and we can all learn from studying it, but there is also a pride factor. I've always said that the domain business attracts some of the smartest, most creative people I've ever met - people who would succeed in anything they did. By doing what they have done in such disparate fields - and doing it the right way - Bhavin and Divyank have proven that and, by extension made our industry look good as well.