While a lot of us spend our summer weekends relaxing, one of the industry's most successful investors, George Kirikos, seems to spend at least a portion of his poring over government SEC filings in search of important, previously unreported domain sales. In doing so, George has broken the news on so many big ones I would estimate the number in approaching triple digits now (if not already there). Over the past weekend he did it again, uncovering and reporting the details of a $1,950,000 sale of IS.com on his FreeSpeech.com blog.
George found the key information in a filing made by ironSource Ltd., who acquired the domain in a deal closed in the first quarter of this year. However, as he details in his article, he had to carefully go through additional materials to get all of the evidence he needed to deliver an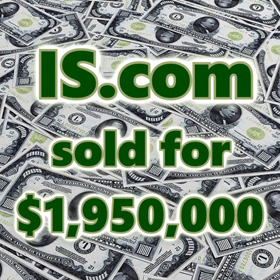 ironclad finding about the transaction. This kind of spadework is something Kirikos routinely does and I have too often failed to properly acknowledge that by simply saying he found the information in a government filing. By going well beyond that in his meticulous research, he has produced a treasure trove of sales information that has benefited all of us - and continues to do so on a remarkably regular basis.
George's latest filing means that, for the 5th week in a row, our bi-weekly domain sales report will include at least one 7-figure sale when it comes out Wednesday evening (August 4). As of this writing, IS.com is the 3rd biggest publicly reported sale year to date. Only Christmas.com ($3.15 million) and Angel.com ($2 million) have been bigger.