The latest enterprise of serial entrepreneur Bhavin Turakhia - Titan - has just taken a major step forward with a $30 million investment from WordPress parent Automattic (a Series A investment that values Titaln at $300 million). Titan's ambitious mission is to provide the next generation of email for customers of web hosting providers, site builders and domain registrars. Bhavin, of course, has already scored big wins as the innovative founder of Radix, Flock and Zeta and Titan looks to be on the same high speed track.
Titan was born out of a vision to re-invent email, specifically to meet the needs of the small business customers that are starting with their web presence. As Titan's Founder and CEO, Turakhia noted, "For far too long, customers looking to get started with their web presence with their own domains and hosting have had no good options in terms of getting a great email experience. They've either had to contend with legacy platforms built more than a decade ago or buy prohibitively expensive solutions from Google and Microsoft. Titan is here to change that."
Over the past two quarters, Titan has become available to all customers of WordPress.com, Hostgator Latin America, and Hostinger.com, with more globally reputed hosting brands set to launch Titan shortly. Titan works with the leading hosting and site builder platforms globally to provide an Integrated Email experience that enables users to set up and access email along with their website.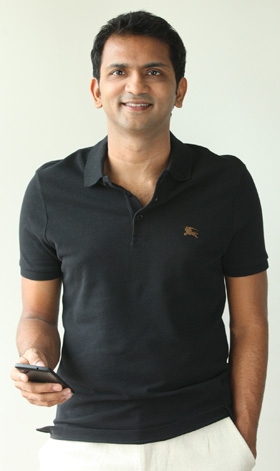 Bhavin Turakhia
A Titan news release today said that by partnering with Titan and offering customers an email experience that meets their specific needs, Web Hosts and Domain Registrars can double their profits. Through Titan's plugins, the Titan control panel can be integrated into hosting control panels and WordPress with the potential to drive a 3x lift in email attach rates.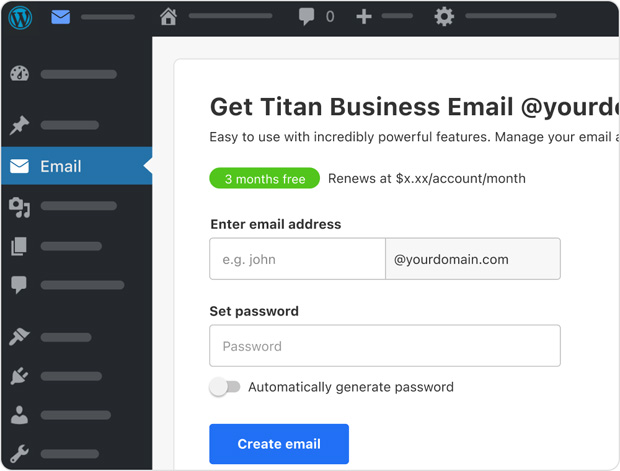 Titan WordPress plugin
Titan also claims these advantages over existing solutions:
Increasing email deliverability, improving NPS - with a flawless IP reputation and an advanced abuse prevention process, Titan can guarantee email deliverability, reducing customer complaints and driving a higher NPS. in developed markets.

Improving customer engagement and reducing customer churn by 5% - by integrating the Titan into your own hosting panels, Titan partners can see a 100x lift in logins to their website and higher customer renewals from the increased usage.

Increasing brand engagement 100x - in providing hero branding to partners, partners can capitalize on their customer's daily email use and stop forfeiting that top-of-mind brand recall to Google and Microsoft.

Custom packaging and pricing - Titan puts its partners in control of pricing, enabling them to offer Titan through freemium bundles, low-cost stand-alone offerings in developing markets, or premium packages in developed markets.
Turakhia said, "Our partners are the key to our strategy, and I've found that working with partners that truly care about giving their customers the best experience ultimately have the best revenue outcomes as well. This investment reinforces our commitment to our partner-first philosophy.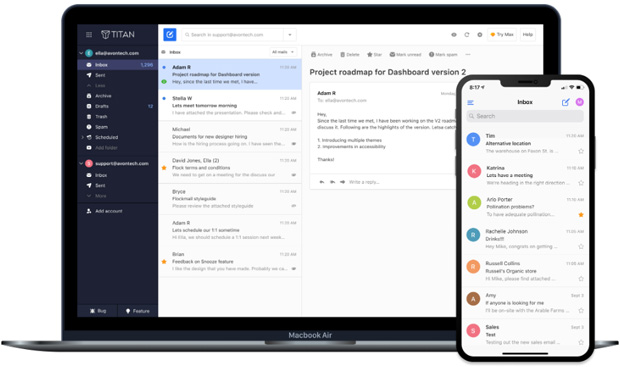 Titan's Hero interface
Automattic Founder and CEO Matt Mullenweg added, "We are excited to make our largest strategic investment to date in Titan, and we are working to integrate it deeply on WordPress.com as a tool to help customers build a professional brand online. We believe in Titan's potential to create a world-class suite of productivity tools that offer an in dashboard, customized user experience, in which it gives users and partners ownership and control over their personal data."
Titan plans to leverage the investment to deepen and expand its product suite to deliver even greater value to its current and future customers.