The UDRP (ICANN's Uniform Domain-Name Dispute-Resolution Policy) is used to settle disputes that occasionally arise over who has the right to own a specific domain name. It allows a party (usually a trademark owner) who thinks someone has registered or purchased a domain that infringes on their rights to use a given name online to file a UDRP complaint against the domain owner.
The process usually involves the Complainant and the Respondent hiring an attorney to present their side of the argument. Depending on the value of the domain, some respondents decide to represent themselves or don't respond at all but, as you would expect, doing either of the latter dramatically increases the risk of losing a domain.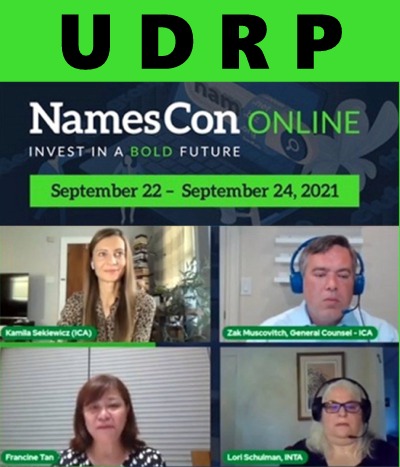 Unless you have been involved in a UDRP dispute yourself, you are likely unfamiliar with the inner workings of the process and you might think there is no need to be concerned with it. However, since anyone who owns domain name could get caught up in an unexpected UDRP complaint, ignoring the possibility is not a good idea. Forewarned is forearmed became a popular saying because it's true.
That is why the Internet Commerce Association (ICA) and the International Trademark Association (INTA) came up with a novel idea to give everyone in the industry a chance to fill in that potentially dangerous knowledge gap. On Friday (September 24, 2021), as part of this week's NamesCon Onlline conference), you will be able to see, for the first time ever, a "live" demonstration of how al UDRP domain name dispute case is adjudicated when ICA and INTA present a mock UDRP hearing. ICA Executive Director Kamila Sekiewicz said, "This innovative and lively session will feature three actual UDRP Panelists as they hear a fictional UDRP case influenced by real-world facts. The case will be presented by experienced lawyers making arguments for the trademark owner and for the domain name registrant, respectively." You can read the facts of the case here (.pdf file).
The ICA and INTA put together a dream team of counsel and panelists that includes George Nahitchevansky as Complainant Counsel, Karen Bernstein as Respondent Counsel, and Gerald Levine, Steve Levy, and Francine Tan (Chair), serving as Panelists. Lori Schulman from INTA and Ms. Sekiewiucz will both be making brief remarks at the beginning of the 45-minute session that will begin on NamesCon's Stage 2 at 15:50 UTC (11:50am U.S. Eastern time) Friday. The format will feature a video of the entire hearing followed by live commentary by the experts. This brief YouTube video clip with snippets from the hearing will give you a better idea of what you will be seeing in this special event (you can also access the video by clicking on the photo below).
Screenshot from the mock UDRP hearing that will be presented Friday at NamesCon Online.
To attend the session, you can register for NamesCon Online here. The regular pass (that covers all sessions and activities at the three day conference that runs Wednesday through Friday) is $99 but if you are an INTA member you can get an exclusive $19 ticket by contacting info@InternetCommerce.org and requesting the INTA discount code.