While the live event is over, the NamesCon Online platform remains open to registrants through October 29, 2021, so they can take advantage of our favorite feature - replays of all of the sessions staged during the event. There were too many to catch them all during the show's three-day run, but the replays give showgoers plenty of time to catch up and not miss a thing.
Stage 1 Photos & Highlights (Friday, Sept. 24, 2021)
As we did on days 1 & 2, we will recap what happened for you Friday chronologically, one stage at a time. Following welcoming comments from the Chairman of the NamesCon Advisory Board, Soeren Von Varchimin, and an introduction from the multi-talented Stage 1 MC, Jonathan Tenenbaum, I had the pleasure of hosting the first Sateg 1 business session (below). That was a Fireside Chat with my long-time friends and industry pioneers Michael Castello and David Castello, Founders of Castello Cities Internet Network (and the subjects of one of DNJournal's earliest and most popular Cover Stories back in 2006).
The Castello brothers have had huge success in both domain investing (with sales like Whisky.com at $3.1 million) and development (with PalmSprings.com, Nashville.com, Daycare.com, Traveler.com and many others). In our session, titled, How The Pandemic Launched A Domain Gold Rush and Why the Public Should Benefit, Not Monopolies, Michael and David talked about what has fueled the current domain sales and website development boom, one that David was among the first to predict in the summer of 2020 when it looked liked Covid-19 could wreak disaster on nearly every aspect of the economy. Skyrocketing domain prices have been no surprise to Michael either, but for several years now, he has also been sounding an alarm about an existential threat posed by repressive institutions and corporate titans. Left unchecked, they could snuff out the boundless opportunities the Internet has given entrepreneurs around the world. He detailed what has to happen to solve the problem.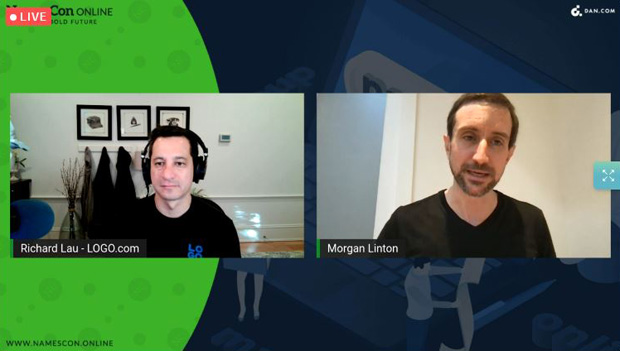 Next up on Stage 1, another industry pioneer, Richard Lau, the founder of both NamesCon and Logo.com (left above) interviewed Morgan Linton for an NFTs Explained: Fireside Chat. Morgan, the co-founder of AI startup Bold Metrics, has been involved in the domain investing world for over a decade and jumped into crypto in 2016. In May of this year, Morgan dove into NFTs with his purchase of a Bored Ape. He discussed what he learned from that process and shared additional information from the leading edge of this new space.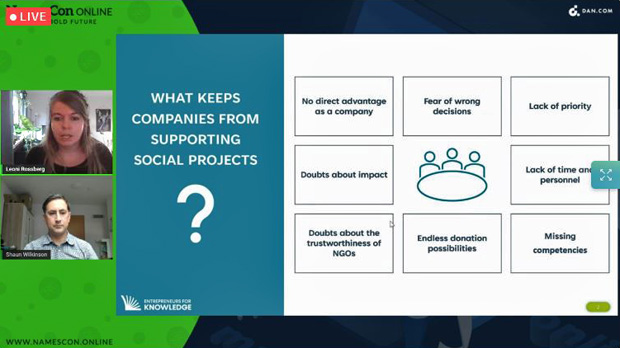 NamesCon Online helped raise funds for Entrepreneurs for Knowledge during this week's conference. In this session (above) - Doing good - Feeling good: Social Responsibility as Your Success Factor - EFK Head of Program Leoni Rossberg and Bodis.com Business Development Manager Shaun Wilkinson addressed business owners and managers who feel an inner need to do something good and socially responsible. They detailed how corporate giving can be implemented successfully and sustainably, what makes communication trustworthy, how employees can be involved, and what actually defines an impactful project (a good example is NamesCon's 2021 school project in Kenya this year).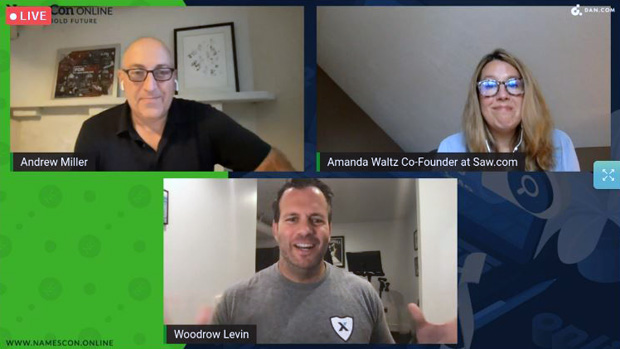 After a networking break, action resumed on Stage 1 with The Match Game: Ignite Explosive Value When You Hit the Bullseye (above). The right name can become a game-changer. This panel of expert brokers and daring end-users explores how exact-match category domain names are adding exponential value to the investors bold enough to buy them. The panelists, clockwise from top left) were Andrew Miller (broker of many of the biggest domain sales ever recorded), Amanda Waltz (Co-Founder of top tier brokerage Saw.com) and corporate end user Woodrow Levin (CEO & Founder at Extend.com).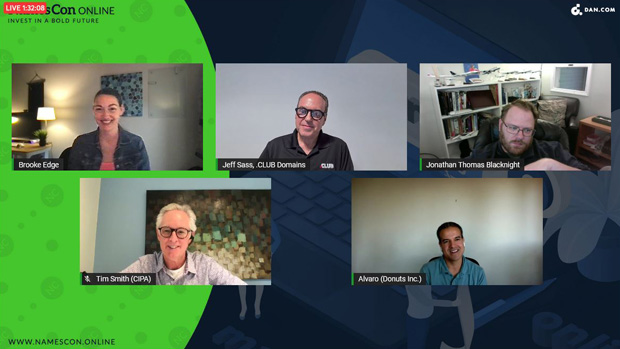 (Above and below) Social media platforms like Instagram have become key places for businesses to communicate with customers and even sell directly to consumers. Yet when it comes to actually making a purchase, do consumers trust a social media site over a domain? This presentation - Don't @ Me: What We Learned about Millennials' Shopping Behavior on Domains vs Social Media - from The Domain Name Association (part of the i2Coalition) featured original research that produced unprecedented insight into this question. The panelists, clockwise from top left in the photo above, were Brooke Edge (Research Consultant at Open Eye), Jeff Sass (CMO, .CLUB), Jonathan Thomas (International Marketing and Communications at Blacknight), Alvaro Alvarez (EVP, General Counsel & Secretary at Donuts Inc.) and Tim Smith (General Manager at Canadian International Pharmacy Association (CIPA).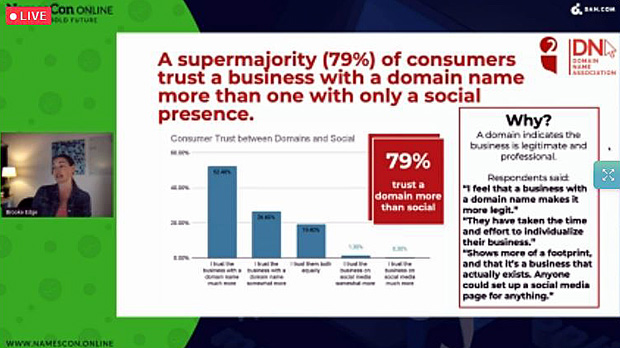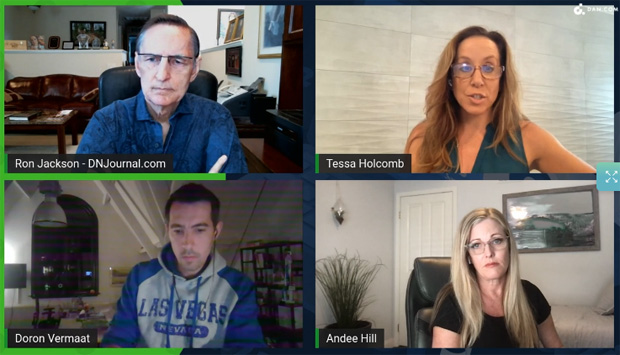 In the final session Stage 1 Session Friday (above) DNJournal's Ron Jackson (top left) got together with (clockwise from top right) Tessa Holcomb (Founder & CEO at Domain Advisors | Igloo.com), Andee Hill (Director, GDD Accounts at ICANN) and Doron Vermaat (Co-Founder at Efty.com) to talk about how to Flip the Script: Impactful Methods to Shift Negative Perceptions of the Domain Industry. As a niche community within internet commerce, domain name investors—and the value they add—are frequently misunderstood. The panelists discussed how infringing behavior and other actions by unprincipled players, especially in the industry's formative years, cast a shadow over the industry as a whole - one that has not fully subsided even today. The situation has gotten much better, but there is still work to be done and the panelists opined on what they entails.
Stage 2 Photos & Highlights (Friday, Sept. 24, 2021)
As interesting as things were in Stage 1, the Stage 2 sessions were just as compelling. The opening session - Domain Court: Arguing a Real-Life UDRP Case, presented by the Internet Commerce Association and INTA - was one of the biggest home runs of the entire conference.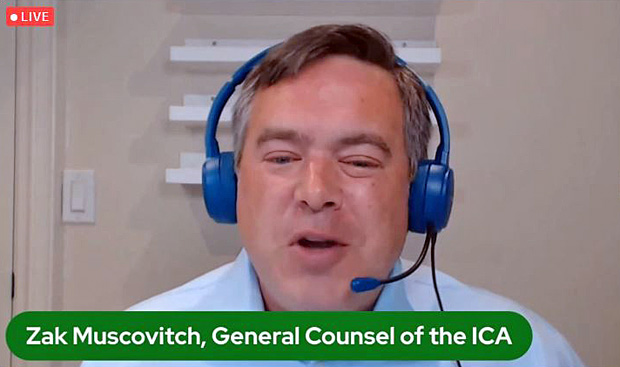 In that session (above and below), for the first time ever, actual domain name lawyers, trademark lawyers, and UDRP panelists conducted a UDRP hearing based on a real high-profile case. Each side presented oral arguments and the Panel decided the case. Registrants got to see how lawyers argue a UDRP case (.pdf file) and how panels deliberate and decide a UDRP case. It was fascinating from start to finish. In the end, the Respondent prevailed, winning a 2-1 split decision over the Complainant.
The panelists and opposing attorneys were, (clockwise from left to right below) Francine Tan (Director at Francine Tan Law Corporation), Steve Levy (Attorney at FairWinds Partners), Gerald Levine (Managing Partner at Levine Samuel), Karen Bernstein, representing the Respondent (Managing Partner at Bernstein IP) and George Nahitchevansky, representing the Complainant (Partner at Kilpatrick Townsend & Stockton LLP). If you missed it live, be sure to see the replay.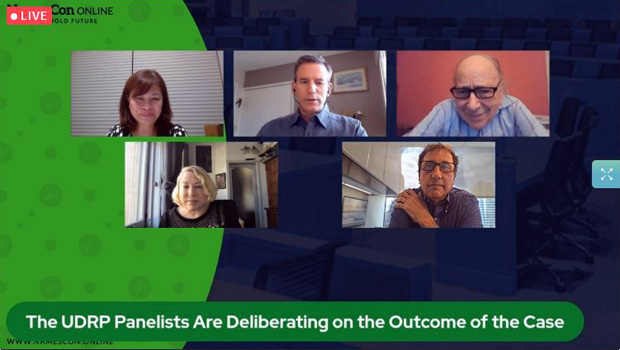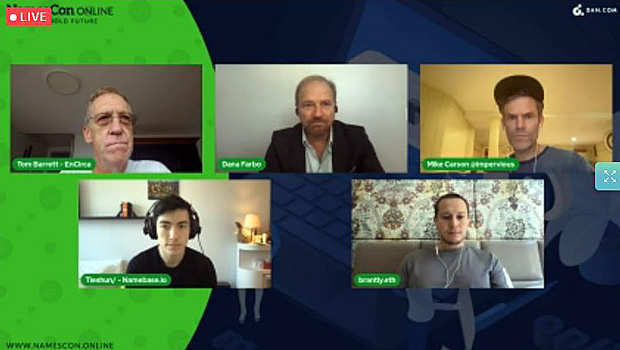 Everyone has heard about blockchain by now, but do you understand it yet? The Blockchain Panel (above) made sure registrants understood it a lot better over the course of this session. It's relevant to the domain industry because blockchain domains (involving alternatives to the traditional DNS managed by ICANN) have been made possible by the new technology. The panelists, clockwise from top left, were Encirca President Thomas Barrett, Dana Farbo (Partnership Lead at Butterfly Protocol), Mike Carson (Founder at Impervious.com), Brantley.eth (Director of Operations at Ethereum Name Service (ENS) and Tieshun Roquerre (CEO at Namebase).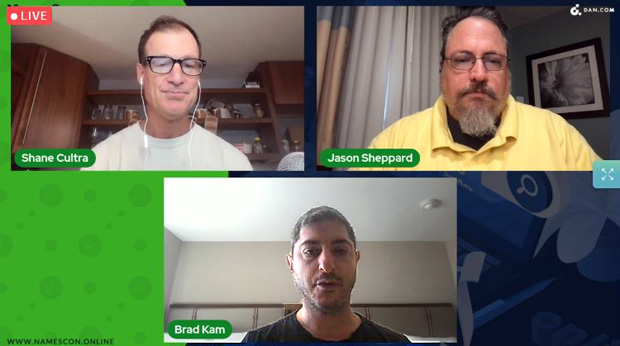 Next up on Stage 2, the question was Are Legacy Domain Names the Original NFTs? and the answer was provided by panelists, clockwise from top left), Shane Cultra (CEO at Uncomfortable.com), domain investor Jason Sheppard and Brad Kam (Co-founder at Unstoppable Domains). The understanding they have of the foundations of legacy domain names gives them a lot of insight into the dynamics around NFTs. As digital assets explode, the panelists provided the fundamentals of buying, selling, and owning something that has no physical form.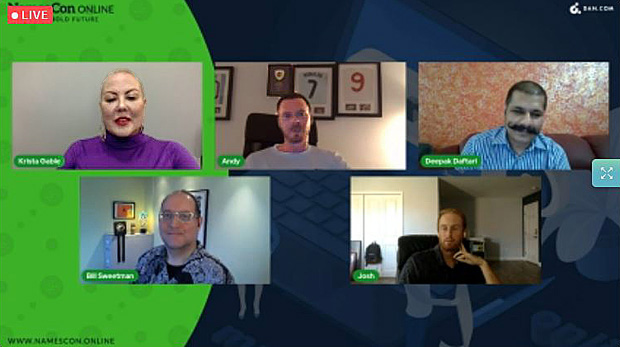 In the final Stage 2 session Friday (above), another interesting question was posed - Where Have All the Good Names Gone? Many domain investors say it is harder than ever to find quality domain names. The panelists, clockwise from top left, moderator Krista Gable (Founder at Domain Domme, LLC), Andy Booth (Direct at Booth.com Ltd), Deepak Daftari (CEO at eSiksha.com), Bill Sweetman (President at Name Ninja) and Josh Reason (Founder at DNWE.com) provided some tips on where the new opportunities are when most premium domains are not available.
Handshake Stage & Masterclass Photos (Friday, Sept. 24, 2021)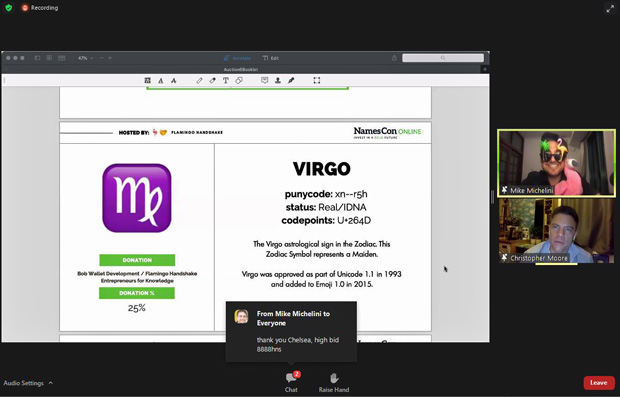 Over eight hours of content was provided on the Handshake Stage on days 1 and 2 of the conference. That left Friday's Flamingo Handshake Domain Auction (above) as the last order of business. Registrants were able to bid on emoji and single-word TLDs on the decentralized internet, and see how things in this space are heating up.
There was also one final session on the Masterclass track Friday (below). After delivering terrific masterclasses on days 1 and 2, ParkLogic.com Co-Founder Michael Gilmour added a third on closing day when he explained why Future Domain Investment Opportunities are Now! Michael's ParkLogic teammates Laci Nagy and Robert Lasky-Davison also chipped in to make this masterclass an especially memorable one.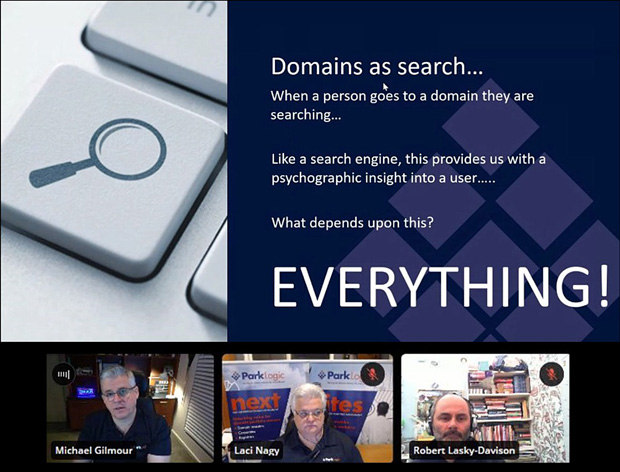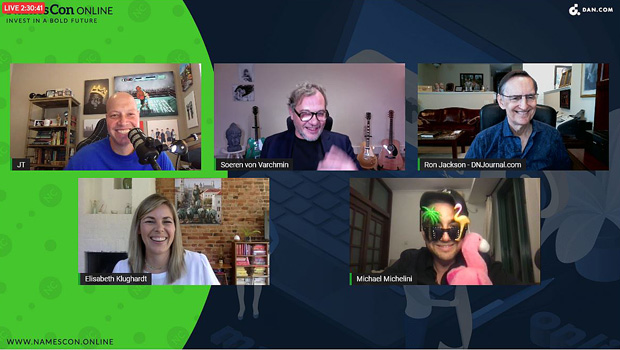 NamesCon always closes with some Closing Remarks in a party atmosphere celebrating another job well-done. Stage 1 MC Jonathan Tenenbaum (top left) and NamesCon Chairman of the Board of Advisors Soeren Vonb Varchmin presided over the fun and brought DNJournal's Ron Jackson (top right), Handshake stage moderator Michael Michelini (bottom right) and Stage 2 moderator Elisabeth Klughardt (bottom left) on board to try to keep things under control. As you might have guessed from Michael's palm tree and flamingo sunglasses, we failed in that task! However, we clearly won in the fun department :-) The absolute highlight was JT's jaw-dropping NamesCon Rap that brought the house down in a fitting finale. The replay is now available for registrants to see - so do not miss that!
...and that was still not all! As soon as the official conference closed, a full-blown after party started shaping up on Zoom where Arif Mirza (top left corner below) presided over The Domain Social - DomainPodcast.com Inaugural Edition - an event that went on for several hours. Arif is the Producer, Host, CEO at DomainPodcast.com, the successor to The Domain Socials he previously hosted every week.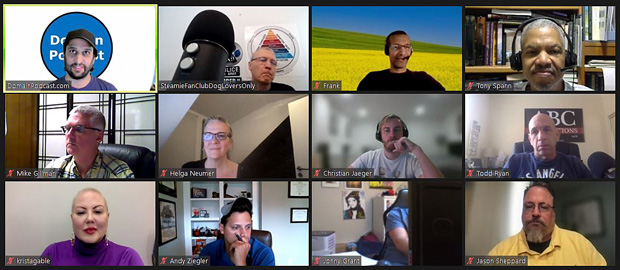 To sum it all up, NamesCon Online once again delivered an amazing virtual version of NamesCon's real-world conference that has temporarily been sidelined by the global Covid pandemic. At this time, plans are to return with a physical conference next spring if conditions allow. We'll close with a special thank you to the entire NamesCon crew, including Soeren, JT, Elisabeth, Helga Neumer and so many other NC all-stars - and a special shout-out to NamesCon's event production team - no one does it better than you!