Today we learned that NIF.com has been sold for $450,000 in a private transaction. We don't yet know who the buyer is due to WhoIs privacy and the domain still resolving to a generic landing page at the current registrar and the seller prefers to remain anonymous.
We will officially add the sale to our Year-to-Date Top 100 Sales Chart when our next bi-weekly domain sales report comes out Wednesday evening, October 27. As things stand today, NIF.com is tied for the 4th biggest 3-letter .com sale reported thus far in 2021. The biggest have been AFS.com (the #1 sale in our latest domain sales report) and NFT.com at $2 million each and AVA.com at $792,000. NIF.com now joins EGT.com and ZAG.com in a three-way tie at $450,000 apiece.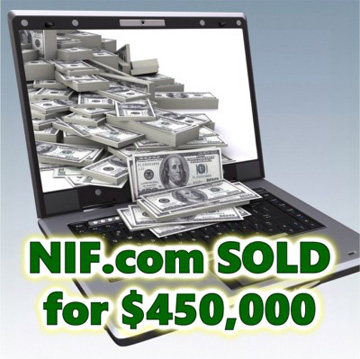 Image from Bigstock
Taken together, the six sales have averaged $1,023,666 each. 3-letter .coms have always been a very popular category but even so, we have never seen numbers like that for the top 3-letter acronym sales. In ALL of 2020, the top six 3-letter .com sales fell well short of $1 million TOTAL for all six. The top 2020 sale was AOA.com at $200,000 and the top six totaled $788,100).
This, of course, is yet another indicator of what an incredible boom year the domain aftermarket has been having in 2021. Most of the attention has been focused on one-word dictionary domains but as these 3-letter .com results show, the short acronyms are also reaching stratospheric heights few would have predicted just a year or two ago.