Neil Bostick
Founder, Graen.com

Bostick told us, "Iíve been a buyer, seller, & broker in the domain market since 2014 and Iíve done millions in deals since then. Since the beginning, my focus has always been on private deals (not disclosing prices) as I work extensively in the high value investor space (where confidentiality makes or breaks investments). A lot of my business has been selling super premium domains to top investors reselling 2-letter, 3-letter, & 1-word .COMs to end users, so by differentiating through private deals Iíve kept a low profile in the interest of the buyers & sellers I work with. Graen.com was formed as a higher technology alternative to what I do at my brokerage, QEIP.com, that specialize in the same types of domains that Graen.com does - 3-letter .COMs and better. For more background on my brokerage business, see qeip.com/testimonials for a small list of past clients and deals Iíve executed."

That's the high altitude overview of where Bostick and Graen are coming from, but the nuts and bolts of how the new platform can stand out among so many well established options is

where the rubber will meet the road. "I agree," Bostick said, adding ,"there are way too many domain marketplaces currently, so itís valid to ask me ĎWhy in the heck would I start another one?!í My answer is that out of the 50-100 marketplaces that exist, none of them do the single thing that I (and most other high value domain investors), want them to do: be private & not disclose sale or offer prices. In this, most marketplaces and brokers disclose offer prices and make sales public (for their own marketing value) and it is often at the detriment of the buyers and sellers that trust them to represent them. In this, if you are a seller offering a 3 letter .COM domain for a good deal on a marketplace, broker, etcetera, and it doesnít end up selling, the offer price is still public and is liable to used against the seller when a future buyer comes along."
As an example, Bostick said, "A future buyer may say that you had ???.com priced at 50k two years ago, so I can only offer 40k now, even though your price is 100k (and the buyer might have paid that 100k if they didnít know about the previous sale). Beyond that, as a buyer who is making a big investment, if you buy a 3 letter .COM or better and the sale is public AND you try to resell in the near future, all future buyers will use that sale price as a gauge to itís value (irrespective to what the domainís true investor value is) so your investment potential would be massively limited."

"So privacy is the first thing we changed," Bostick continued, "but beyond that, we just tried to develop the perfect platform in general specifically designed for high value domains. In this, we have buyer exclusivity (no seller exclusivity), buyers need to accredit themselves (via identity or fund verification) to unlock more than 5 listings, and we do everything on the platform (appraisals, seller vetting, buyer sourcing, & escrow) so that we can do deals faster than anyone else. Weíve closed a couple deals safely in the 5/6 figure range within 24 hours (from offer accepted to seller paid) using these methods - out of the 50-100 marketplaces that are out there, not many can claim to be able to do such big deals so quickly (or offers such full service for the fees weíre charging)."
Asked for more details on how Graen's buyer exclusivity (rather than seller exclusivity) policy works, Neil said, "If a buyer uncovers a domain, they sign an NDA and agree to not share any details about the offering (or try to go around the platform) for fear of legal action. We just ask that if the seller lists their domain on other marketplaces (or with other brokers), that they price their domain better than itís listed with anyone else - because of our low commission and private placement, most sellers are able to. If we find a domain on our site with a price listed lower somewhere else, we will likely take it down until pricing is changed. Exclusivity is important as it maintains a place where buyers and sellers take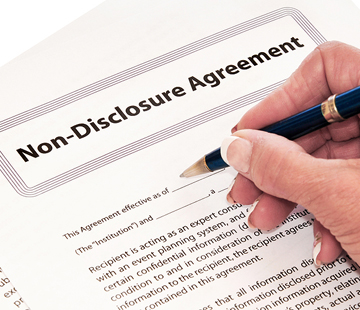 Image from Bigstock
the platform seriously - we just switched the model in being the first platform to make buyer exclusivity a main differentiator. As it is a huge Ďsellers marketí in domains right now, to be a marketplace that is competing, you need to put your sellers first and foremost. That is exactly what we are doing and why we have almost 500 users on the platform already, within one month of launch."
As we noted at the top of this article, Graen is not designed for everyone. Bostic said, "To be clear, our superior marketplace experience for high value domains comes at a cost for other users - it is not a good match (or very helpful) for people selling quality domains right now (and is especially not good for people trying to list a lot of domains at once). That said, in the near future, we will be offering new premium services for the everyday domain investors including exclusive landing pages with broker representation for only 3-9% success fees with no caps on prices or quantity of domains listed."
| | |
| --- | --- |
| Image from Bigstock | "We are not a marketplace with brokerage options, we are a curated marketplace (or application-only marketplace). This is a core part of our strategy that differentiates us as it allows us to maintain quality on our marketplace like no one else can. Another problem with almost all marketplaces as a buyer (and as a seller) is that they have too many bad quality domains. The effects of this are that buyers donít spend the time finding serious deals on there and sellers wonít list good deals because they know that chances of buyer coming through the cracks is low. Since we limit the amount of listings, we can automatically get more serious user exposure to each individual listing. Beyond that, since I still have my connections and network as a broker, I see all domains listed and work to get them sold outside of the platform (based on who I know is buying). Through this model, we can maintain a sell-through rate light years higher than any other domain marketplace will be able to," Bostick said. |
Though Graen has just launched, today's Graen is unlikely to be the final iteration. "Since launching a month or so ago, weíve changed the platform a lot based on buyer & seller feedback," Bostick noted. "For example, we previously didnít give any Ďfreebieí investor passes (the things that allow you to uncover listings), and we now we give 5. We also now have implemented new value attributes (including comparable sales on each listing) and we have implemented an affiliate program to incentivize users to band together as a community and mutually benefit from referrals. We are still taking feedback as one of my main assets is our full time development team that includes our CTO and two full time coders - so if anyone has any suggestions for the platform, if it fits our model recommend it and you may be able to see it live within a week!"