Namecheap in 2021. It's not surprising to see .com at the top but seeing .xyz at #2 with over three times more registrations than #3 .net is an interesting sign of the times. Another, new gTLD, .club is #4 with a ccTLD, .me, rounding out the top five. Overall 45% of all Namecheap registration were .coms (down from 48% last year) with all other TLDs combined taking 55% (up from 52% last year).
Another interesting breakout shows which TLDS have the highest percentage of renewals. The leaders in that category are completely different TLDs with Canada's .ca #1 (with over 72% of .ca domains renewed), followed by new gTLD .dev, .io, .org and another new G, .media. Two of the TLDs that are in the top five in total registrations (.xyz and .club) are in the bottom five when it comes to renewal rates (the lowest by that metric are .icu and .site). You can check out the full report here.
I can also recommend some insightful listening if podcasts are more your cup of tea - though I have to admit this tip comes with some built-in bias on my part. Most of you are already familiar with Alvin Brown's excellent Kickstart Commerce podcast series. In the latest episode I am Alvin's guest on a 78-minute ride that recounts my journey through radio, music retail and TV reporting before finally discovering the domain industry 20 years ago (yikes!) - as well as why I have been in love with this business ever since! You can check that out here and if you don't enjoy it Alvin will give you your money back! (I know it's already free, but it's the thought that counts)!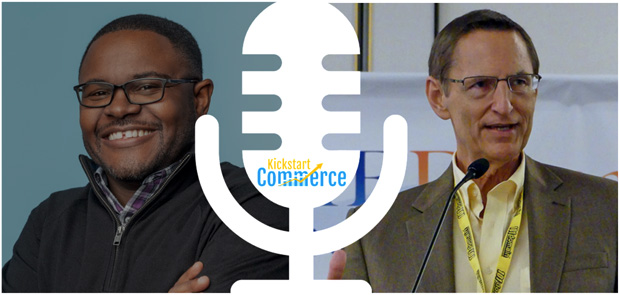 Host Alvin Brown (left) interviews DNJournal's Ron Jackson at Kickstart Commerce
In the meantime, I want to wish all of your who are celebrating the season the merriest of Christmases, the happiest of all the holidays and a record breaking new year in 2022!