With the final quarter of the 2021 domain sales season now in the books, international domain brokerage Guta.com, who has offices in both the U.S. and China, released their annual Premium Domain Sales Observation Report (.pdf file). Guta issues free quarterly reports throughout the year, then their full year review once the Q4 numbers are in.
The report summary noted, "In 2021, one-word English .com domains remained the most popular category, continuing to record steady growth in annual transaction volume. Its sales count went up from 133 in 2018 to 351 in 2021, an increase of 164%. End-user purchases in this category also remain on the rise, hitting record highs over the past four years.
Following 2020, the annual sales of LL, NN, NNN, NNNN, NL, LN .com domains did not see any bright turn (L = a Letter, N = a number). By contrast, LLL .com domains were relatively stable during 2020 and 2021."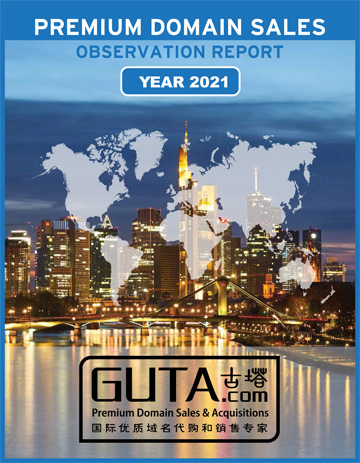 The Guta report also cited the U.S. market as a center of strength in 2021, noting "The USA market has shown strong purchasing power in terms of quantity and price in the post-epidemic era. End-user buyers, in particular, showed an unprecedented buying spree."
The full 15-page report is loaded with sales numbers and charts, including top sales lists for the various domain categories. Again, you can get the full free report here.