Ulvi Kasimov
.ART Founder

The .ART registry is one those that have put it all together and are now, five years after launch, reaping the rewards from their hard work and financial investment. .ART is obviously a great keyword to begin with, representing a massive market that has only gotten bigger on the Internet over the past couple of years with the emergence of NFT art. It has such great natural appeal that it became one of the three most highly contested TLDs when ICANN opened the rights up for auction.

The auction winner was Ulvi Kasimov, a venture investor and patron of the arts, whose company UK Creative Ideas Limited (UKCI) became the operator of .ART and launched the TLD in December 2016. By the the time .ART went into General Availability in May 2017 it already had a user base filled with some of the world's biggest names in art, entertainment and business. They included The Louvre, Sotheby's, TATE, Centre Pompidou, MAXXI Museum, Beyoncé, Banksy, Rolex, BMW, Apple, Google and Bank of America Merrill Lynch, to name just a few. You can see a fascinating list of .ART's top adopters here (.pdf file).

With so many celebrated supporters and the built-in credibility of the name itself, .ART has now attracted over 177,000 registrants, which puts them among the top 3% of all new gTLD registries. They are also ranked among the

10 fastest growing registries, in part because the TLD is much more affordable than it was in its early years when $50 a year general registrations were common. As of this writing, at popular registrar Dynadot, .ART registrations have a base rate of $12.99 and are just $5.99 for the first year.
In another sign of good health, .ART, who is headquartered in London with additional offices in Los Angeles, Moscow and Beijing, has an overall renewal rate of 63%. That soars to 85% for the more than 13,000 premium domains they have sold. While premium domains are a key source of revenue, accounting for 69% of the registry's income, only 5% of their domains have carried a premium price, insuring that the vast majority of domains are available to registrants around the world at standard rates.
I mentioned NFTs opening up a whole new world for .ART but that is just part of the ground-breaking path the registry is on. .ART is now a patent holder for its Digital Twin solution. The .art Digital Twin is a digital certificate of authenticity that can be applied to any art or cultural object. It provides an easy to understand, easy to use solution for storing valuable artwork information, including any kind of media that could confirm its value and illustrate the creativity behind it. Using the international Object IDTM standard developed by the Getty Trust, the DNS & blockchain acts as an expansive, distributed, secure data holder.
.ART has also launched its own crypto wallet solution, allowing you to send crypto directly to registered domains using .ART domains. Instead of typing out an incredibly long crypto address, you have the option to simply type in an easy-to-remember domain like annieswallet.art – with a synergetic security of ENS and DNS used in parallel.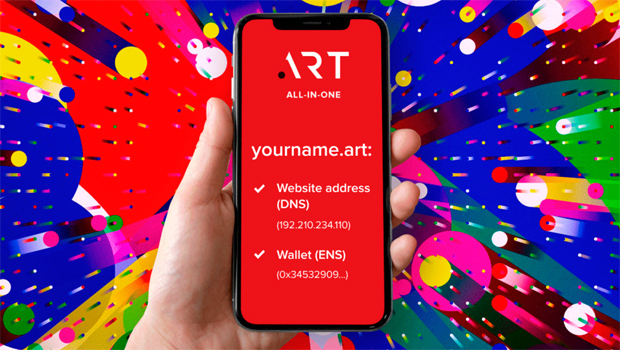 .ART also provides a free, easy to use website builder to help artists establish a memorable web address and establish a website for displaying their work. Anyone with a .ART domain can build their online presence in a few clicks. The relatively simple web pages can serve as a sort of digital business card, or as a communication hub that is used as an entry point for all platforms used by the owner, from Medium to TikTok.
Mr. Kasimov said, "This has truly been a remarkable period. Since its launch, .ART has grown into a fully-fledged brand acknowledged by the artistic community, thanks to every single one of our adopters. Our latest partnerships with CADAF and Ars Electronica and the added context of the pandemic have shown new horizons, so we will keep up the innovatory spirit. We are already looking for new tools and novel ways to act as an activation agent to connect tech, art and finance – digitally, but on a human scale."
For an illuminating complete account of Mr. Kasimov's personal quest for the .ART TLD, you will want to read his comments in this exclusive interview published on the Art.art blog in 2019. In another interesting read, check out the history of the .ART registry here.