The two-and-a-half year wait for a chance to see your domain industry friends and colleagues face to face again is about to end! The first major domain industry business event since NamesCon Global in January 2020 is coming up fast now with NamesCon set to return August 31 through September 3, 2022. While a global pandemic has changed the timing, the place remains the same as where we left off in 2020, the downtown Omni Hotel, in Austin, Texas.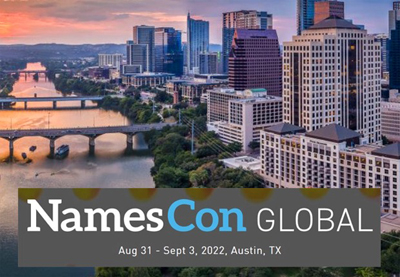 A huge step in the road back to normalcy, the release of the full conference agenda (other than some space reserved for most timely late additions) has now happened and it outlines a lot of sessions worth getting excited about, especially given the ambitious scope of this show that encompasses everything related to the world of digital assets including domain names, NFTs and other emerging elements of a new economy.
I know I am bit biased on this point, but one session I'm especially looking forward to is the very first business session in the Bodis Keynote Hall at 11:05am on Opening Day, August 31 (right after the Welcome Address from Soeren Von Varchmin, the Chairman of Namescon's Supervisory Board) . That's because I'll be on stage then to have a Fireside Chat with the multi-talented Christian Calvin.

Christian is a veteran domain investor that many of you have come to know over his more than 10 years in the business, but the Tennessee native is also a prolific abstract expressionist artist with a unique style that is attracting a significant following (Nashville's newspaper, The Tennessean, just covered a major exhibition of Christian's work).

As a guy who has always been tuned in to the latest technology, it won't surprised you to hear he is marrying his large scale canvas artwork with the cutting age NFT market. We'll be talking about how creative people can use their

Christian Calvin
Domain Investor/Artist

experience with domains and other digital assets to do things that weren't possible before now - but that's just the start. During the show, Christian will be creating a painting for the NamesCon community and will be doing it live, giving the audience a chance to see the entire process as an artistic idea is rendered in physical form!
Dozens of business sessions will follow in the Keynote Hall and on the Breakout Stage over the remainder of Opening Day and the next two business days - Thursday, September 1 (also the day of the Live Domain & NFT Auction that starts at 3PM Central Daylight Time) and Friday, September 2. The big event will close Saturday, September 3 with a day devoted entirely to socializing. NamesCon's Fun Day will be filled with conversation, collaboration, celebration, eating, drinking and table hopping at Austin's famous Bangerís Sausage House and Beer Garden (you can bring a Plus-One, too)!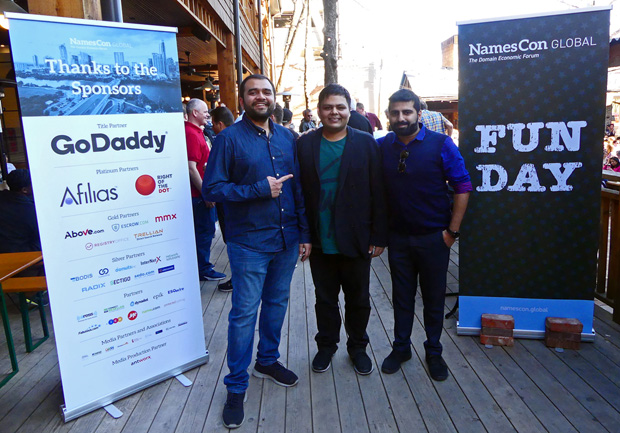 A blast from the past - Fun Day at the last NamesCon Global conference in January 2020 (also at Banger's in Austin, Texas). Left to right are attendees Krinal Mehta, Prakhar Bindal and Aishwin Vikhona.
The agenda is far too big for us to do justice to in one article, check it all our for yourself, and we will continue to fill in some of the details and late-breaking additions in this column as we continue the countdown to Opening Day. Registration is open now and, as a DN Journal reader, you can get a 20% discount using the preceding link. If you need a room at Omni, you can also take advantage of the special show rate NamesCon arranged with the hotel by booking here (don't delay as the conference's block of rooms is limited). We hope to see you in Austin!