In addition to breaking down results from the company's flagship .xyz TLD, the report covers highlights from the other extensions the registry operates including .lol, .security and .beauty, to name just a few. The registry logged 146 premium registrations in June, led by Travel.xyz with an MSRP of $13,000. Aftermarket sales were also detailed with the $28,000 sale of Redeem.xyz topping that channel, followed by Mozart.xyz at $10,000. All told, the registry racked up over $98,300 in aftermarket sales with the average sale coming in at $1,117.
The most popular SLD keywords in June for .xyz registrations were web, art, meta, app, bet, verse, shop, dao, nft and tech. These notes just scratch the surface of the full report, so check that out for all of the details.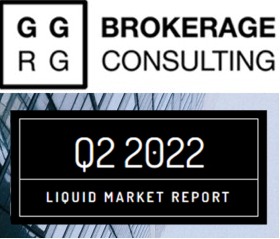 Back on the .com front, the latest quarterly Liquid Market Report from the GGRG Brokerage covering Q2-2022 is out. This report focuses on short acronym and numeric domains that, due to steady demand, tend to have more liquidity than most other domain categories. These are .com domains comprised of 2-4 letters, 2-5 numbers or a combination of 2-3 characters mixing letters and numbers.
At first glance, seeing total aftermarket sales volume for liquid domains soar 185% from the previous quarter (jumping from $3.6 million to $10.3 million) was a shock - but then you remember the $3.8 million IT.com sale closed
in June which would account for much of the surge. Still, even if you take IT.com out the mix, the total would be up 86% from the previous quarter.
The third quarter for this category also looks to be off to a great start - just yesterday we reported the sales of DDL.com at $359,000 and GRT.com at $300,000.