The Internet Commerce Association (ICA) has announced five nominees for the 6th Annual Lonnie Borck Memorial Award that recognizes individuals who have made extraordinary contributions toward fostering "a sense of community within the domain name industry."
In April everyone in the industry (whether they were an ICA member or not) was invited to submit a nomination for the prestigious award with those submissions producing the top nominees named today. They are (alphabetically by last name) Andrew Allemann, Gerry Levine, Todd Ryan, Nikul Sanghvi and Elliot Silver.
The next step of the process is now underway with ICA members voting for their choices from among those five. That will yield a final three, with the ICA's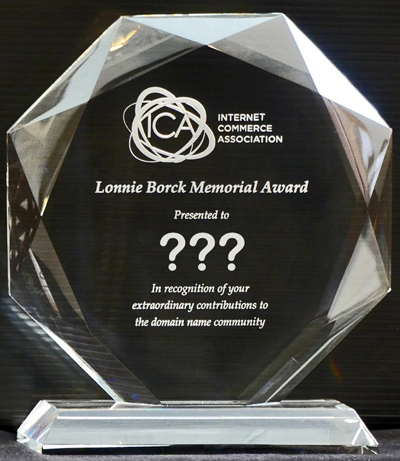 The award was created in 2016 in honor of the late great domain investor and humanitarian, Lonnie Borck, who unexpectedly passed at the age of 47. The first three Lonnie Borck Memorial Award recipients were chosen based on their exceptional efforts in "championing the rights of domain name registrants" and, as such, those came from the legal arena. Starting with the 2020 award, the criteria was broadened to include every corner of the domain industry. The previous winners of the Lonnie Borck Memorial Award were:
2017 - David Weslow
2018 - John Berryhill
2019 - Kathy Kleiman
2020 - Ron Jackson
2021 - Michael Cyger
The ICA released these notes about each of this year's nominees:
When it comes to important policy issues confronting domain name investors, Andrew consistently assists the community by exploring the issue and getting its message out in a highly credible and understandable manner to the wider domain name industry. Through thousands of posts over 17 years, he has covered all aspects of the industry and his addition of in-depth podcast interviews have educated us, entertained us and introduced us to many of the most creative people in the industry.

Gerry has devoted countless hours over many years to create the definitive scholarly guide to the policy that most affects domain name investors, the UDRP. He started and hosts a unique and remarkable weekly call bringing together domain name attorneys from diverse backgrounds, in particular brand-side attorneys and respondent side attorneys, for a collegial, educational discussion of legal matters. The opportunity he created for attorneys who are typically on opposite sides of disputes to have open and friendly conversation has led to better understanding of each others' perspectives and may be the single most important development to promote a better understanding of the legitimacy of domain name investment among UDRP panelists.

Todd Ryan's weekly calls with David Michaels, and more recently Jeff Newman, on Clubhouse have helped hundreds of people who are new to domain name investing by educating them about avoiding the pitfalls of investing in infringing domain names, informing them of best practices, sharing the nuances of how the UDRP affects domain name investors, and setting them on the road to success. It has also led to several of his listeners learning about the ICA and choosing to join as members.

Nikul's radical transparency about his business financials and his willingness to share his journey has helped usher in a period of increased openness about our businesses that have helped all domain name investors. Nikul was also instrumental in setting up the new Discord server for the ICA and thereby helping create a greater sense of community among ICA members.

Elliot's daily blogs sharing his perspectives and newsworthy events along with his willingness to engage with commentators and on social media has brought him a large and loyal following. He has built one of the largest communities within the domain name industry. In addition, each year he puts his body on the line to raise funds for the Pan-Mass Challenge to fight cancer and brings the domain community together in support of this worthy cause.
Congratulations to all of the nominees and thank you for your contribution to the domain community - the recognition is well deserved!