you but since consumers have the final vote, job one - each and every time - has to be to deliver real value. What the Turakhias have proven is they know how to build, develop and bring to market outstanding, innovative, yet value-priced products that the public is invariably drawn to.
For the umpteenth time, Bhavin is making it happen again with his latest baby - a titan that is already living up its towering name. Titan has emerged as the highest-rated email software on globally recognized research and review platform G2.com, with a rating of 4.8/5, to shoot past long established products like Microsoft Outlook and Google Workspace. Titan, specifically designed for professionals and small businesses, was awarded the #1 position in Customer Service for Email in G2's Summer 2022 Report that ranks the world's best software products based on authentic reviews from real users. Titan also received top rankings for Ease of Use and Implementation.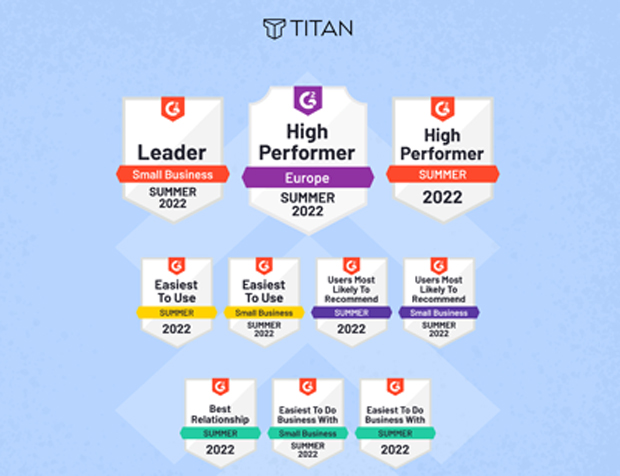 Titan's stack of G2 2022 Summer Awards
Titan is available through leading Web-presence providers around the world, notably WordPress.com, Hostinger and Name.com. Their customers mentioned the product's aesthetics and the company's philosophy of taking direct input from users to co-create the product as the most significant factors that contribute to their ratings. Within the last two quarters, Titan has risen to be among the top five products by G2 in business email and now serves 300,000 small businesses in more than 100 countries worldwide.
Bhavin Turakhia explained why he chose business email for his latest endeavor. "We invested in email as a category because we believe small businesses are underserved by expensive, overbuilt tools that have not innovated meaningfully in years. The recognition and the awards only validate our belief that we're co-creating the future of email with our users."
Another remarkable thing about Bhavin's string of hits is that he is still just 42 years old (and Divyank is only 40)! So, if Titan is the last track needed for an entrepreneurial Greatest Hits album, it would still have to be labeled Volume 1 because there is undoubtedly more to come.