Radix has released their latest semi-annual report on Premium Domain Name Sales (.pdf file), covering the first half of 2022. Radix, a registry operator that administers 10 top level domains, continued to see strong growth in sales of premium domains that are made through registrar channels worldwide. In H1-2022 Radix's total premium revenue came in at $3.82 million, a 28% jump over the $2.98 million they recorded he H2-2021.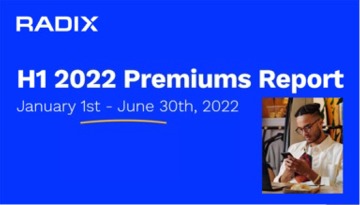 Radix had an even higher growth rate in renewals of their premium names, with that category up 38% over the previous six-month period after generating $2.5 million in H1-2022. New premium registrations also posted solid double digit growth, up 24% from H2-2021.
For new premium registrations, the .Tech TLD was Radix's biggest revenue generator, producing over $390,000 on 441 premium sales. .Store was next with over $235,000 on 338 sales, followed by .Online with just under $215,000 on 279 sales. Those were also the top three TLDs in premium renewal revenue with .Tech the top earner at $643,825, however .Store and .Online flipped positions, with .Online #2 at $542,425 and .Store #3 at $520,325 in the renewal income race.
Radix data showed that the percentage of premium domains renewed goes up with every year of ownership. 68% of original premium registrants re-upped when the first renewal came due. When it was time to renew for a second time 75% did so. When a 3rd renewal date arrived that number went all the way up to 87% that decided to keep their domains.