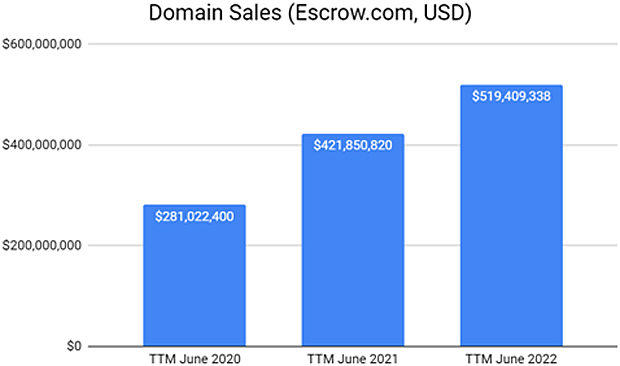 Escrow.com Domain Name Sales (USD), trailing twelve months
Having handled transactions for premium domain names Meta.com, Uber.com, Instagram.com, Twitter.com, Crypto.com and many others, Escrow.com staked a claim to be "the the place where the land of the metaverse is bought and sold" in a detailed press release issued today. Escrow.com CEO Matt Barrie noted, "Virtual real estate isn't a plot of land in the metaverse next to Snoop Dogg or an NFT on the blockchain, it's domain names. When Facebook rebranded to Meta, it didn't buy virtual land in a game. Facebook bought the best possible address in the best street on the internet: meta.com."
The Escrow.com release highlighted the diverging fortunes of the domain name aftermarket vs. NFTs with a link to an article at CoinTelegraph.com titled Metaverse housing bubble bursting? Virtual land prices crash 85% amid waning interest. Escrow.com added supporting evidence for the domain name case with these points:
Over the last two years, the average price of premium domain names has boomed. The average sale price in 2Q22 was US$49,910.65, up 28% from US$38,939.57 in 2Q21, and up a whopping 199% from US$16,694.49 in 2Q20.


The gains have not all been at the high end, with the median sale price for domain names up 23% to $5,000 from $4,064 in 2Q21, and doubling in 2Q22 from $2,500 in 2Q20.


Some niche segments outperformed: four-letter domains (LLLL.com) appreciated to a median of $10,000, up 59% from $6,300 in 2Q21 and $3,500 (up 186%) in 2Q20.
Andrew Rosener, CEO of MediaOptions.com, added "Domain names are the bedrock foundation on which the entire internet is built upon, including Web3 and NFTs. Value accrues from the top down. So as more adoption occurs and more technologies and utility is created on top of the internet and its digital pipe lines, the more value accrues to the land beneath; namely domain names." 
Rosener, who has won Escrow.com's Master of Domains Award for the last three years in a row (presented to the world's highest sales volume broker on the Escrow.com platform), can also back up his view with a long record of blockbuster sales, including NFT.com at $2.1 million and Zoom.com at $2 million.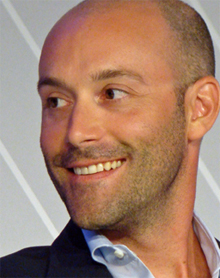 Andrew Rosener