I was happy to see a post on my Facebook feed from Jeffrey Sass Thursday evening letting his friends know that he was returning to the domain business! As most our readers know Jeff was the innovative Chief Marketing Officer (CMO) for the .CLUB registry from the time it was founded to the time it was sold last year to GoDaddy. After the sale, Jeff stayed with .CLUB Chairman and Founder Colin Campbell to serve as CMO in another one of Colin's growing enterprises, Paw.com. However, as has often been said, the domain business is kind of like the Hotel California - "You can check out any time you like but you can never leave!"
That proved true again when the .ART registry came calling and persuaded Sass to become their new Chief Marketing Officer, effectiive on New Year's Day. As an active shareholder in Paw.com, Jeff will also continue to provide advice to that enterprise devoted to dog lovers. In his Facebook post Jeff wrote, "To all my friends in the Domain Industry, I am delighted to say I'm back! On January 1st, I will join the DotArt team as CMO. I have missed you all and the industry over the past year and look forward to reconnecting on behalf of .ART. I am excited to join Ulvi, Kurt, Alexey, Kate, and the rest of the talented .ART team, and to support artists and the Global art community with such a meaningful and innovative top-level domain! Wishing you all a very healthy, happy, and ARTful New Year!"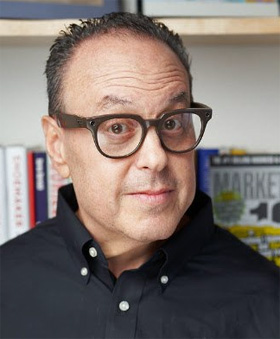 Jeffrey Sass
Chief Marketing Officer
.Art Registry

Sass, who wrote the entertaining and inspiring book Everything I Know about Business and Marketing, I Learned from THE TOXIC AVENGER: (One Man's Journey to Hell's Kitchen and Back), led a marketing team at .CLUB that, no matter where you turned, always seemed to have their TLD front and center. In his new role, I have no doubt Jeff will be a major asset to .ART as well as the domain industry at large as one of our most creative thinkers and friendliest personalities. Welcome back, Jeff!