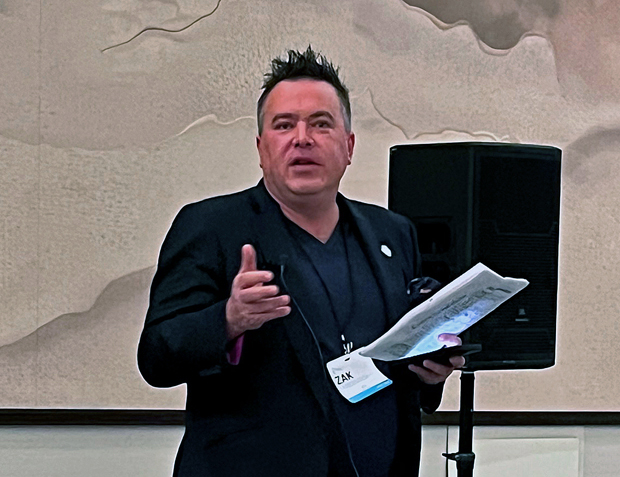 Above: ICA General Counsel Zak Muscovitch kicked off day 2 with a Monday morning
Policy Briefing at the 2023 ICA Annual Meeting at the Las Vegas Hilton that updated members on what the ICA has accomplished and issues they are currently addressing.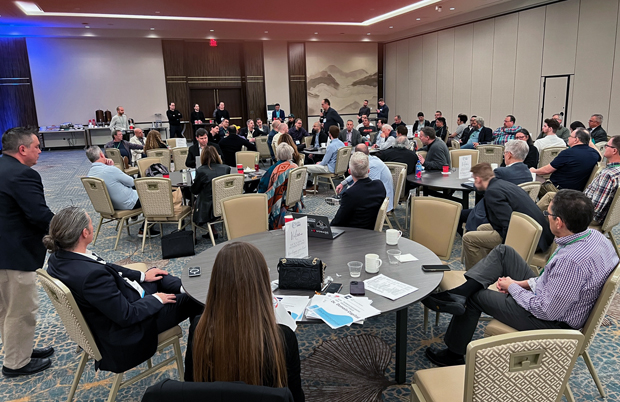 Above: After Zak's policy briefing he joined other members of the ICA leadership team for a Town Hall meeting that gave members a chance to get answers to any questions they had about ICA operations and future initiatives.
Below: During the Town Hall, one of the industry's leading attorneys, John Berryhill was among those providing valuable advice on how the ICA can best fulfill the non-profit organization's mission to protect domain registrant's rights. Bill Sweetman (standing) moderated the popular session.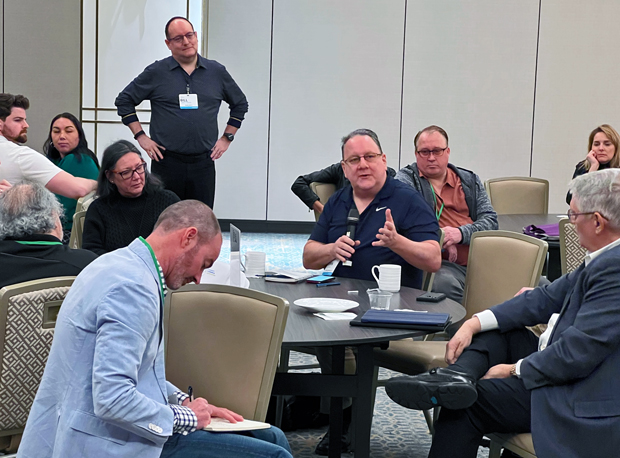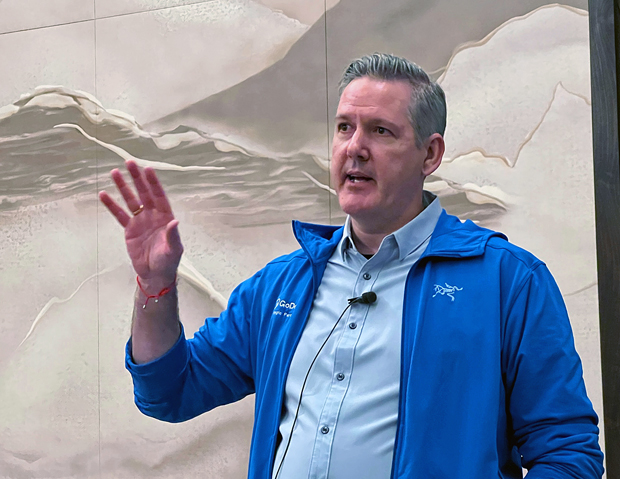 Above & below: In Monday's main event GoDaddy President for Domains Paul Nicks filled the room with members eager to take him up on his offer to Ask Me Anything! One of the most talked about moves in the new year has been GoDaddy's announcement of a new commission structure that raises rates in some cases but lowers them in others. Effective February 1, The rate on their Dan.com platform goes up from 9% to 15% but the rate at Afternic, GoDaddy Auctions and Uniregistry Market goes down from 20% from 15% if you use the landers of one of those platforms. Otherwise the rate goes up from 20% to 25% - so the impact could be positive or negative depending on the path you choose. Nicks explained the reasons for the move toward uniformity between all four platforms and also answered a wide variety of questions about the many services the industry giant offers domain investors.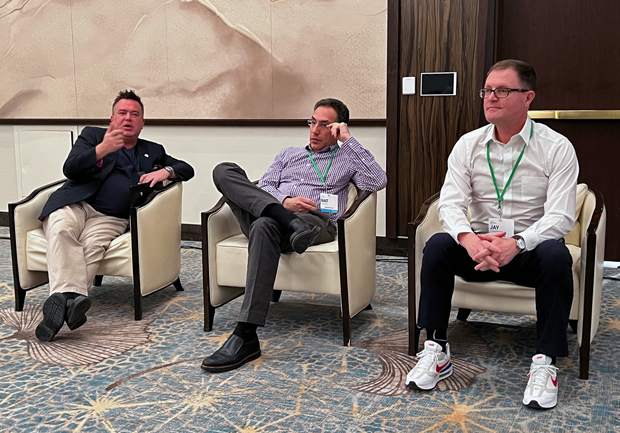 Above: The Monday afternoon sessions continued with a timely panel discussion about UDRP Reform Proposals that featured (left to right) ICA General Counsel Zak Muscovitch and ICA Board Members Nat Cohen and Jay Chapman.
Below: The Monday business day concluded with a broad range of Guru Discussions in an expert roundtable format. 16 different topic tables were made available so members could sit in on as many as they wanted to over the course of the hour. The ccTLD Investing table below, headed by Josh Reason, was one of the many that quickly filled up.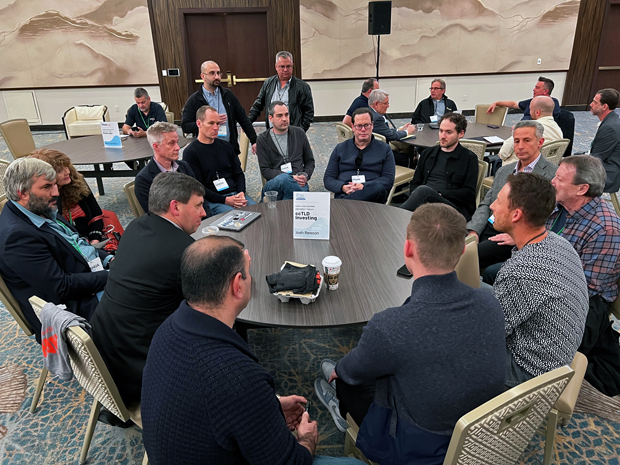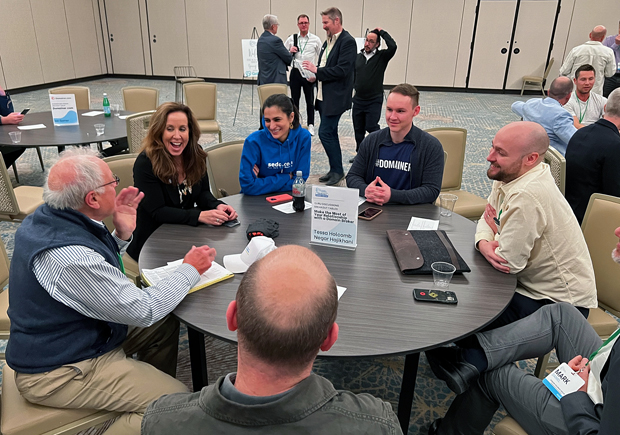 Above: At this table, Brokers Tessa Holcomb (DomainAdvisors) and Negar Hajikhani (Sedo) - 2nd and 3rd from left - offered useful advice on how to Make The Most of Your Relationship with a Domain Broker.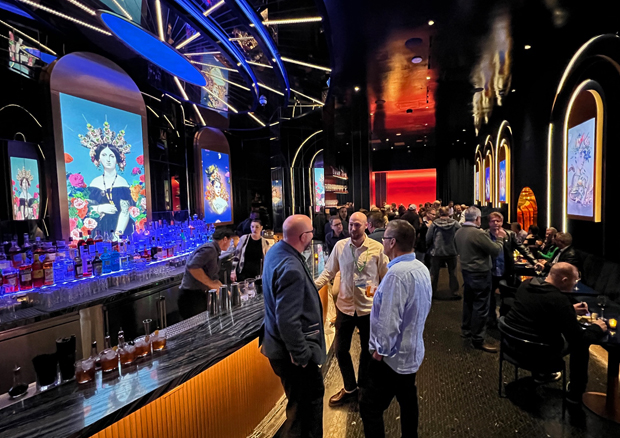 Above: With the Monday business day done attendees started moving over to Bar Zasu, located in the same Resorts World complex at the host hotel, the Las Vegas Hilton. It quickly filled up as guests enjoyed food and drink provided by Dr. Gregg McNair's PTL.
Below: You always know it will be a good night when you see these three domain investor OGs in the house - (left to right) Ammar Kubba, Chad Folkening and Michael Castello.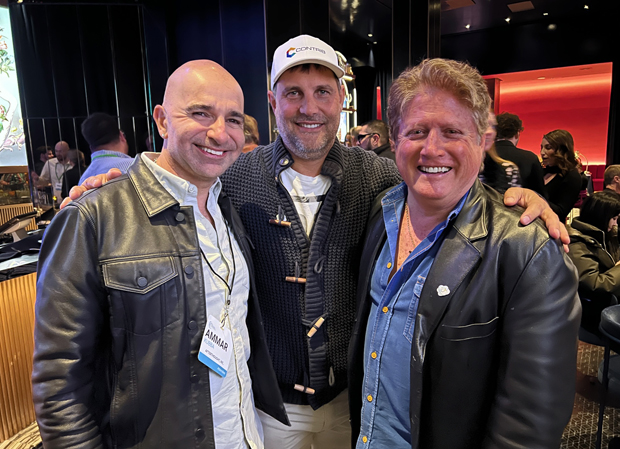 At right: Everyone had a great time at the party though there was one hiccup. We understand that some ladies don't like to arrive at an event only to see someone else wearing the same dress. Well, this wasn't an exact match case, but pretty darn close given Diana Jackson's leopard print tights and party host Gregg McNair's leopard print collar and cuffs! Have to admit it though - they both looked positively stunning!

Below: For me it was a great opportunity to see a lot of long time friends. I had seen some as recently as the NamesCon Global conference last summer but in other cases it has been as long as three years (partly due to the Covid epidemic). So it was a treat to get together again with (left to right) Ray Dillman Neu, Steven Kennedy (after me) and Michael Castello. Next I have to round up Michael's brother and partner at CCIN, David Castello!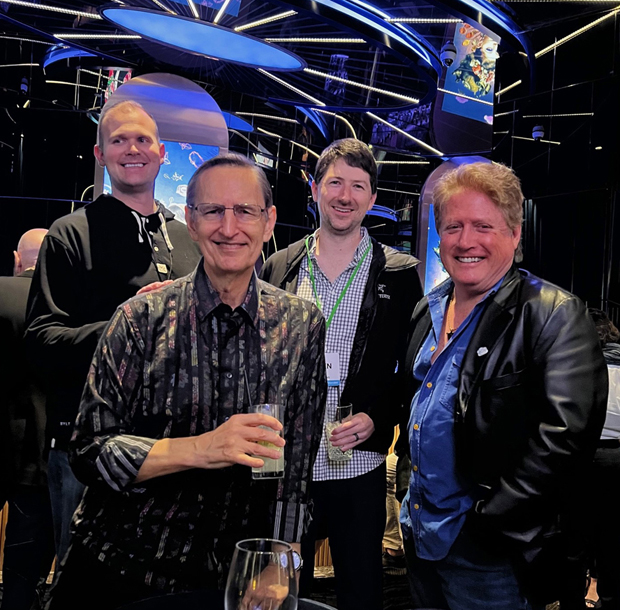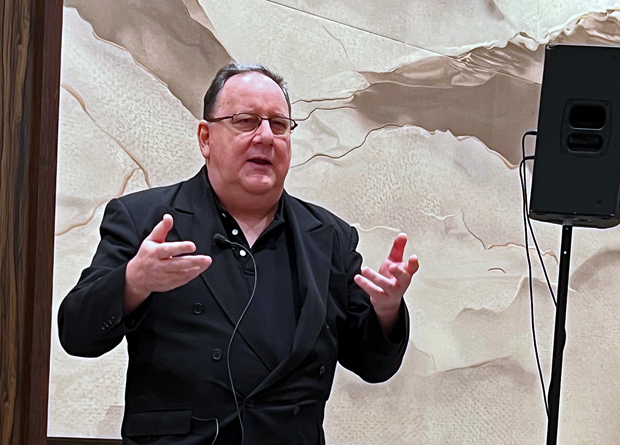 Tuesday morning (January 24), attorney John Berryhill hosted the meeting's final business session - What You Do Know Might Hurt You - in which he dispelled a lot of misinformation that has caused some domain investors a lot of unnecessary grief. To many his advice could up being worth more than the entire cost of coming to Las Vegas for the meeting.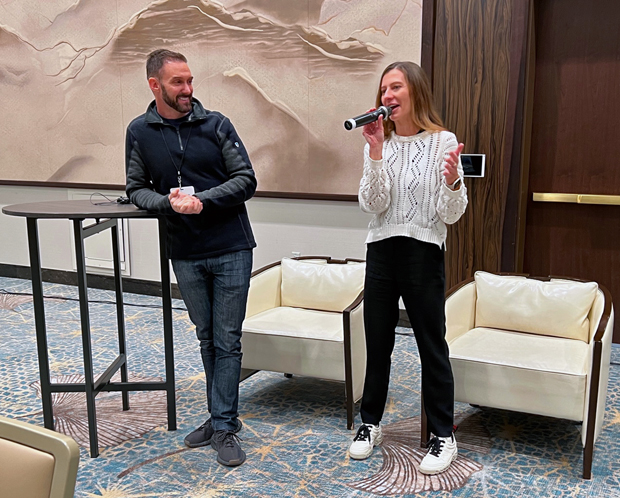 Above: To close out an very successful 2023 Annual Meeting, ICA Board Member Braden Pollock and Executive Director Kamila Sekiewicz, thanked everyone for coming and asked attendees for input on when and where the next annual meeting should be held. The general consensus seemed to be it didn't matter when or where - the members plan to be there. You could be too by becoming an ICA Member yourself. You can join here! Thank you to the entire ICA team for a great job and and outstanding meeting.