Every new year begins with a flood of reports from businesses around the world, summing up how they fared in the previous year. 2022 was one of those years that was a mixed bag with enterprises around the globe having to contend with the negative consequences of a war in Ukraine, inflation, a crypto crash and continuing supply chain issues that created strong headwinds for many. Despite those challenges other still managed to thrive with the .ART domain registry among those who were able to fill the 2022 review (.pdf file) on the registry's official blog with good news.
The report noted, ".ART continues to show strong and steady progress and has remained among
the 15 fastest-growing domain name registries, according to data from Hosterstats.com. We ended the 2022 year with 232,307 .ART domains under management, a net domain growth of 39% over 2021. .ART's consistent and stable growth is evidenced by numerous high-quality registrations, including some of the world's best-known museums and art institutions, as well as a strong 1st-year renewal rate of 81% for premium names. Individual artists, art enthusiasts, and others associating themselves with "art" continue to be strong supporters of .ART."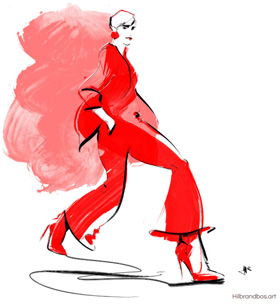 Image from Hilbrandbos.art
.ART CMO Jeff Sass

Regarding their premium domain strategy, the review noted, "There are nine .ART premium name price tiers ranging from $70 to $10,000 with all premium names renewing at a low price of $30 per year. In 2022 we sold 5,734 premium domains, representing 5% of .ART names registered and 69% of domain registration revenue - increasing revenue for the .ART registry and its registrar partners."

.ART CMO Jeff Sass pointed out another plus, telling us, ".ART domains also work on ENS, so the same name can resolve to a DNS website and also point to a wallet, NFT, or any digital asset on the Ethereum blockchain. Also, .ART is the only registry to employ additional Whois data fields to record art object metadata. We also launched a charitable Art Therapy Initiative supported by our domain name sales."

You can get more information about .ART domains names here: www.art.art.
(Posted February 13, 2023)