GoDaddy announced a new "Payable Domains" option today that allows anyone who has a domain registered there to begin accepting payments, whether or not they have a website. The option (that can be enabled through the registrant's GoDaddy back-end dashboard) is available to both new registrants and those with existing domains at GoDaddy. The only cost involved in using Payable Domains will be the transaction fees of 2.3% of the payment amount + 30 cents for each transaction. That compares very favorably to the cost at most other payment processors.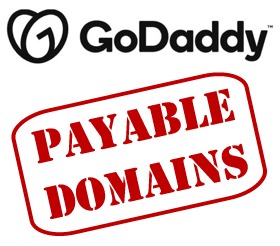 With this move, GoDaddy stated in their press release that they are "the first company to seamlessly bundle payment technology with the brand power of a professional domain – at no additional cost – to help small business owners start growing from day one." Payable Domains, powered by GoDaddy Payments, use branded pay links (incorporating the domain name) that the domain owner can share, allowing the customer to access their secure checkout page with one click.
For example, if a person registers the domain of their name or business, such as roohshad.co, they will then receive the corresponding Payable Domain, pay.roohshad.co, to accept payments. Once that first payment is received, domain owners can then link a bank account to their GoDaddy Payments account, complete the verification process, and receive payouts for transactions just as they would with any other payments service. Payments are securely processed with funds deposited into users' bank accounts as early as the next business day.
In addition, small business owners can customize their Payable Domain with a company logo, product images, cost of their products or services, or other branded content to create a seamless checkout experience and maintain a personal and professional look.
Paul Nicks
GoDaddy President of Domains

GoDaddy President of Domains Paul Nicks noted, "While there's been innovation around add-on products for domain names, such as Domain Privacy and Ownership Protection services, not much has been done to enhance the capability of domain names themselves. Domains have largely been used as a digital identity for businesses, but with this new commerce capability we view the domain name taking on a far more versatile role for up-and-coming small businesses. The Payable Domain ultimately serves as an innovative and cost-effective tool for entrepreneurs to accept online payments before even setting up a website."

GoDaddy President of Commerce Osama Bedier added. "We're intensely focused on building connected commerce solutions that make growing a business easier, whether you've just named your business or are in the process of expanding its sales across the country. With Payable Domains, it's never been easier to start selling online."