The .ART registry, launched in 2017 as part of the ICANN new gTLD program that has brought hundreds of new domain extensions to the Internet, has received a warm welcome from the creative community. Even though .ART is now a permanent and increasingly popular part of the established Domain Name System (DNS), the registry has now launched a new domain initiative of its own - one that allows registrants to have the same name on both the DNS and the decentralized ENS (Ethereum Name Service) favored by Web 3.0 proponents.
Anyone who has registered a .ART domain can now go to www.Protocol.art and register their matching ENS name so that "theirname.art" will function in both Web2 (DNS) and Web3 worlds. The registry notes that .ART is also collision-proof - only the owner of a DNS .ART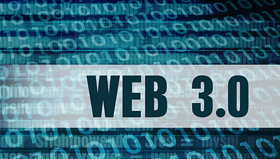 domain can register the matching ENS .ART domain. Similarly, if an ENS .ART domain is registered for an available DNS .ART domain, only the person who owns the ENS .ART domain can use the DNS .ART domain.
Registry Founder Ulvi Kasimov noted, ".ART is the first domain registry to offer this innovative matching domain capability across both ENS and DNS, making .ART domains more powerful and useful than any other blockchain capable domains. We believe that this will open up new possibilities for artists, collectors, curators, galleries, museums and anyone who wants to express themselves creatively online or on Web3. Our vision is to make .ART domains not only a digital identity but also a digital asset that can be used in various ways on different platforms."
A couple of other notes today, ParkLogic.com Founder and long-time friend Michael Gilmour has invited me to join him for his next Fireside Chat that will be live via Zoom tomorrow (Tuesday, March 14 at 5PM U.S. Eastern Daylight Time). Michael (who was profiled in a November 2008 DNJournal Cover Story) does a monthly Chat that comes out every second Tuesday (recordings of many of those can be viewed on his YouTube channel).

It will be a little different for me to be the one answering questions rather than asking them but it will be fun and we are overdue for a long conversation. Last September we had a meeting planned at our home base here in Florida when Michael, who lives in Australia, was visiting the U.S. However, the day before we were to connect he had to cancel his flight because Hurricane Ian was bearing down on the Sunshine State with our town, Tampa, expected to take a direct hit, resulting in the airport closing down. The massive storm wound up turning inland before

Michael Gilmour
ParkLogic Founder

it got tous, devastating the Ft. Myers area instead. Recovery there still has a long way to go and our hearts remain with our friends in that beautiful part of the state.
Last but not least, we want to congratulate another long time friend, pioneering domain attorney Ari Goldberger, on completing a 255-mile bicycle adventure across the state of Florida! Ari's Coast to Coast trip started on the East Coast at Titusville (where he also got to see a rocket launch from the Kennedy Space Center) and ended 10 days later in St. Petersburg on the Gulf Coast.

His route happened to bring him within a couple of miles of our Tampa home so we took the opportunity to get together for dinner that night while he was resting up and getting ready to start the last legs of the journey the next morning. Ari (who was profiled in a June 2006 DNJournal Cover Story) successfully hit the finish line in downtown St. Pete on the western edge of Tampa Bay Thursday (March 9) and we were able to watch him do it thanks to the live Facebook stream he provided

Ari Goldberger at a brief stop during his 255-mile Florida
Coast to Coast bike adventure completed March 9, 2023.

at various points throughout the trip. Technology is a wonderful thing but following Ari's ride reminded us nothing beats fresh air, sunshine, blue skies and all of the other wonders Mother Nature provides!