In our latest bi-weekly domain sales report (published March 15), we noted that it was the first report of the new year that had no publicly reported six-figure (or higher) sales to chart. Given all of the global economic issues we are seeing now, some wondered if that meant trouble ahead for top tier domains after their strong start to 2023. We cautioned that one report provided far too little data to draw any meaningful conclusions from and Sedo underscored that today when they announced a $380,000 sale of TopHotels.com.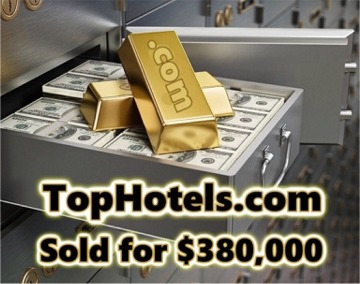 Image from Bigstock
As of this writing, that ranks as the 3rd highest sale reported so far in 2023 (we will be adding it to our YTD Top Sales Chart in our next report that will be out Wednesday evening, March 29). That trails only Help.com ($3 million at Above.com in January) and another Sedo sale, Giveaway.com at $400,000, last month. It looks the buyer acquired TopHotels.com as an upgrade for their established hotel booking site at TheTopHotels.com as TopHotels.com is now forwarding to that site (it was directed elsewhere prior to the sale).
We are also hearing about some even bigger sales that have been getting closed under NDAs this month. As the year goes on we will continue to see ups and downs but the value of a strong Internet presence has been proven over and over again in recent years, which in turn has kept demand for quality domains high. While we are on this topic, if you missed it, let me again point you to our new Cover Story in which one of the world's top domain brokers, MediaOptions.com Founder Andrew Rosener, breaks short and long term prospects down in a way that will give you a new understanding of both today's global economic picture and how domains fit into the current and future business climate.