In a related note, RightOfTheDot (ROTD) is now accepting domain name and NFT submissions for the in-person live digital asset auction they will be running at the upcoming 2023 NamesCon Global conference in Austin, Texas. With NamesCon running concurrently with the new Cloudfest USA conference May 31-June 3, this auction will put digital assets it front of what is likely to be one ROTD's biggest audiences ever.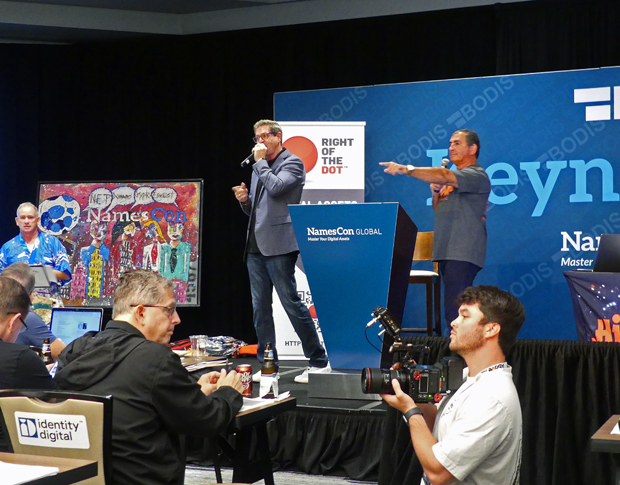 Above: A scene from ROTD's live digital assets auction at NamesCon Global last year,
conducted by World Champion auctioneer Wayne Wheat (at left) & ROTD President Monte Cahn.
You can bet the .hiphop crew will also be in the house at NamesCon Global, just as they were last year when we caught up with them at the company's booth in the Exhibit Hall.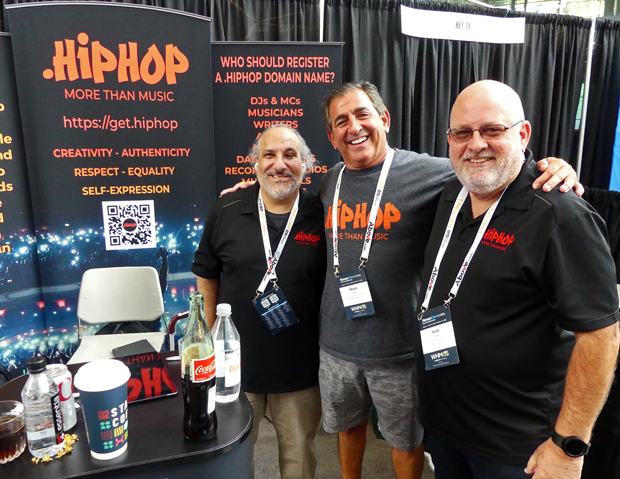 (L to R): .Hiphop Partner and Chief Legal Officer Jeff Neuman, Partner Monte Cahn and Director of Marketing Scott Pruitt. The 3rd partner in the enterprise, Ajene Watson, was also at the show.