Two new reports just issued by Escrow.com and GGRG.com show a big jump in total dollar volume for aftermarket domain sales in the first quarter of 2023. Escrow.com (as part of a market announcement from parent company Freelancer) reported that total $ volume on their platform soared 47% higher than the previous quarter with domain names being a driving force in the boom (Escrow.com also handles transactions for other high value assets like motor vehicles, watches and jewelry).
Escrow attributed the volume growth to an anticipated boom in venture capital flowing into startups capitalizing on generative AI. For example, the company facilitated the purchase of Chat.com and Prompt.com, as well as other high value domains such as NewYork.com. Escrow cited the recent sale of the MakeLogo.ai business through Acquire.com and Escrow.com for $65,000 as another example from the AI-triggered boom.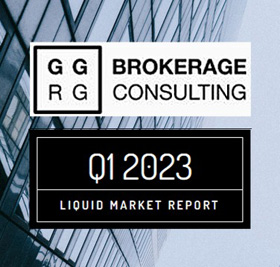 GGRG's Q1-2023 Liquid Market Report mirrored Escrow.com's experience, which is to be expected as Escrow is one of GGRG's primary data suppliers. GGRG covers a subset of the overall aftermarket - short acronym and numeric domains that, due to steady demand, tend to have more liquidity than most other domain categories. These are .com domains comprised of 2-4 letters, 2-5 numbers or a combination of 2-3 characters mixing letters and numbers. GGRG stated that Q1 2023 was an absolute record quarter, topping all others covered in the 26 previous editions of their report.
The new edition noted "With over $43 million in Escrow.com reported sales, it eclipsed the now second best quarter (Q4 2021) which came during a peak stock and crypto market. The reason for the record quarter was an unusually high, 8-digit number in two-letter .com sales ($15.7 million) and 4-letter .com sales ($23.8 million), probably as the result of monster sales."