TLDS (standard registrations only) came in at 18%, slightly less than the 20% rate posted in 2020 and 21% in 2021 (both years that benefited from a Covid generated boom in online activity). However, Radix was able to document growth rates for their top TLDs that easily outperformed the overall market numbers.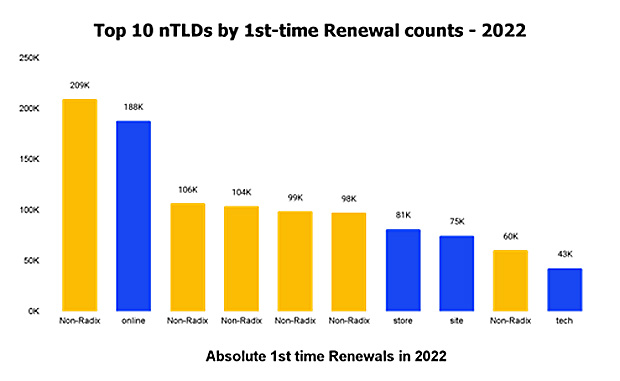 As shown in the graph above, highlighting Radix's standing among the top ten new gTLDs in terms of actual first-time renewal numbers, Radix claimed four of the top ten (.online, .store, .site and .tech) with those accounting for 36% of the renewals among the top tier of new gTLDs.
Radix also showed a 45% increase in their first-time renewals from 2020 to 2022 and, as shown in the graph they below, they wound up booking nearly half a million total first-time renewals in 2022, compared to 350,000 in 2020. As indicated in the data below, .Store enjoyed the biggest boom, soaring 92% in absolute first-time renewals in 2022 compared to 2020. .Online and .Site also impress with first-time renewal numbers jumping over 40% in the same period.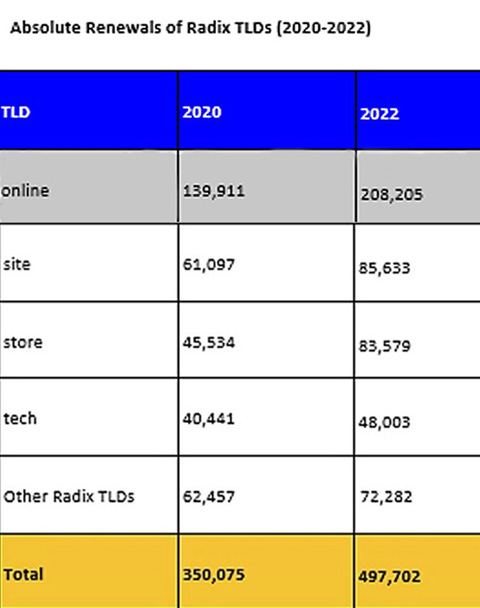 In terms of dollar value for top ten ranked first time new gTD renewals in 2022 (broken down in the graph below), Radix said that .Online and .Store ranked #1 and #2 with over $4.5 million and $3.2 million respectively (excluding registrar markup). Again, as noted above, These revenue figures take into account only first time renewals from standard registrations and exclude premium renewal revenue.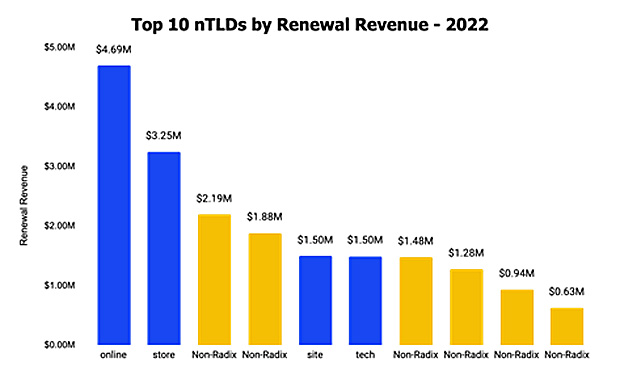 The graph below illustrates the 2022 first-time renewal revenue split among the top 10 nTLDs. It shows .Online accounting for 24% of the total renewal revenue, and cumulatively, four Radix TLDs generated approximately 57% of the total renewal revenue for the top ten.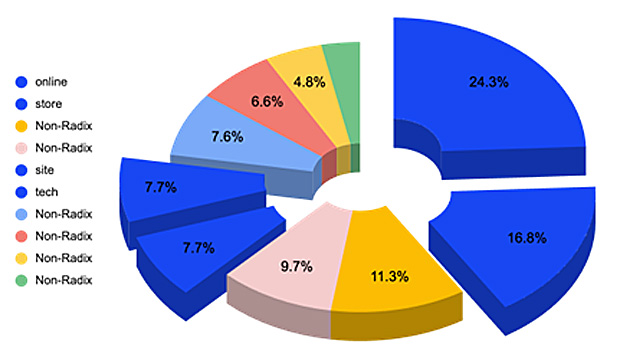 Radix, whose full roster of TLDs includes .ONLINE, .STORE, .TECH, .WEBSITE, .SPACE, .PRESS, .SITE, .HOST, .FUN and .UNO, also provided these details about the study.
Methodology:
This analysis of renewal data was conducted by Radix using publicly available domains data and applying standard renewal costs across registrars, assuming the margin across TLDs to be more or less the same. All data points exclude registrations and renewals from China. The data is solely based on standard registration renewals and exclude premium renewals.
Disclaimers:
This data report has been prepared using publicly available data sources, along with internal tools and methodologies developed by Radix. While we have made every effort to ensure the accuracy and reliability of the information presented, the data and estimates provided may be impacted by limitations in the available data, with an error rate of ~2% to 3%