The 2nd annual edition of the London Domain Name Summit began its two-day run Tuesday (August 22) with attendees from the UK, Europe, the United States, the Middle East and Asia converging at the Hilton London Metropole Hotel for the event.
Prior obligations prevented us from being there in person but we've gathered some photos posted on social media by attendees to give you a glimpse into a conference that founder Helmuts Meskonis and his team have been hard at work on since the day their inaugural event ended last summer.
The show's official kickoff was at 11am local time but the audience was treated to a special pre-show session at 10 featuring BrandForce.com Co-Founder Louis Pickthall who was able to speak with authority on the topic of How to Sell a Domain Name for $10 million because BrandForce handled the sale of Connect.com at that price last year.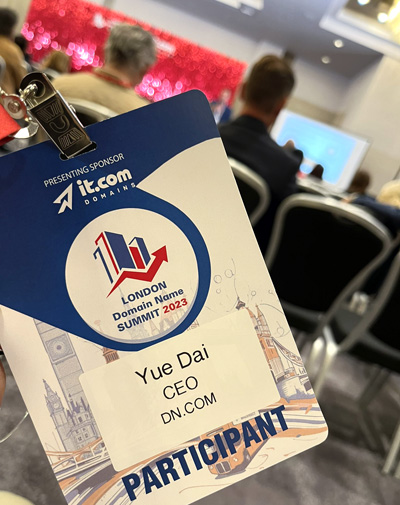 Photo credit: Yue Dai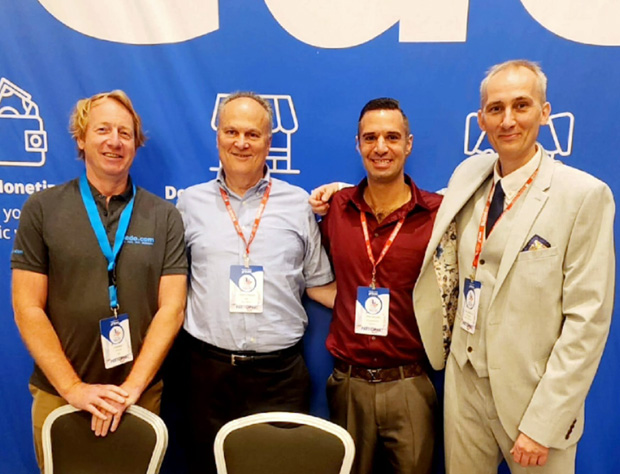 At 11am, Helmuts Meskonis, seen here (at far right) visiting the Sedo booth today, formally got things underway with his Founder's Message. Also seen above, left to right, are Sedo CMO Christian Voss, Sedo Senior Broker Dave Evanson and MrPremium.com Founder Mark Ghoriafi.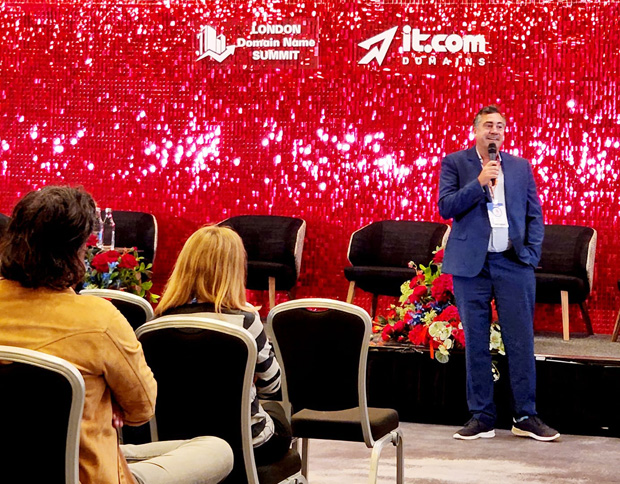 Above & Below: CentralNic CEO Micheal Riedl followed Helmuts on stage at 11:15 with a keynote talk that included a call for other industry executives to join him in setting up a meeting to formulate a coordinated industry response to climate change. DomainIncite.com's Kevin Murphy, who was at this session, posted more about that on his site today. Photo credits: Mark Ghoriafi (above and Andrew Bennett (below).
AEServer.com Founder Munir Badr kicked off the afternoon sessions with a Keynote Presentation on the State of DNS & Domain Names in MENA region. Munir is also the Founder of the new Domain Days Dubai conference that will make its debut in November.
The five sessions that followed were punctuated by a 2pm lunch break. The last of those, a 6pm panel discussion on Domain Monetization, was still underway as we were writing this. It featured Ryan Ewen (Digital Candy), Christian Voss (Sedo), Claus Barche (InterNetX) and Adam Wagner (InterNetX).

Earlier in the day, Claus, InterNetX's Head of Sales (3rd from left in adjacent photo) was busy welcoming visitors to the InterNetX booth. Those included Joe Alagna, representing the show's title sponsor, IT.com (3rd from right) and DN.com Founder Yue Dai (2nd from right). Yue Dai was also a featured opening day speaker with a well-received 5pm Keynote Presentation on the Secondary Market of Premium Domain Names in China. InterNetX Marketing Team Leader Michael Piotrowski (far right) also helped hold down the fort at their booth.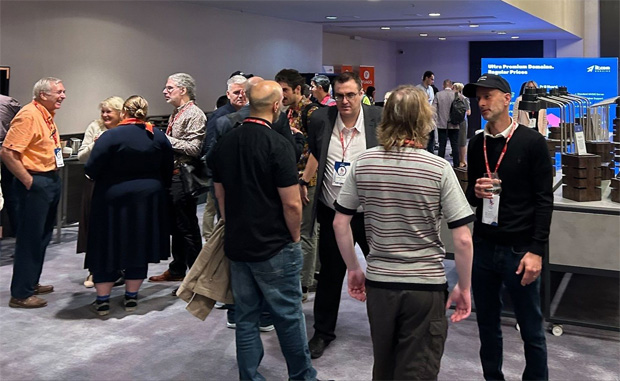 An evening social event is going on at the Metropole this evening. Wednesday morning at 10, attendees will be back in the conference hall for another full day of sessions that are scheduled to run all the way to 7pm Wednesday evening. We'll have more on that in our next post. Photo Credit: ShortDot.