person last weekend. The opportunity arose when Colin and his wife Kim invited Joe, his brilliant wife Julie and a half dozen of Colin's domain industry friends (Howard and Barbara Neu, my wife Diana and I and two of everyone's favorite Aussies, Michael Gilmour and Matt Herbert) to spend the weekend at a vacation home they have on North Captiva Island (an idyllic island located off southwestern Florida's Gulf Coast that is accessible only by boat (or small aircraft).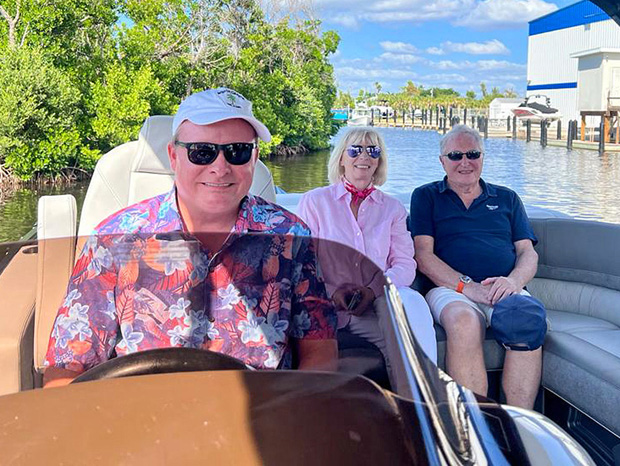 Colin Campbell and his guests, including Julie and Joe Foster, on the boat beginning a 5-mile
ride over to Florida's North Captiva Island Saturday (October 28). Photo credit: Barbara Neu.
Colin admires Joe for his business acumen, humble nature and constant efforts to give back - but that's not all. Joe is an author too. Two years ago he released his inspiring autobiography, Shoemaker, that tells the incredible story of how he and his brother, on the verge of financial collapse, managed to rebound and perform a miracle with Reebok.

As noted in Amazon's summary of the story, "money was so short that Joe had to live in their rundown factory, while the machinery that made the shoes was placed around the edge of the floor, because it was so weak it could have collapsed if they'd been positioned in the middle. But, from this inauspicious start, a major new player in the sports equipment field began to emerge, inspired by Joe's marketing vision. By the 1980s, Reebok had become a global phenomenon, when they were the first to latch onto the potential of the aerobics craze inspired by Jane Fonda. Soon, Reeboks were being seen on Hollywood red carpets and even in the film Aliens, where Sigourney Weaver wore a pair of Reebok Alien Stompers."
Diana and I were able to hear much more of the amazing story straight form the horse's mouth when we sat with Joe and Julie Saturday night at the cozy restaurant Colin and Kim took everyone to in a golf cart caravan (no cars are allowed on the island).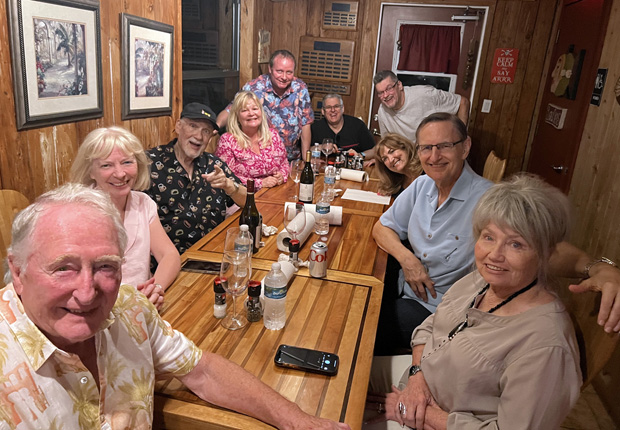 Clockwise from left to right: Joe Foster, Julie Foster, Howard Neu, Kim Campbell, Colin
Campbell, Michael Gilmour, Matt Herbert, Barbara Neu, Ron Jackson and Diana Jackson.
As any person in their right mind would do after hearing more about Joe's story, the first thing I did when we got home Monday was order a copy of Shoemaker! Now, I have two great new reads going at once, Joe's book and Colin's book.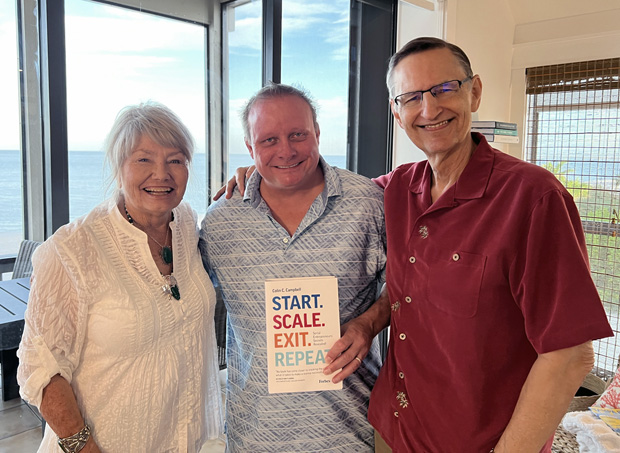 One other important thing about Colin's book. I had downloaded a Kindle copy the day it came out but while we were with Colin over the weekend he gave Diana and I a signed copy of the hard cover edition that is literally a work of art in itself. The first thing you notice when you pick it up is that is unusually heavy and the reason for that goes beyond its 458 page length. It is because it was printed on extremely high quality paper with full color divider pages between the 58 brisk chapters. The typography and illustrations are also gorgeous as is the slipcover with raised lettering. Colin wanted the book to have the beautiful simplicity of an Apple product and that goal has been achieved.
I have hundreds of hard cover books in my library at home (almost no paperbacks) because I love the feeling of a well-made book in my hands - one with the quality of binding and backing that reflects the value of the content on its pages. The hard cover version of START. SCALE, EXIT. REPEAT. has that to a higher degree than the vast majority of all books that have been released over the past two or three decades (a period in which the materials used in most products have been whittled down as much as humanly possible to cut costs and increase profits). START. SCALE, EXIT. REPEAT. is having none of that and is a breath of fresh air in that regard. That's why I am comfortable calling the book a work of art beyond the artistry associated with the excellent writing that also makes it stand out.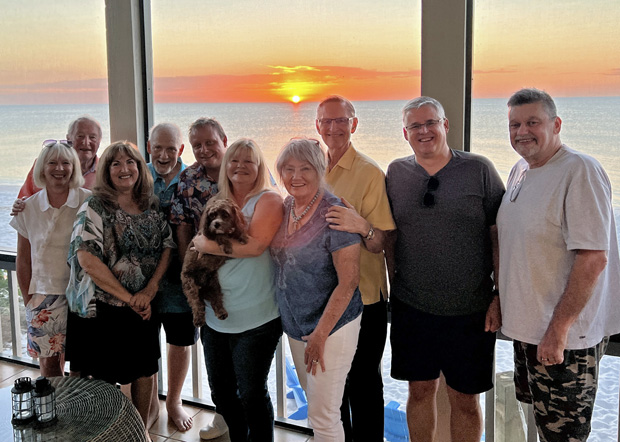 So, a big thank you to Colin and Kim for bringing old friends together and introducing new ones that were a joy to meet and get acquainted with - and thanks to Colin and Joe for sharing your hard earned wisdom in these two amazing books!