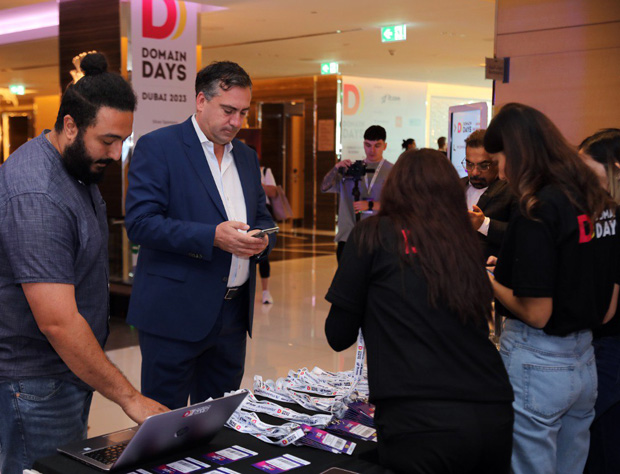 Above: The busy registration desk shortly before Domain Days Dubai opened Wednesday.
Below: Attendees settled into their seats for the first of 12 opening day business sessions.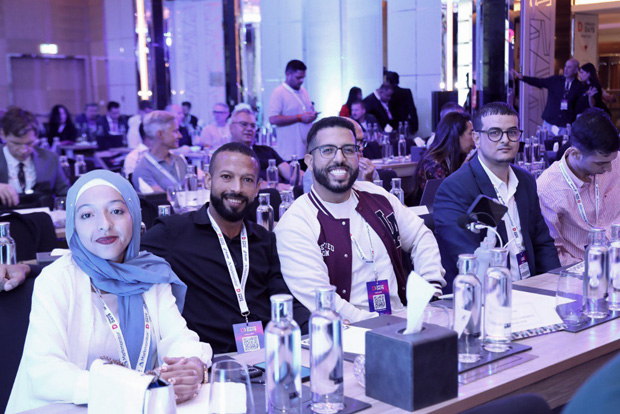 A dozen opening day business sessions followed, featuring a wide variety of topics starting with the fascinating evolution and milestones of the UAE's .ae country-code top level domain and ending nine hours later with the story behind Morocco's largest ICANN Registrar and Hosting company.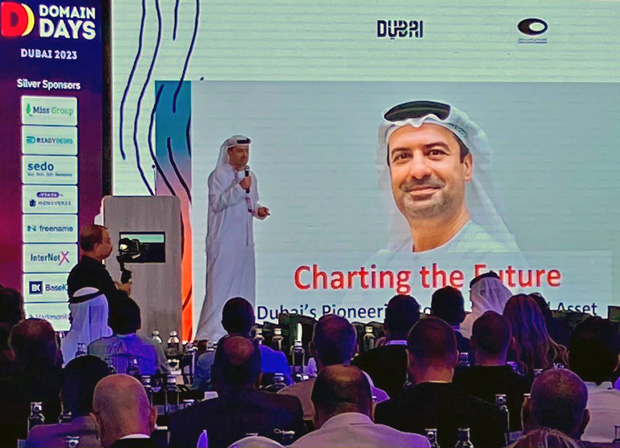 Above: In a popular morning Keynote Address, conference Co-Host Dr. Marwan Alzarouni, Strategic Advisor & CEO of the Dubai Department of Economy and Tourism & Dubai Blockchain Center, spoke on Charting the Future: Dubai's Pioneering Role in the Digital Asset Landscape.
Below: The next session was also a highlight with IT.com's Joe Alagna and Tess Diaz covering Domain Industry Startups - Going from Nothing to Something - Bootstrapping, Pre-IPO, and Acquisitions.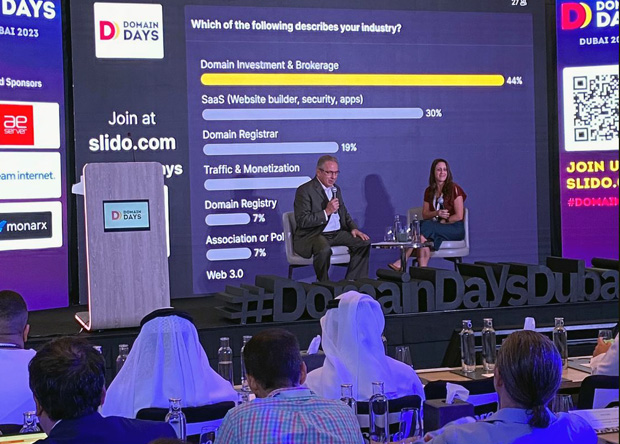 Sessions followed on The state of Middle East & North Africa (MENA) Domain Ecosystem, ESG: Shaping a Sustainable Future in the Domain Industry and 25 Years of Domaining with InterNetX & Sedo – the registrar and aftermarket perspective. Then it was ime for the 1PM Lunch Break.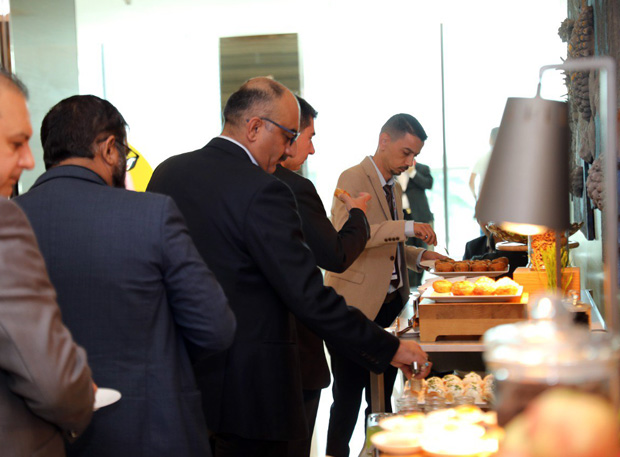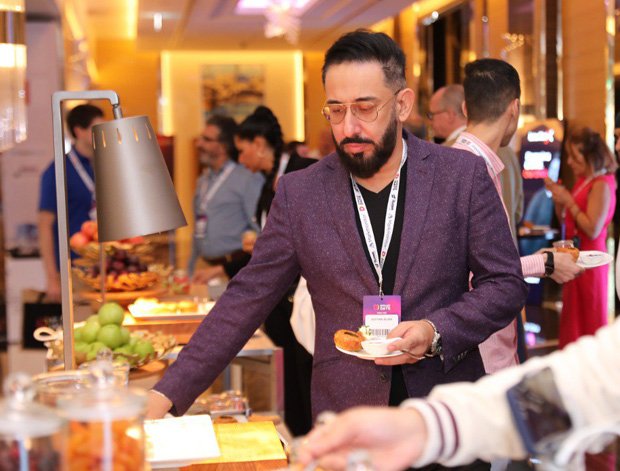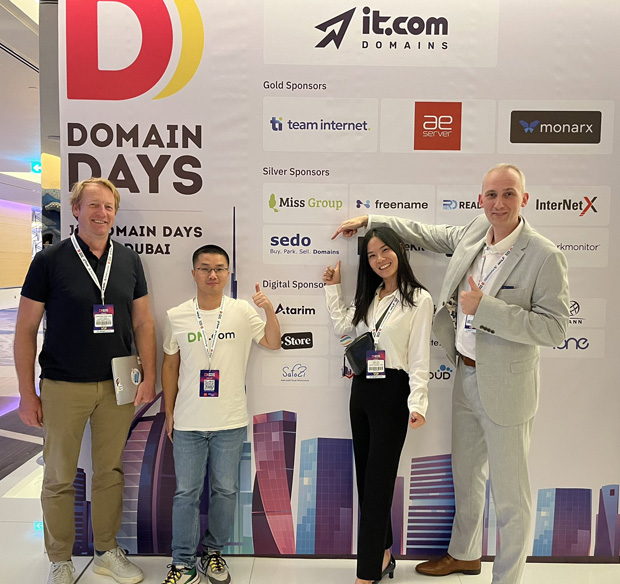 Above: Among the many familiar faces in the crowd at Domain Days Dubai are (left to right) Sedo CMO Christian Voss, Jack Dai (DN.com), Yiqiu Tao (Sedo) and London Domain Name Summit Founder Helmuts Meskonis.
The afternoon sessions began with Behar Esmat's presentation on Universal Acceptance: Preparing your business for today's domain names and email addresses, followed by a panel discussion about the Local & Global Domains Aftermarket that featured Abdu Tarabichi, Adel alTerkait,Tess Diaz, Braden Pollock, DN.com's Jack Dai and Tess Diaz.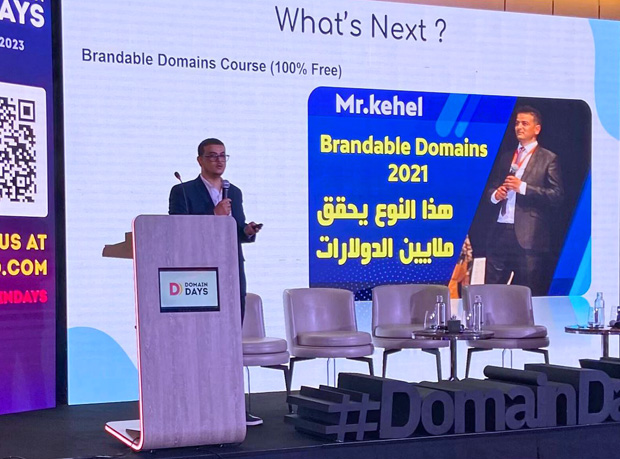 Above: Next up, Arab Domain Academy Founder Ayoub Kehel, fondly known as Mr. Kehel, discussed his mission - Empowering Arab Domain Name Investors: The Arab Domain Academy Journey.
A 4pm coffee & snack break gave attendees a chance to fuel up for the final three-session run down the stretch that closed out day one. Those included The Rise of Web 3.0 featuring Freename's Eleonora Bellotto and Not Sitting on the Sidelines: Marketing a TLD by .Store Registry delivered by Arjun Pande, Director - .Store Domains.
Above: In the final opening day business session, Hamza Aboulfeth, Founder & CEO of Genious.net, told attendees how he built Morocco's largest ICANN Registrar and Hosting company. Munir Badr followed with some closing remarks and things to look forward to on day 2 Thursday, then joined the crowd in getting ready for a 7:30PM Networking Dinner at Bal Harbour Beach, sponsored by Munir's company, AEserver.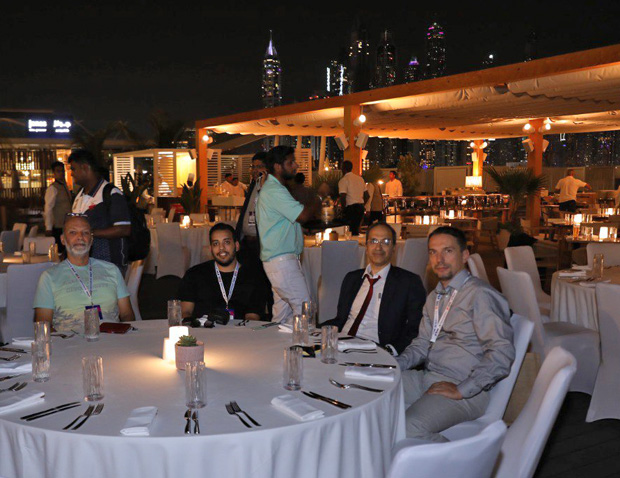 Above: Domain Days attendees arrive at the Bal Harbor Beach
restaurant for Wednesday night's Networking Dinner.
We expect to have Thursday's Day 2 photos and highlights from Domain Days Dubai available to share with you by the end of the day Friday, so check back here in The Lowdown for those!