When you visit the home page for the 2022 NamesCon Global conference, you will see one name above the rest and, appropriately enough, that name is Above.com. It is there because Above's parent company, Trellian, is celebrating its 25th Anniversary this year and decided there was no better way to mark the landmark occasion than becoming the title sponsor of the industry's first face-to-face domain conference in over two-and-a-half years.
Since then we have been through a global pandemic that still isn't over but is less of a threat to most people thanks to vaccines and treatments that weren't available before. That has re-opened the door to doing business the way people love do it - live and in person. A lot has happened since that last real world conference in January 2020, leaving us all with a lot to catch up on when we return to the Omni Hotel in Austin, Texas August 31 through September 3. That being the case, the Above team knows the social events will be just as important as the business sessions, so they will be entertaining attendees at both the opening and closing events of NamesCon Global 2022.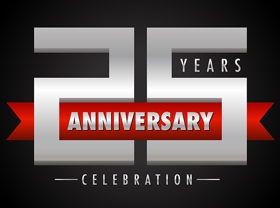 Image from Bigstock
On a personal note, when I heard that Trellian was turning 25, it immediately took me back to a Cover Story we published in 2017 (marking the company's 20th anniversary) that covered the remarkable story of Trellian and its co-founders, David Warmuz and his late great brother, Ren Warmuz. In 20 years of writing cover stories it is one of my all-time favorites. If you missed it, please check it out and you will see the many reasons why you will want to congratulate David and the Above.com team when you see them in Texas. Yes, thriving (let alone surviving) for a quarter of a century in this ever changing industry is a praiseworthy achievement in itself, but the personal story behind the journey is what takes it above and beyond anything you could expect.

Trellian has been building businesses, software and tools to support domain investors and the domain name industry since 1997. Above.com, launched in 2008, is their most widely-known and beloved brand. David and Ren founded that

Best Man Ren Warmuz (left) with his brother
and business partner David Warmuz
on David's wedding day.

business with a focus on monetizing and managing domain portfolios. With continual improvements and fine tuning, Above.com has now optimized over 20 million domains and generated more than $500 million in revenue.
While Above.com made an immediate splash upon arrival, it didn't surprise me because I had already met David and Ren two years earlier at the 2006 T.R.A.F.F.I.C. East Conference in Florida. They were smart, personable guys from Down Under who were brimming with enthusiasm and ambitious ideas.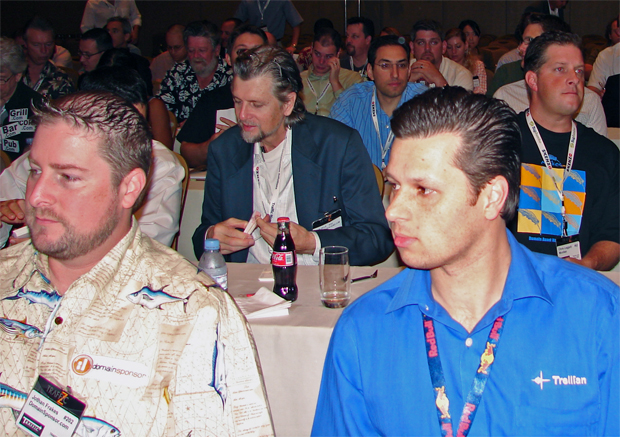 Trellian Co-Founder David Warmuz (at right) where you will usually find him,
ahead of the crowd, at the 2006 T.R.A.F.F.I.C. East conference in Hollywood, Florida.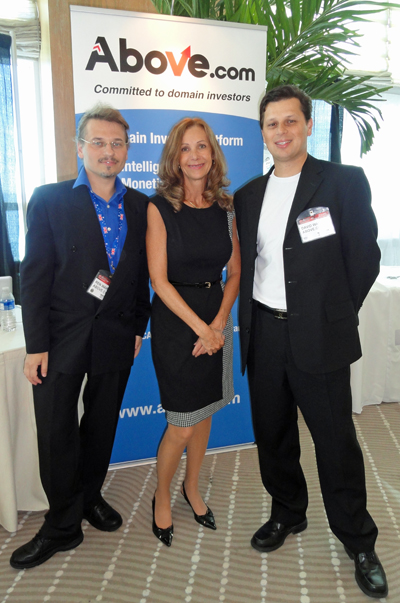 (L to R): Ren Warmuz, Trellian EVP Nancy Bianchi and
David Warmuz at the 2012 T.R.A.F.F.I.C. conference in
Fort Lauderdale. (Photo courtesy of Barbara Neu)
In hindsight, back then I thought of all of us as being "newcomers" to the field (after all, the very first major conference, T.R.A.F.F.I.C 2004 had just been held two years earlier in Delray Beach). Doing the math now, I realize David and Ren had already been at it with Trellian for nine years when I shot the photo above. There aren't many in this industry who have been on such a consistent winning streak for such a long period of time.
In the ensuing years, David and Ren were fixtures and fonts of knowledge at just about all of the important conferences around the world, including the 2012 T.R.A.F.F.I.C Conference in Fort Lauderdale. That show will always stand out in my mind because it was the last year before the devastating blow of Ren's unexpected passing in 2013 after a tough battle with cancer that took him from us far too soon. He was just 45 years old.
When it happened David wrote a moving eulogy that noted, "I always considered Ren an absolute genius, and was fortunate to have him part of my life, not only just growing up together but working together since 1997. We made a great team." Indeed thy did - and now it was left to David to honor his brother in the best way he knew how - by continuing to carry what they created forward in a way that would make Ren proud.
As the years rolled by, David was at every big event, greeting the company's customers to get their feedback and making the rounds to touch base with other industry leaders.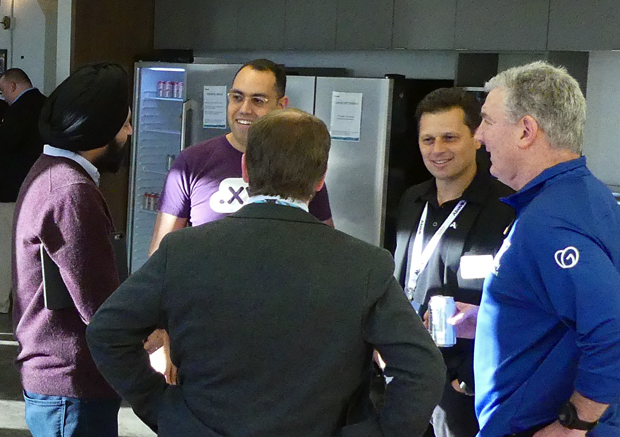 (Above) At the last face-to-face NameCon Global event (January 2020 in Austin, Texas), David's rounds included a reception for newly-named GoDaddy CEO Aman Bhutani (at far left). Left to right after Aman, facing the camera, are Daniel Negari (XYZ Registry), David Warmuz (Trellian/Above.com) and Bob Mountain (GoDaddy).
Even after the pandemic shut down the live events, David was still there, representing Trellian and Above.com, when NamesCon had to switch gears and produce virtual events.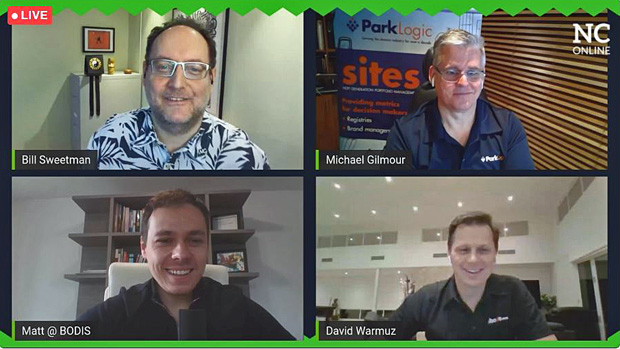 David Warmuz (Trellian/Above.com) at lower right in a panel discussion
during the September 2020 NamesCon Online conference.
So now, here we are in 2022 - 25 years after Trellian began, David, the Above.com team and hundreds of other domain industry professionals are getting ready to go to another major event, this time in person. In a sign of just how far David, Ren and everyone who has contributed to Trellian's advances over the years have brought the company, Above won't just be there, they will have top billing - just like it says at the top of the conference's Home Page - NamesCon Global 2020 Presented By Above.com. Yes, things constantly change in this business but one thing remains the same - the cream always rises to the top!