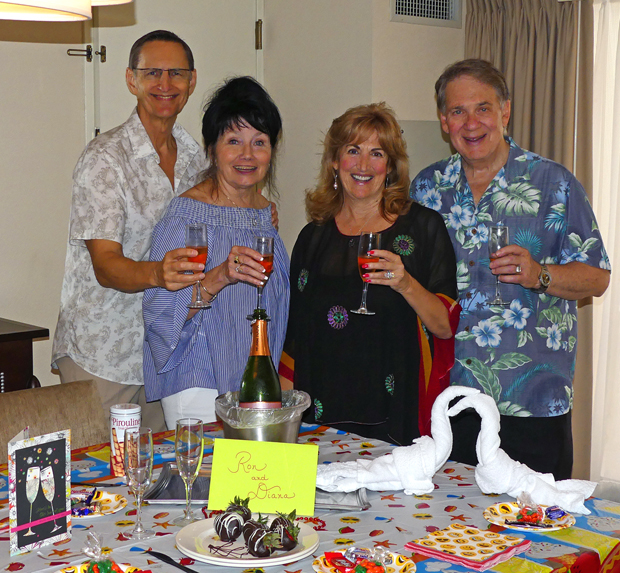 (Left to right): Ron & Diana Jackson celebrating their 34th wedding anniversary
with Barbara & Howard Neu at the Hilton Lake Buena Vista Hotel in Disney Springs.
As many of you know, the Co-Founders of the MERGE! conference are Howard & Barbara's son Ray Dillman Neu and industry veteran Jothan Frakes (the NamesCon Co-Founder who was profiled in our July 2014 Cover Story). With MERGE! 2018 coming up in three months at the Hilton Lake Buena Vista Hotel staying there was a no-brainer as we all wanted to get a sneak peak at the conference facilities and Disney Springs next door.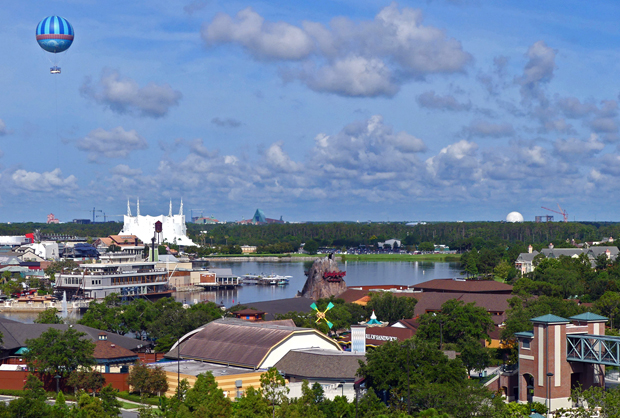 Above: The first thing we did when we checked into the Hilton Lake Buena Vista Friday was check out the view of Disney Springs from our 9th floor room. It was a gorgeous summer day and odds are we will see much of the same in September as the Florida weather then is almost the same as in June. In the lower right corner you can see the walkway that connects the Hilton to Disney Springs. The white sphere in the distance at far right is the Epcot Center.

At left: A close up view of the tethered balloon that has become as closely associated with Disney Springs as Cinderella's Castle is with the Magic Kingdom. The balloon goes up and down throughout the day and night giving passengers a birds eye view of Disney World.
We also had a great view of Disney Springs after dark and that was a special treat because it allowed us to watch three separate fireworks shows from our high perch that are staged around Disney World every night.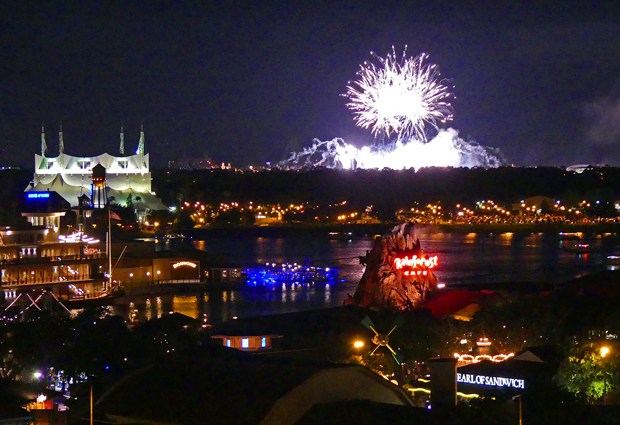 Above: The fireworks began promptly at 9pm with this show at Epcot Center providing a spectacular backdrop to Disney Springs in the foreground.
Below: At 9:15pm the action switched to the Magic Kingdom (that's the Contemporary Hotel at bottom left) - again viewed from the comfort of our Hilton base at Disney Springs.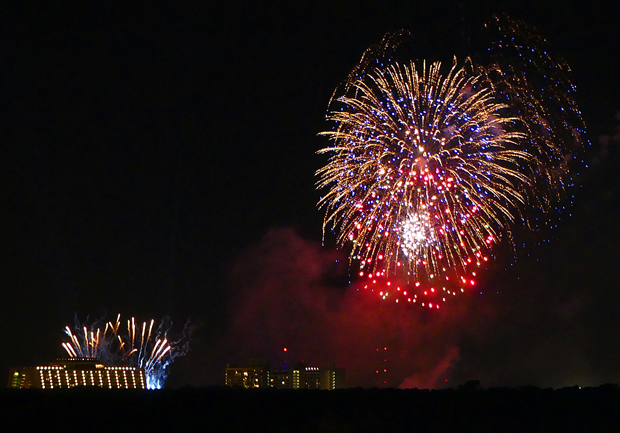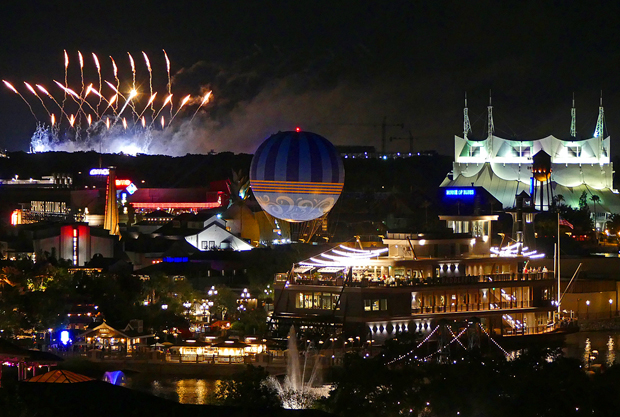 Above: The final fireworks show started at 9:30pm. That one launched from Disney's Hollywood Studios, located almost directly behind Disney Springs, making for an especially colorful night time scene.
Before night fell Friday we had paid a visit to the Hilton's conference area to see where the MERGE! business sessions and networking will be centered. Of course, the conference's specific layout won't be put in place until September but we could see what they have to work with and I think it is going to be ideal for the MERGE! conference.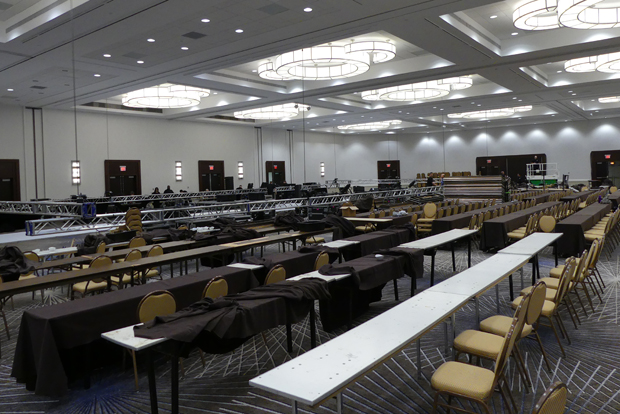 Above: The main ballroom was being set up for a major conference while we were visiting. This huge space will be divided into a large main hall, separate breakout rooms and exhibit space when MERGE! sets up shop in September.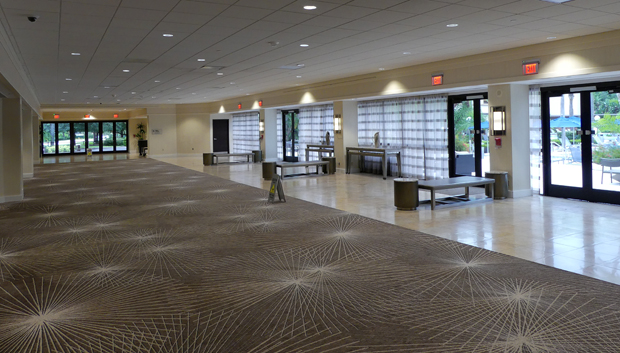 Above & below: Immediately outside the main hall and meeting rooms is a spacious hallway with plenty of seating space that looks out on the hotel's pool area. It is going to be perfect for casual networking and you can even step outside for a poolside lunch from the Rum Largo Restaurant if you would like.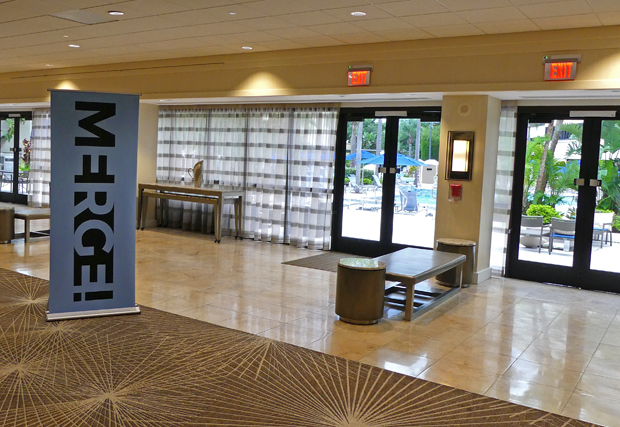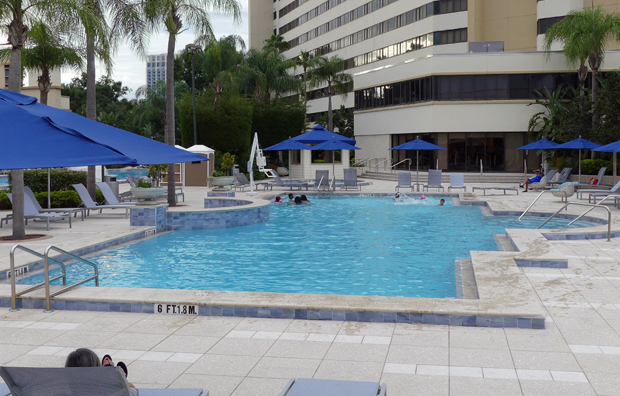 Above: There are two swimming pools and a secluded spa just steps from the MERGE! conference area. Another key location will be that large glass enclosed 2nd floor room you see overlooking the far right end of the main pool. That is the Governor's Suite that will be transformed into the Fabulous.com Hospitality Suite that will be open to all attendees nightly during MERGE! It is going to be a great place to hang out and socialize or network into the wee hours.
Below: A section of the Fabulous.com Hospitality Suite that will be a beehive of nighttime social activity at MERGE!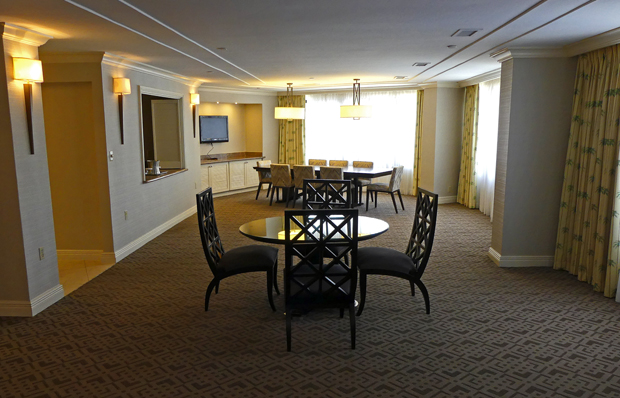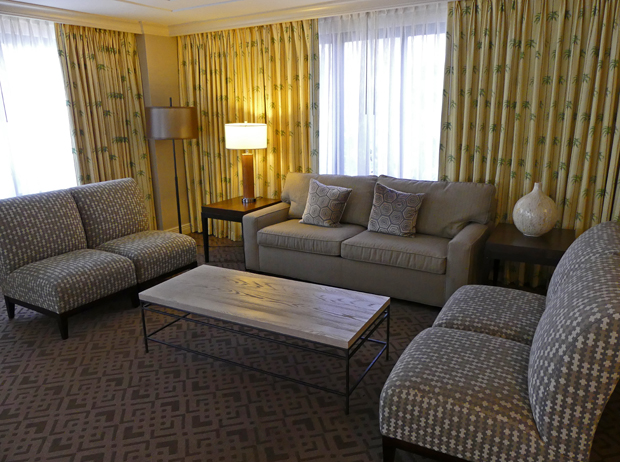 Above & below: Comfortable seating areas in other parts of the Fabulous.com Hospitality Suite that will be open to all MERGE! attendees in September.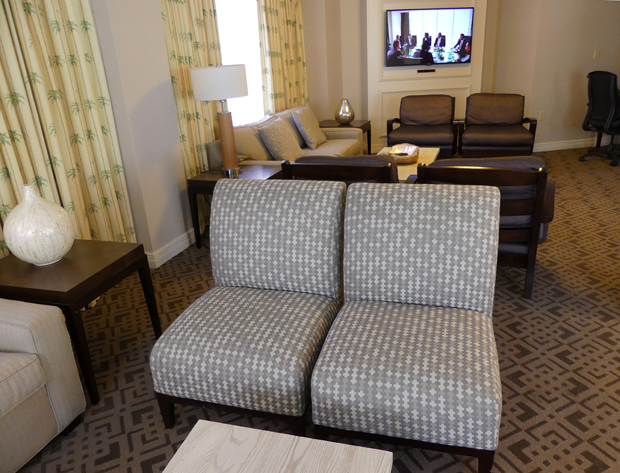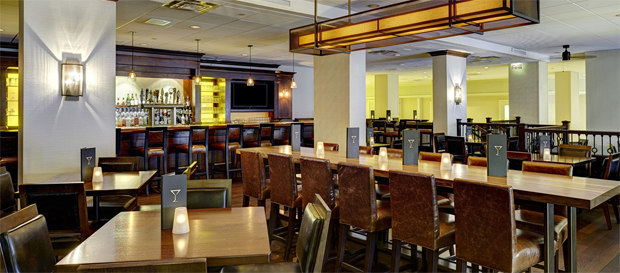 Above: Another thing I really liked about the conference layout at the Hilton Lake Buena Vista is that John T's Lounge & Sports Bar is conveniently located at the head of the hallway that leads to the MERGE! conference. With terrific food at reasonable prices there is no need to go far for something good to eat or drink, and with conference traffic continually passing back and forth in front of John T's, it will definitely be a popular place to hang out and talk. We didn't want to miss the fireworks Friday night so we stayed in for what turned out to be an excellent dinner at John T's (one of multiple restaurants inside the Hilton).
Also, for those who might suffer a snack attack in the middle of the night, there is a fully stocked 24-hour market just off the main lobby.
In addition to the endless delights at the Hilton and Disney Springs, MERGE! has also worked with Disney World to make discounted tickets available to all of the Disney theme parks including the Magic Kingdom, Epcot, Hollywood Studios and Epcot. Some of Orlando's most popular attractions are also just minutes away on I-4. On Saturday we decided to do something inside during the day to escape the summer heat and then explore Disney Springs Saturday night. Howard suggested a visit to Madame Tussauds. Diana and I had never been to one of the famous wax museums and it was just up the road from the Hilton so off we went.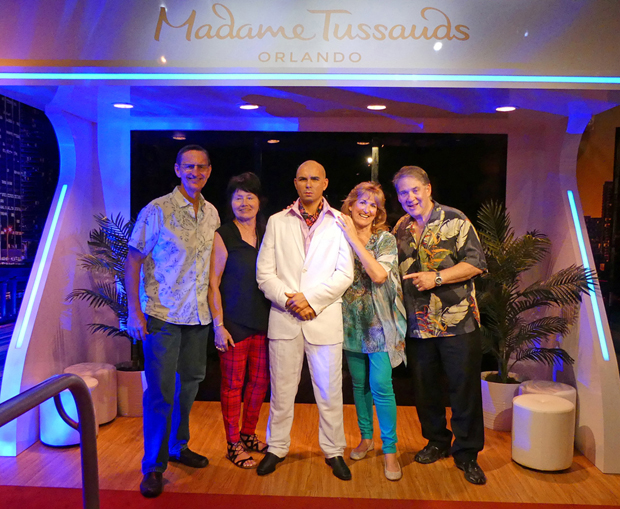 Above: Our fellow Floridian, Pitbull, was on hand to greet us as we entered Madame Tussauds Wax Museum in Orlando. The figures in the museum are so life-like it feel strange not to hear them talking (or in Pitbull's case, singing).

At left: Barbara is a self-proclaimed Disney fanatic so it was no surprise to see her make a beeline for Walt Disney figure at Madame Tussauds. Barbara never met a Disney movie or a Disney product she didn't like. I think she has at least one of everything!

Below: Meanwhile, Howard had a meeting with Apple icon Steve Jobs and it is obvious that had something serious to talk about. While the Jobs figure was very impressive I thought the Howard Neu was even more life-like!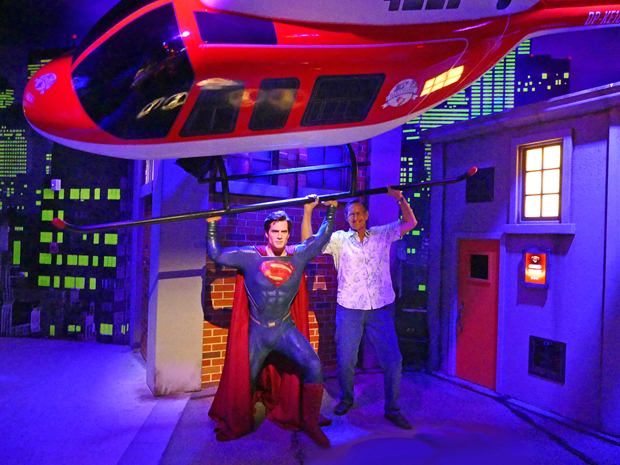 Above: Fortunately for Superman I happened to be on hand to help out when a helicopter was forced to crash land on the museum roof!
Below: Diana wasn't impressed by the superhero stuff but she really enjoyed joining Audrey Hepburn for Breakfast at Tiffany's.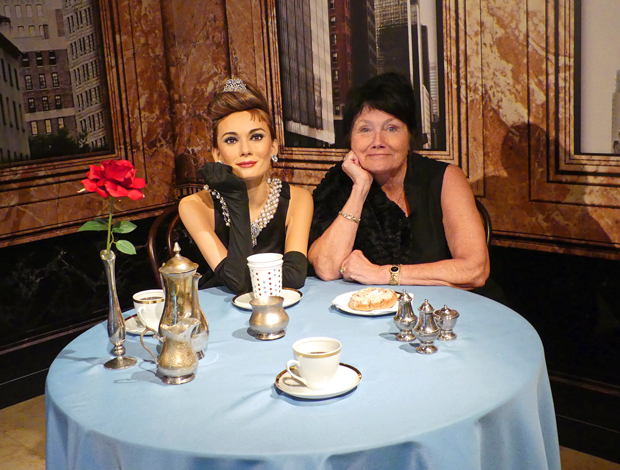 After Madame Tussauds it was back to the Hilton Lake Buena Vista and a short walk over the elevated bridge into Disney Springs where we spent Saturday night exploring the dozens of shops, entertainment options and restaurants there (Disney Springs alone has 57 places to eat)! MERGE! attendees will spend a lot of time at this mini-city that has mushroomed inside Disney World over the past decade. Though we spent hours strolling through it we didn't even come close to covering it all - leaving us plenty still to explore when we come back for the conference in September. Until then, here are some images from our walk.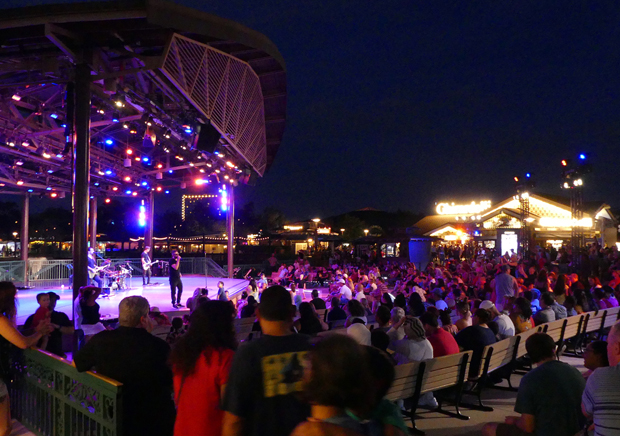 Above: One of the three live concert stages in Disney Springs that continually fill the air with music.
Below: Next to the stage above, you can't miss this huge dragon in the lake that is made entirely from Legos!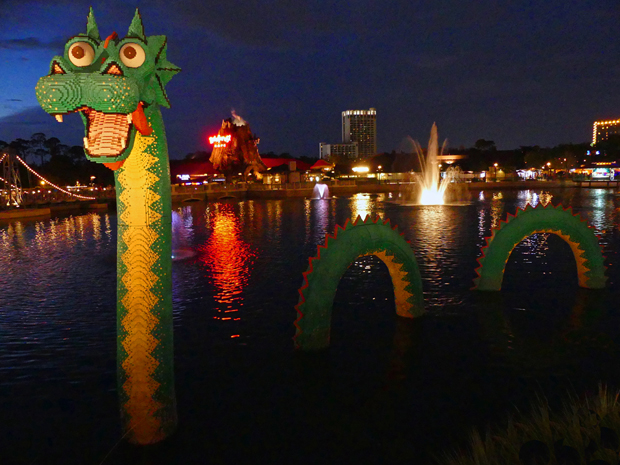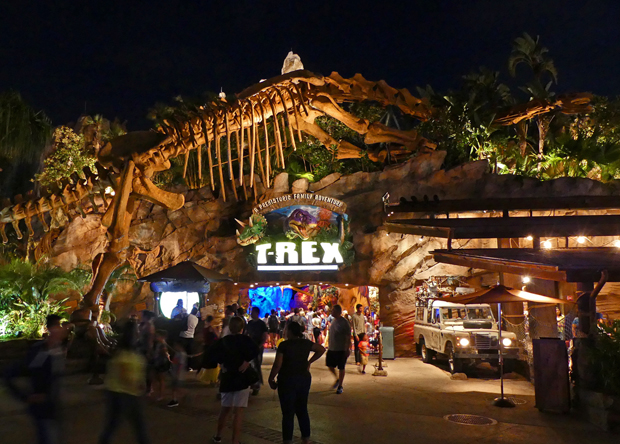 Above & below: As I noted earlier, there are dozens of restaurants to choose from in Disney Springs - many with larger than life themes like T-Rex above and The Edison, seen from inside below.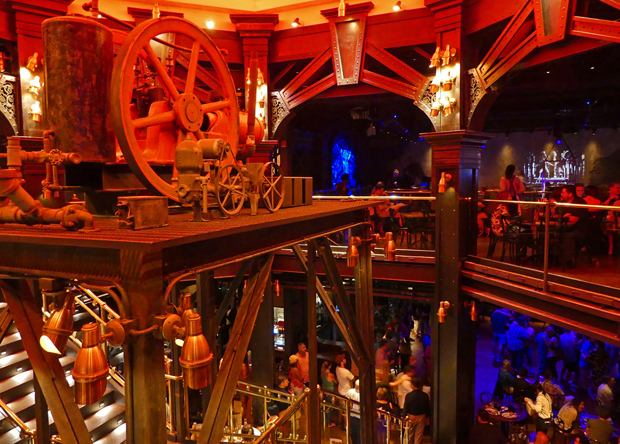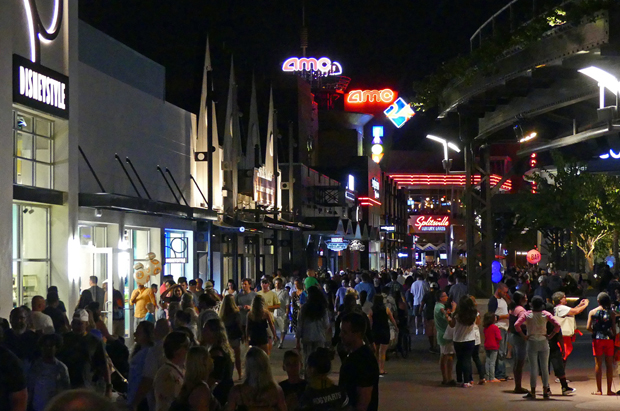 Above: A Saturday night street scene in busy Disney Springs. At this point in the evening we were wrapping up our visit and heading to a boat ramp to catch a free ride back to the east side we had started from.
Below: While it is fun to explore Disney Springs on foot, you can move from one area to another more quickly by hopping on one of the free boats. This is the one we took for a quick and easy ride back to the Hilton Lake Buena Vista.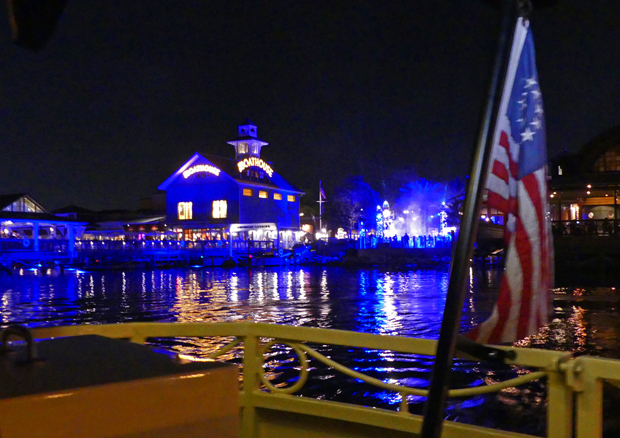 Above: A view from the water of the popular Boathouse Restaurant as our boat headed to a dock on the east side of Disney Springs that is just a short walk from the Hilton Lake Buena Vista Hotel where the MERGE! conference will be held in September 2018.

At left: The ever present Disney Springs balloon taking another load of passengers up for a night time view of Disney World's sparking dining, shopping and entertainment center.

Below: After a great night at Disney Springs we were in for yet another treat Sunday morning at the Hilton Lake Buena Vista Hotel. On Sundays, the Covington Mill Restaurant inside the Hilton has a fabulous buffet breakfast that you can enjoy while some of Disney's most famous characters hop from table to table to see you! Here Minnie Mouse came by for a photo with Barbara and Diana.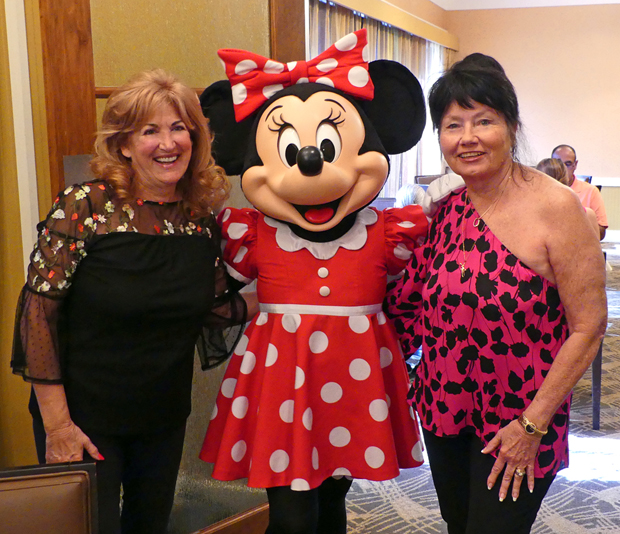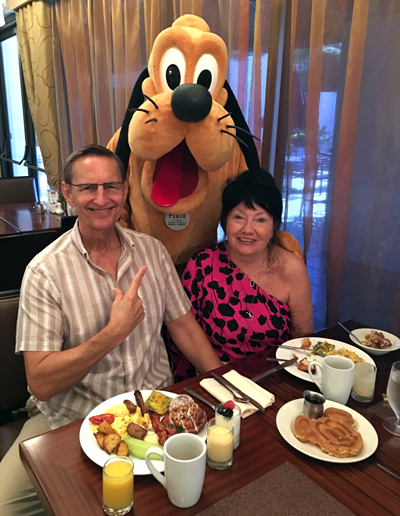 At left: Pluto must have sensed that Diana and I are dog lovers - either that or he hoped we might share some of those treats from the Covington Mills Restaurant buffet at the Hilton Lake Buena Vista Sunday morning. If I were a betting man I would say it was the latter! There was plenty to go around so we didn't mind sharing but that is not true of everyone as you will see below.
Below: While Barbara Neu was delighted to have Br'er Fox stop by to see her and Howard, it seems Howard didn't share her enthusiasm. As far as he knew, Br'er Fox was more interested in eating their breakfast (or maybe even them) than he was in exchanging pleasantries! Since MERGE! will be underway when attendees are at the Hilton on Sunday, September 16, you can join the characters for breakfast and make up your own mind about their intentions!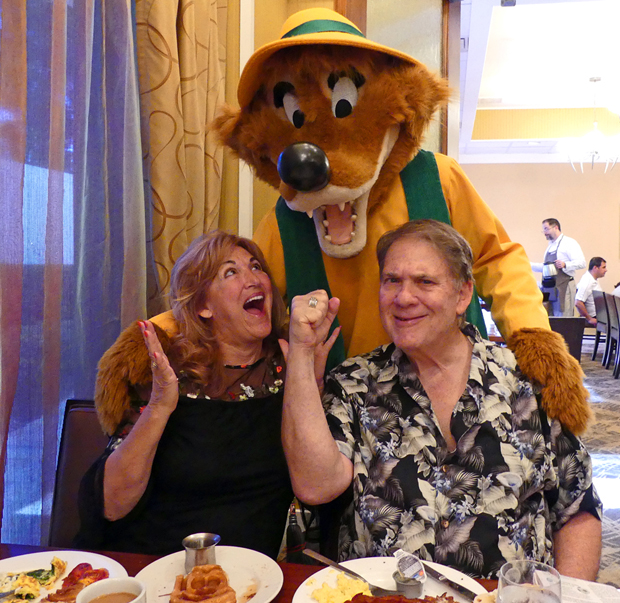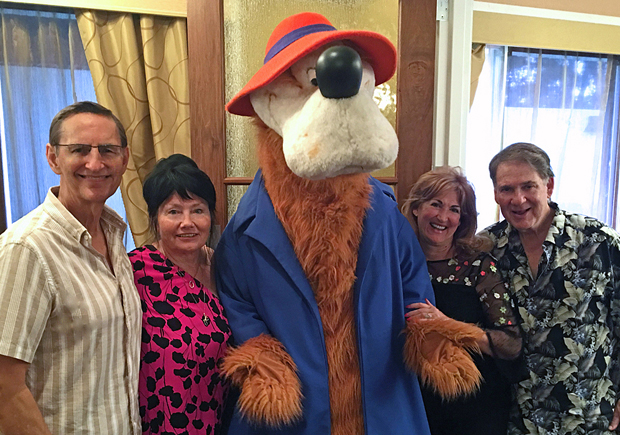 Above: After we finished breakfast Br'er Bear came by to give us a big sendoff. It was certainly one of the more memorable breakfasts we have ever had. We check out of the Hilton Lake Buena Vista soon after but are looking forward to seeing our new friends again at MERGE! in September.
A couple of other notes about the Hilton Lake Buena Vista Hotel. Since the conference is close enough for us to drive to I really appreciated the fact that their huge parking lot is just steps from the hotel entrance. While I really enjoyed the Marriott where MERGE! was held last year the fact that its parking garage was a half mile away was a major inconvenience and we never left the immediate hotel area as a result. That won't be a problem at the Hilton where you are within walking distance of everything you could ever want to do in a week's time (there are also free shuttle buses to the Disney theme parks).
While that and the other attributes I mentioned in this story make the Hilton Lake Buena Visa Hotel an excellent conference venue, the thing I found that made it a perfect venue was the remarkable level of service we experienced from every staff member there. That includes housekeepers, waiters, bellhops and a variety of other employees who had no idea who we were or that I would be writing about our visit. It's just a combination of how they have been trained to treat guests and the kind of people they are as individuals. I don't know how this specific hotel vets their employees but they sure seem to do a great job in selecting good people. We appreciated it and I think you will too.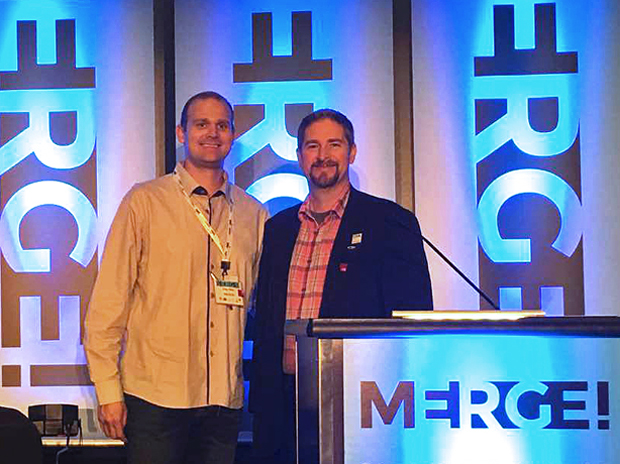 Above: MERGE! Co-Founders Ray Dillman Neu (left) and Jothan Frakes have big plans for their second annual event September 14-19, 2018 at the Hilton Lake Buena Vista Hotel in Orlando's Disney Springs.
While this article focused on the new location for MERGE! you can get the latest information on the conference agenda, speakers and other details at the show website. Registration is open now and you can also book your rooms at the Hilton at the discounted rate in effect for MERGE! attendees. I hope to see you in September!