excited to debut it. This program was conceived to be a high-profile platform for our partners to share their knowledge of the products and services most beneficial to newcomers (and pros!) to the industry. These fast-paced sessions, conducted in 20-minute intervals, will highlight the best tools of the trade to support business growth and development. We believe this kind of format is a win-win for both partners and attendees.
DNJournal: At the same time Tool Talks is running a full day of workshops will be underway in an adjacent meeting room. What are some of the highlights from those?
Soeren von Varchmin: We provide NamesCon attendees with "menu-like" options during their time with us and, despite dialing back our schedule, continue to offer a compelling host of programs to ensure their event objectives are being met. Sunday's workshop agenda, in particular, has a targeted focus on the topic of business development. Develop a Domain and Sell a Business for example, centers around domain growth (and in turn revenue) potential via a strategic nurturing process involving the right CMS, tips and tricks with SEO, as well as big win gains to be had with paid advertising. Our other events include best practice techniques related to the use of one's blog as a gateway to industry influencers, the benefits of joining a domain name association, and a domain auction presentation primer which features actionable tips geared toward success!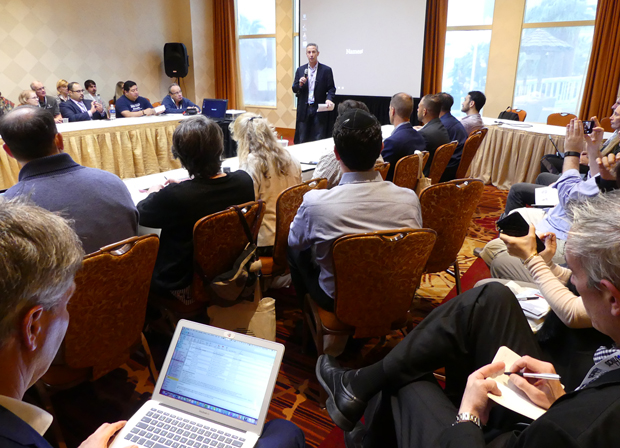 A scene from one of the opening day workshops at the January 2017 NamesCon conference.
DNJournal: One of the most gratifying things about this business is seeing how many talented women have poured into the field over the past 15 years after seeing less than a handful when DNJournal launched in 2003. On that note, I see that NamesCon's popular Women in Domaining dinner, which gets bigger every year, is moving to a prime position on the opening evening (Sunday, January 28).

Soeren von Varchmin: The Women in Domaining dinner is being held in the new Robert Irvine Public House and designed to be an engaging event which connects - and certainly celebrates - the women who work within the domain industry. This event quickly reached the maximum capacity of 100 guests this year, and we are currently accepting a waitlist for additional participants. It will surely break our attendance record for the Women in Domaining dinner.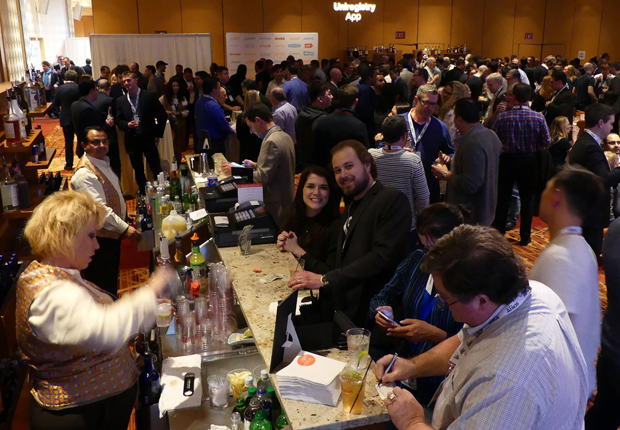 A scene from the Opening Night Reception at last year's NamesCon conference.
This year it will begin immediately after the 2018 Women in Domaining dinner.
DNJournal: That dinner will be immediately followed by the big .GLOBAL Opening Reception party for all attendees. I can't help wondering if the band you are part of, the Lords of Uptime, might make an appearance that evening?
Soeren von Varchmin: You'll have to wait for CloudFest to catch the next Lords of Uptime show, however we do have some amazing talent joining us for several events at NamesCon: The Shapiro Project will be delivering some cool jazz tunes at the .GLOBAL Opening Reception, and celebrity comedian/magician Justin Willman will be performing at WaterNight (Monday, January 29) along with the C Breeze Band.
NamesCon's live domain auction always draws a wall to wall crowd. NameJet and
RightOfTheDot staged the 2017 auction (above) and will do it again this year.
DNJournal: You will have a full slate of keynotes and business sessions Monday and Tuesday, as well as the big NameJet/RightOftheDot live domain auction that caps the day Tuesday (January 30). I see many new topics and speakers on the agenda in addition to many of the conference veterans we always look forward to seeing. Mixing things up and broadening the scope of the show was no doubt by design. Who are some of the experts you are bringing in that you think will be of special interest to the audience?
Soeren von Varchmin: It is impossible for us to simply narrow down one or two speakers of note during our event. We believe passionately that all of our speakers bring compelling insight and knowledge to the table from an array of different perspectives that will support the business building objectives of our attendees. We tried to offer something for everyone, which was difficult as we also scaled back the total number of sessions considerably this year!
DNJournal: After Richard Lau sold NamesCon some wondered if the WaterNight fundraising gala that was so important to him would remain part of NamesCon - and I see the answer is yes. However, it will a completely remodeled event this year - an upscale sit down dinner from 6:30-10:30pm rather than the late night party of past years that ended in the wee hours of the morning. Tell us about this change.

Soeren von Varchmin: Richard is still the man in charge of WaterNight, with the dedicated support from our production team as we are committed to seeing this event continue. While he can speak more effectively to the reasons for reformatting WaterNight, we all agreed it was time for a change and thought it would be exciting to

NamesCon Founder Richard Lau sold the conference to Cloudfest but Richard will be back to oversee the WaterNight charity fundraising dinner this year.

treat WaterNight more like a typical charity gala. The ticket fee this year ($200) directly covers entertainment, meal and beverage costs, with any proceeds going directly back to WaterSchool. We hope everyone in the industry will come out to support this important initiative, and see the cool program we've put together for you this year. Booth reservations (with bottle serve) are now available at http://namescon.com/waternight.
DNJournal: Tuesday night will bring another party in a great location - the Ling Ling Lounge in the renowned Hakkasan Nightclub, conveniently located right across the street from the Tropicana at the MGM Grand. This event, running from 9pm to 1am, should give attendees an especially memorable closing night experience at NamesCon.
Soeren von Varchmin: We are so looking forward to the Hakkasan Party: Hosted by MMX - at one of the coolest (if not THE coolest) venues in Las Vegas. We are taking over the super-exclusive Ling Ling Lounge and pulling out all the stops. We chose the lounge because it has all the modern look and feel of the Hakkasan but is much more intimate in nature. We believe attendees will view this as the perfect backdrop to mix and mingle while enjoying an once-in-a-lifetime experience in this top-notch venue...the perfect ending to what we expect to be a highly memorable event.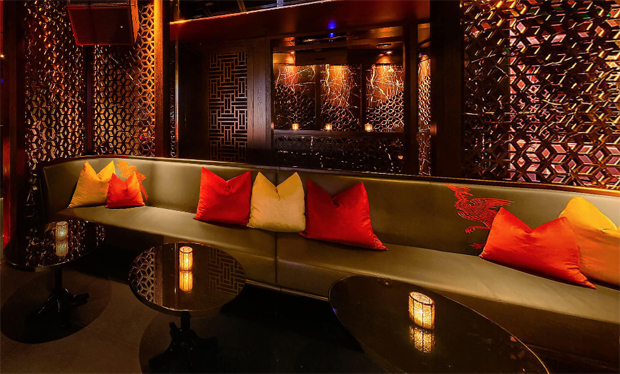 A peak inside the Ling Ling Lounge at Hakkasan Las Vegas
(photo courtesy of Hakkasan)
DNJournal: Though Tuesday brings the closing night party there will still be one slightly abbreviated business day remaining Wednesday that will let attendees casually wind down before heading home, including a keynote brunch and a 2-5pm"Unconference" - another new wrinkle. What is that all about?

Soeren von Varchmin: Yes... as we referenced earlier, we definitely looked to 2018 as an evolution of NamesCon and saw the creation of these "unexpected" moments to reinforce that. Our exhibition hall will continue to be open from 11 a.m to 2 p.m. in order to provide guests one last opportunity to connect with companies important to their business objectives.

The Roundtable Keynote is not new to our agenda, but this year we will be serving breakfast and Bloody Marys! It's not too early of a start, so we encourage all attendees to come nurse those hangovers with a chill Bloody Mary and hot breakfast, while listening to some of the industry's top executives discuss what trends they saw emerge out of NamesCon this year and what they envision for the year ahead for our industry.

Last but certainly not least is our "Unconference," again, something new and a divergence from our typical offering. Here we will set up a series of roundtables offering up a host of different topical discussions - all dictated by our guests! This allows attendees to take true ownership of the conference by setting the tone and being the voice behind the content. We're excited to hear what attendees choose to discuss, and we plan to incorporate this content into our event agendas for the year ahead to ensure we're continually addressing the real needs of our industry.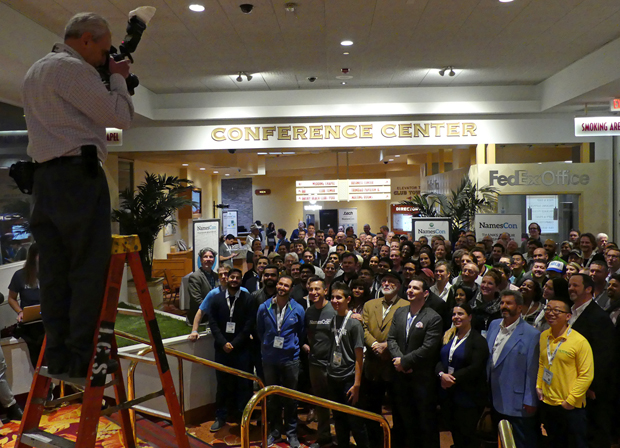 A NamesCon photographer snaps a "class photo" of 2017 attendees.
DNJournal: Before we let you go, is there anything else you would like to add about NamesCon Global 2018?
Soeren von Varchmin: Just that NamesCon 2018 is a must attend event of the year for domain professionals. With a revamped schedule featuring a line-up of compelling keynote addresses, top-notch breakout sessions, and networking events designed to make important connections, we believe this is the kind of experience that can support true opportunity and growth for attendees. Plus, it's going to be one great party!
Editor's Note: NamesCon 2018 is allowing us to provide our readers with a 50% discount off both Standard and VIP tickets to this year's conference. You can take advantage of that offer by registering through this link.