"When I entered a standard school the teachers told my mother that they were sorry but her son would just be dumb," Schermann recalled. When a new school for handicapped children was opened Schnermann was sent there for the next four years. At the age of 11 doctors gave his parents the bad news - Markus would not be able to make it on his own.
The Schnermann family needed a miracle - and they got it. "During adolescence I showed fewer and fewer symptoms of convulsions and my wish to attend a normal school grew bigger and bigger." When his chance finally came he made the most of it. When Schnermann found his way to the gymnasium he found his previously missing physical skills were now blossoming. By the time he completed his Abitur (final exams) Schnermann said, "I realized I could easily catch up with other standard school students and I proved that I knew a thing or two. From that part of my life I learned how much I could accomplish if I just try hard enough and believe in myself. I owe my parents and especially my mother so much for supporting me in these difficult times."
At age 2, Markus tries out the heavy machinery
on the family brickyard in Wettringen, Germany

Schermann was born on April 2, 1968 in Ochtrup, Germany - the second of Franz-Josef and Regina Schnermann's four children. "My father was a brickmaker who ran our family brickyard in Wettringen, Germany. While my mother took care of us kids my father worked six days a week doing some of the hardest work people could possibly do," Schermann said.

"It was hot from the brick oven, dirty and the bricks were heavy. I remember my father telling me that the factory had problems finding workers who were willing to do the job and often the only people willing to do it were former prisoners. So

I learned what hard manual work was from my father with whom I spent every free minute, starting as a teenager, working together in the brickyard."
"My mother came from a big farmer's family with 10 kids," Schnermann said. "She taught us to treat people with respect, all the soft skills you need in life to deal with challenges and problems and how to communicate openly and frankly. She supported us in everything we did and gave us the love and support that made us believe that we can achieve everything in life."
After surviving his childhood struggles, Schnermann's next challenge was deciding what he wanted to do with his life now that he was an adult. "I started working in construction, building houses, then got a job as a lifeguard at a big public pool. In 1994 when I met Susanne, the woman who would become my wife, I realized that there has to be more in life for me. Trying different jobs in manual labor was fun and taught me an important perspective on work in general but I never felt challenged enough."
"I started studying education of handicapped children at the University of Dortmund and got a degree in Education," Schnermann said. "I then started working with handicapped children and even spent some time working at the school for handicapped children that I attended as a kid. Today I know that going through this experience was my personal catharsis, a process I had to go through. I also believe that I benefit today from these experiences. I can take a lot of strength from it."

Schnermann had also taken up a pastime that would eventually lead him into the world of domains. "In the early 80's, like many others I started becoming fascinated by personal computers. I learned Basic on a Commodore C64, then worked with all of the PC generations. In 1995 at the University of Dortmund I stumbled upon the internet and domain names. Uni-dortmund.de, by the way, was the first registered .de domain and the university was responsible for the maintenance of the registry in its early years," Schnermann said.

Schnermann at the T.R.A.F.F.I.C.
Silicon Valley conference in April 2009
"Registering domain names was very expensive then so the first homepage I tried to publish happened to be on Geocities.com. In 1997 I registered my first .de domain when I wanted to publish a private travel site dedicated to India after I had taken a long trip there. I realized that all of the generic keywords that came to my mind to register were already gone. Most of these were owned by individuals whose names I saw again and again when doing a Whois search."
"While I ended up with a lousy domain name for my India site (Alles-ueber-Indien.de, which means "All about India") I instantly got infected by the "domain virus", started to register as much as possible and as I could afford. I taught myself programming and designing websites, got a degree as a webdesigner and spent nights researching and learning on the Internet about SEO and online marketing."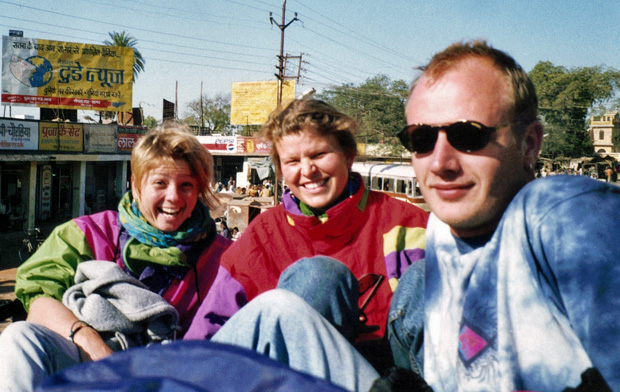 Schnermann and his wife Susanne (center) with a family friend on a visit to India in 1995.
His fascination with this country led to his first domain registration, Alles-ueber-Indien.de
"In 1999 I applied for an internship at an insurance company which had just launched a new unit for the Online Business. After a few months they offered me a fulltime job as an Online Marketing specialist, followed by a job as a Project Manager to build the company Intranet. I continued to invest in mostly .de domains and started listing them for sale on Sedo in early 2000. I also exchanged ideas and fantasies with friends online about all the stuff we would buy once we start selling these names for ridiculous prices!" Schermann laughed.
"It took another year though until I sold my first domain for 3,000 Deutsche Marks and I had to learn about buying valuable names or catching dropping names to be able to make real money. My first purchase was Diaet.com (diet.com) for 700 Euros. Selling this domain three months later for five figures to a German Duke was the real kickoff for my domain business as I reinvested all the profits again and again and cumulated the success."
"Soon I made more money with my hobby than with my fulltime job, so I founded KeywordDomains.com and decided to focus on this business instead of working as an employee. This was the first time in my life I had the feeling that I found my profession, with all the challenges and excitement I was always looking for," Schnerrman said.
Schnermann demonstrating one of his many talents -
playing a didgeridoo at the T.R.A.F.F.I.C. Down
Under conference in Australia in November 2008

Today, Schnermann's domain business has grown far beyond anything he could have imagined when he started registering domains a dozen years ago. "We currently manage around 30,000 domains with KeywordDomains.com and 16,000 more with Domain Invest S.A.," Schnermann said, adding "These numbers can change very quickly though in our dynamic industry."

When asked about the kinds of domains he goes after Schnermann said, "I am a big fan of classic established gTLDs like .com, .net and .org and ccTLDs like .de, .co.uk, .nl, etc. I never liked the new extensions as I never saw any real demand for these in the Internet community besides the one pushed by

ICANN and registries and the hype caused by latecomers to the domain business. The big problem with these extensions is the lack of a real content base. The average internet Joe seldom finds the services or products he is looking for on a .eu or .biz. He is either looking for the keyword.com or the keyword.ccTLD depending on where he is based at. Therefore my portfolio contains around 80% .de, 10% other ccTLDs like .es and .at and the rest is spread amongst .com, .net, .org and very few .info and .biz."
Schnermann added, "Although I own far fewer gTLDs than ccTLDs, they had a huge impact on building my business. Without flipping decent keyword domains like Base.com, Fitness.org or Medicine.org I wouldn´t have been able to raise enough money to fund the growth of my company."
Schnermann racking up more frequent flyer miles on a trip to Rangoon, Burma in 1999.

Schnermann's travels around the world have made him a better, more knowledgeable domainer. He has been a frequent attendee at the major domain conferences staged in America since 2005 - a routine that started because of a special connection he felt to the U.S. "My grandfather immigrated to the U.S in the 1920s when my aunt Betty was born in Cincinnati," Schnermann said. "So besides being fascinated and interested in the country I stumbled upon U.S. domain communities like DNForum.com, DomainState.com and Rick Schwartz's private forum and learned so much about new aspects like Type-In Traffic and Dropcatching."

"Some of the guys I met there were already fully into the domain business for a living, a path I tried to follow. When the 2005 T.R.A.F.F.I.C. show in Delray Beach was being promoted I got instantly excited to meet these guys I read about so much. I will never forget my first show in Delray Beach and I can say today that I wouldn´t have accomplished so much without exchanging ideas and networking at all these shows. A lot of the people I met there I consider today as my friends and not only business partners. So there is no regret at all about travelling so often.
Schnermann's knowledge of both the U.S. market and his home market in Germany gives him a unique perspective on the differences between the two. "The German domain market is probably the most mature one of all ccTLDs in the world," Schnermann said. "Both published and unpublished sales have reached levels lately that most people have expected only from .com (kredit.de, poker.de, shopping.de, etc.). The core German domainers are very savvy and professional in what they do. A lot of them can cover at least two markets, for example the German and the English speaking ones. It is also no surprise that the leading domain sales platform, Sedo.com, was established in Cologne, Germany," Schnermann noted.
"Still I think there is plenty of room for growth in Germany as many potential investors, espescially end users and Fortune 500 companies don't get it yet, so we deal with the same situations as the .com market. The current recession and environment will probably have a positive impact on this situation - from what I can tell the sales volume has grown significantly lately. A lot of brick and mortar businesses are starting to move online because they have to. This must have an impact on future values as there is a limited supply of good keyword domains and a growing demand. New investors into .de can still find lots of opportunities if they have enough cash to invest and can consolidate the market. Hand registering potentially valuable domains is nearly impossible now as all keywords that make sense are gone already," Schnermann said.
Schnermann thinks some of the best growth opportunities will be in European ccTLDs. "These ccTLDs get more and more popular because a lot of registries opened the namespace and reduced prices and restrictions for registration," he said. "They follow the footsteps of the .de Registry (DENIC). Registries like the Polish one for .pl even actively promote services like domain tasting and offer drop lists to satisfy the demand from the domain community."

"Besides the internet penetration in these "late markets" is growing more and more, which goes along with local businesses promoting their services using the local ccTLD. This is a trend I can follow

Schnermann and fellow ccTLD fan Jothan Frakes
at T.R.A.F.F.I.C Down Under (Nov. 2008)

on some portfolios I own, for example .es (Spain's ccTLD) is attracting more type-in traffic today then two years ago. I believe that .com will always rank 1st in a global ranking of TLDs but in local markets ccTLDs will continue to grow in popularity. Protectionism caused from the current financial crisis might even accelerate this process." Schnermann opined.
Despite the current global recession, the past year has been Schnermann's busiest ever. "In June 2008 I began working as a Managing Director, together with Frederick Schiwek and Xavier Buck, for a new domain investment fund, Domain Invest S.A. I commute every week between my home in Muenster, Germany and Leudelange, Luxembourg. We have a very strong team of founders and investors and believe we can accomplish a lot being based in Luxembourg in the heart of Europe. The quality of people involved in this is amazing and timing for investing couldn´t be better than today," Schnermann said.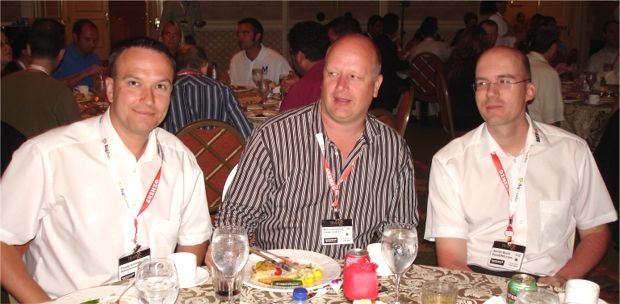 Domain Invest S.A. partners (left to right): Frederick Schiwek,
Markus Schnermann and Xavier Buck.
His friend and partner in Domain Invest S.A., Frederick Schiwek told us that having Schnermann on their team gives them a huge advantage. "I am impressed how straight forward he is, if he wants something he works for it until he is successful. He is a very intelligent person who knows a lot about many things. This is part of why he became such a successful domainer. Knowing a lot about many fields gives you the advantage of understanding search terms much better and he was and still is an early bird."
Schiwek added "Markus, inspired by the American domain industry, started the first big domain community in Europe and that made him a kind of a superstar - someone who always has his finger on the pulse of the domains business. Many very good decisions brought him to where he is today. I am very proud to have him as a partner and friend."
With his new partnership venture at Domain Invest now on the front burner, Schnermann said Keyworddomains.com GmbH is being run by his brother Joerg Schnermann and Paul Porzky. "Around 90% of our revenue is still coming from PPC but we are trying to establish new revenue streams beyond that," Schnermann said. "One exciting business model we are trying to grow is something we call affiliate arbitrage. We buy targeted traffic for some verticals and send it to CPA based affiliate programs. It seems we have a proof of concept here with very promising results on some domains that exceeds the former PPC based revenue significantly. There is still a lot of work to do but I am very confident that the potential is huge."

Schiwek and Schnermann at
T.R.A.F.F.I.C. Silicon Valley in April
"Using keyword domains for these kind of campaigns had a big impact on the CTR (click through rate) and conversions, something that has also recently been backed up by Edwin Hayward's studies about the impact of keyword domains in PPC campaigns. Of course Domain Invest is benefitting from the domain intelligence we have build at KeywordDomains.com and will continue to do so," Schnermann said.
There are still so many opportunities in the domain business that it is difficult for many in the industry to tear themselves away from work, but Schnermann tries his best to stop and smell the roses whenever he can. "I love spending time with my family, my wife Susanne and my kids Leander and Valentin," he said. "We all have a passion for travelling. Last year we did a long vacation in California and Hawaii and my sons keep asking when we can go there again. I laso like playing golf or riding my motorbike, a BMW 1200 GS."
Above left: Susanne and Markus, Above right: their sons Leander and Valentin.
"Six months ago I started working out again and started to learn boxing with a personal trainer. I not only lost more then 30 pounds since then but have also had a lot fun doing it. I never realized how much fun it can be to punch something or someone (with rules involved of course!). 20 years ago I was quite successful as a track and field athlete and I am now considering a comeback in the seniors class," Schnermann said.

Schnermann is now at a place where doctors said he could never be. The balance he enjoys between the profession he loves and a fulfilling personal life leaves him deeply grateful to those wh have helped him along the way. He closed our conversation by saying "I want to thank all of the unnamed friends and people who supported me in my professional career and in private and I especially want to thank my wife Susanne who supported me and believed in me no matter what decisions I had to make."

Schnermann, at 21, throwing the shotput.
He is considering a track & field comeback.
Clearly most of those decisions have turned out to be the right ones. As successful as he has been, for Schnermann, who is still just 41 years old, the best is almost certainly yet to come.