Demand Media's popular registration company, eNom.com, rewarded its resellers with a Las Vegas bash held at the Venetian Hotel March 4th and 5th (immediately before the T.R.A.F.F.I.C. West conference got underway at the same venue). I was on hand for this first ever eNom Reseller Summit to moderate a Monday afternoon panel discussion, but haven't had a chance to write about it until now. This newsletter item and our upcoming April Cover Story on Demand Media and company co-founder and CEO Richard Rosenblatt will help bring you up to speed on what is happening at this dynamic new domain conglomerate. Demand Media was born just ten months ago but already ranks as one of the industry's biggest companies.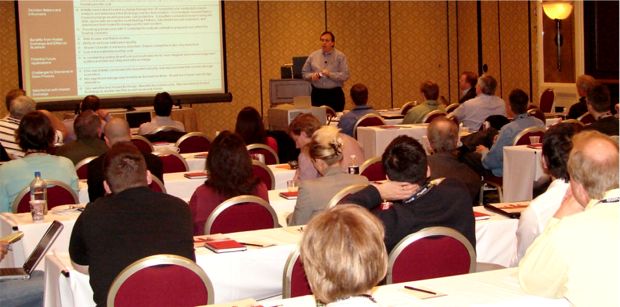 Scene from eNom Reseller Summit - March 5, 2007 in Las Vegas
Of course, Demand Media's eNom division (one of their first acquisitions) has been around for years and has long been a favorite with professional domain investors and registration resellers. eNom has more than 8.9 million domains registered on their platform (second only to GoDaddy). Those resellers were treated to an opening night get acquainted cocktail party and dinner at the Venetian's Tao Lounge Sunday evening (March 4th).
Richard Rosenblatt
Demand Media Co-Founder & CEO

The focus switched to business Monday with a full day of speeches, seminars and panel sessions, highlighted by Rosenblatt's 45-minute talk laying out the company's plans for the .TV extension. A few months ago, Verisign turned management of .TV over to Demand Media and Rosenblatt said "when we are done .TV is going to mean global video channel."

Technically, .TV is the country code for the small pacific island nation of Tuvalu, but that country licensed operation of the extension to Verisign who began the process of re-positioning the extension from third world ccTLD to a brand associated with video on the web. It will now be up to Demand to take the hand off from Verisign and get the ball into the end zone.

Demand Media plans to re-launch .TV to the consumer market May 1 with heavy promotion and introduction of tools like a TV Channel Builder that will make it easy for people to start their own video based social network. It's no surprise that social networking is at the core of the company's plans, since Rosenblatt was previously chairman of the 800-pound gorillla in that category, MySpace.com.
Other building blocks are already in place, including a registration site at Enom.tv, an informational site at ChannelMe.tv and the signing of TV personality Carson Daly (who was at the Summit) as the spokesman for .TV (see CarsonDaly.tv). Daly is seen nationally in the U.S. on his late night NBC-TV talk show. With CarsonDaly.tv he (and everyone else with their own wesbite) is able to reach every corner of the globe.

Rosenblatt said, "We plan to make .TV ubiquitous. We are going to spend a lot of money to make .TV the domain you must have!" Rosenblatt speaks in an enthusiastic rapid fire manner that can't help but get his audience enthused. The resellers certainly responded well to him, especially when he talked about the new profit centers he thinks will be opened up for them from eNom's .TV campaign.

NBC-TV's Carson Daly
.TV spokesman
eNom Sr. VP John Kane (left)
and Product Manager Frank Roh




New eNom VP Chris Sheridan

Things had gotten underway earlier Monday (March 5th) with a welcoming address from Demand Media Senior VP John Kane. Attendees then watched a presentation on video from Mao Wie, President of CNNIC (the organization that oversees China's .cn country code). Wie said China has 37 million internet users (second only to the United States) and that 1.8 million .cn domains have been registered, with eNom accounting for more .cn registration than any other company outside of China.

Verisign's Chris Sheridan followed with a presentation based on the company's 2007 Domain Name Industry Brief that had been released that day. As it happens, that was Sheridan's last high profile appearance for Verisign. This past weekend word came that he is leaving to join eNom as their VP of Customer Service and Business Development. eNom is getting a good man in Sheridan who won the respect of business associates (and many friends) as a Senior Account Manager for Verisign since 1998.

Resellers also got an update on .mobi from the new mobile extension's Business Development Manager Glenn Roland and received tips on increasing revenues from GeoTrust Senior Product Manager Jay Schiavo. After a lunch break and Rosenblatt's turn in the spotlight, eNom Product Manager Frank Roh presented a Roadmap of planned improvements to eNom's reseller program, including an updated interface for the company's turnkey PDQ reseller sites (planned for the third quarter of this year).
The business portion of the Summit closed with the question and answer panel session I moderated that featured Richard Kirkendall (operator of one of eNom's biggest reseller sites, NameCheap.com), Demand Media President Paul Stahura, Cynthia Hagan (Lead Program Manager for Microsoft Windows Live!) and Glenn Roland from .mobi.

There was one more social event and it was a big one - a late night party at the exclusive JET nightclub across the street from the Venetian at the Mirage. It was the perfect capper to an event that was both fun and informative. The success of this debut edition of their Reseller Summit convinced eNom to make this an annual event. Since approximately half of their resellers are based outside the U.S., the company is giving strong consideration to presenting next year's Summit in Europe.

Paul Stahura
Demand Media President

Internet Commerce Association Now Open to New Members
We told you about the new Internet Commerce Association in our January newsletter. At that time, the non-profit organization devoted to protecting the rights of domain registrants was still in its formative stages. However this month, as we wrote in our current Cover Story, the ICA had it's official coming out party at the T.R.A.F.F.I.C. West conference in Las Vegas.
Membership levels (starting as low as $99) have been established and all domain owners are now invited and urged to join and give registrants the strength in numbers necessary to protect everyone's rights and assets.

From now on, the ICA will be keeping a very close eye on ICANN to make sure the interests of domain registrants are no longer trampled upon. To that end ICA Executive Director Jude Augusta and Legal Counsel Phil Corwin will be attending next week's ICANN meeting in Lisbon, Portugal. With your help, the ICA will continue to give the industry the kind of watchdog (with teeth) that we have needed for so long.

ICA Legal Counsel Phil Corwin
New Blog from Name Administration Chief Frank Schilling Attracting Attention
If you were interested in the stock market, wouldn't it be great if Warren Buffet (regarded as the greatest stock investor alive) had a daily blog where he gave you his insight into investing and the market day after day at no charge? Well, the domain business just got its version of that very thing, with the debut of Frank Schilling's official blog, Seven Mile (named after the beach in front of Frank's Cayman Islands home).
Many regard Schilling (who operates Name Administration, Inc.) as the world's most successful domain investor. He built his business from the ground up, so Schilling can relate to people who are starting out, sometimes with nothing more than a dream, in the domain business. In his posts he details how he found success in this field and comments on the latest developments and trends in the domain industry. He also has occasional guest posts from other highly successful domain investors (recent examples being Rick Schwartz and another pioneer who prefers to remain anonymous but posted as The Sage).

Schilling is providing a tuition free education to anyone who wants to learn and people in the various domain forums are already buzzing about some of his posts. Incidently, Schilling is also one of the founding members of the Internet Commerce Association and donated $50,000 to the organization to help get it off the ground so that domain owners will no longer be left to fend for themselves against hungry predators.

Frank Schilling
Name Administration, Inc.
Schilling no longer has to dig through his glovebox to find coins for a hamburger, but he has not forgotten where he came from. One of the truly nice guys in the business is giving back in a big way and we commend him for that.