While 2009 was a horrible year for the general economy, the domain aftermarket held up better than most other sectors. $102 million in total domain sales were reported to us in 2009, a 12.5% decline from the $116.7 million reported in 2008. The fall off would have been just 6.5% but in the second half of 2009 word belatedly leaked out about two blockbuster sales that had been made in 2008 (Clothes.com at $4.9 million and Shopping.de at just over $2.8 million). When those were added to the 2008 total it more than doubled the amount by which 2009 trailed the previous year. Of course, it is quite possible that some huge presently unreported sales made in 2009 will come to light in the months ahead, again narrowing the year over year gap.
A closer look at the numbers showed that almost all of the decline in 2009 came from the very high end of the market. When we looked at just the top 5% of sales prices we found that 2009 was down $13.5 million versus 2008, accounting for almost all of the $14.5 million shortfall in the market as a whole. The fact that the rest of the market remained on an even keel was reinforced by median sale prices (the median is the price at which half of all reported sales were higher and half were lower). In 2008 the median sales price reported to us (note
that we only track sales of four figures or more) was $2,688. In 2009 the median price was off just 3.3% to $2,597 - a very respectable performance given the massive declines in other areas of the economy.
I delivered this news while sitting on a panel discussion about ccTLDs at T.R.A.F.F.I.C. Las Vegas. Given the topic of the seminar, show organizers asked me to break out some

country code sales information as well. The ccTLDs have been enjoying a boom over the past couple of years and our sales data verified that. In 2008 1,722 of the 15,818 sales reported to us were ccTLDs - so 11% of all reported sales were ccTLDs. In 2009, that number soared to 24% of all reported sales with ccTLDs accounting for 3,777 of the 15,600 sales reported to us.

The dollar volume for country code sales also rocketed in

2009, jumping 28% from 13.9 million in 2008 to $17.8 million in 2009. Compare that 28% rise to the 12.5% drop in the market as a whole and you can see that the ccTLDs have become a beacon of strength as the Internet becomes more and more localized.
Inside Directi's India Based Domain Empire (Guest Article By PPX International's Executive Chairman Gregg McNair)
Gregg McNair
Executive Chairman
PPX International Ltd.

Most people in the domain industry are familiar with PPX International's Executive Chairman Gregg McNair (who was profiled in our October 2009 Cover Story). Gregg's business takes him all over the world - the globe trotting Aussie spends hundreds of nights in hotel rooms every year.

A few weeks ago McNair headed to Mumbai, India to pay a visit to the headquarters of industry giant Directi and the company's co-founders Divyank Turakhia and Bhavin Turakhia (Divyank was the subject of our September 2008 Cover Story). While I have had the pleasure of getting to know Divyank, Bhavin and their many talented Directi and Skenzo team members over the years, I have never had an opportunity to visit their home base, so when Gregg asked if I would be interested in having him write a guest article about what he saw on his visit to Mumbai, I of course immediately accepted. Gregg's report follows below:

By Gregg McNair

For most of us in the domain industry Skenzo is another PPC provider which performs quite well

with certain names. The mystique surrounding its Indian origin and that of the Directi Group has led people like me to underestimate the size and potential of the operations being assembled in Mumbai. This unsolicited report emanates from my sheer amazement and will definitely surprise many others
Over the past 3 or 4 years Directi Group Co-Founder, Divyank Turakhia and I have built a strong personal relationship at a number of domain shows. In recent years as we increased the level of our business and the depth of the friendship Div has from time to time invited me to visit his operations in Mumbai.

For most of this 2009 the priority to actually get to Mumbai could not overcome the urgency of other matters despite a dozen nearby Asian visits, so last month I decided if I did not make it in December it may well take another year.

For me, despite my crazy travel program over recent years, this would only be my second time in Mumbai in 20 years so I was somewhat prepared for a congested and polluted urban experience… in that respect I certainly was not disappointed.

Mumbai immediately presents the visitor with a sea of confusion in almost every respect…Yet somehow seems to achieve

Directi Co-Founders Divyank Turakhia
and Bhavin Turakhia (right)

far more than would seem could be possible. Amidst all this mayhem Mumbai is the strong financial heart of a huge developing nation and the home of Bollywood.
My host Divyank being an avid aviator flew me over Mumbai for a few hours to gain an overview and appreciation of the sheer size and energy of this vast city.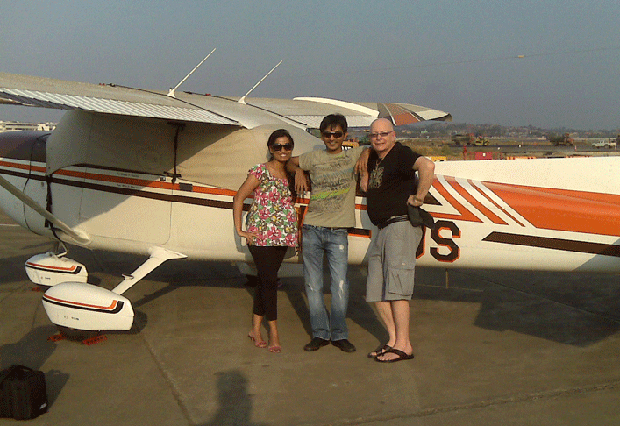 (Left to right) Macy Hall (Skenzo), Divyank Turakhia and Gregg McNair
getting ready to take off for Gregg's aerial tour of Mumbai, India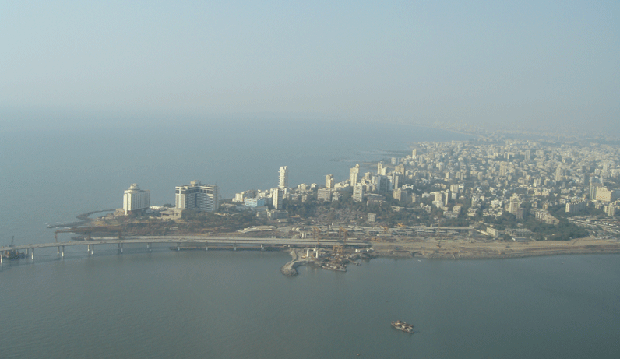 Photo of Mumbai from the air
Soon after arrival I was conveyed to the Directi headquarters: dubbed 'Directiplex'. This new state-of-the-art 7-floor facility has been created to cater to the consistent growth in Directi's businesses and employee talent base. For the past 4 years the group has been cited among Asia's fastest growing businesses by Deloitte and Touche.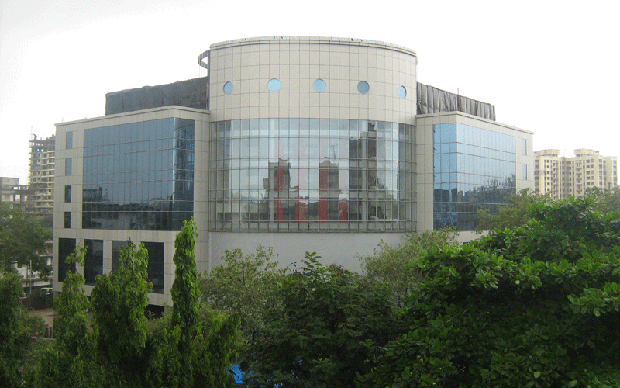 The new Directi building in Mumbai
Spread across 120,000 square feet, the Directiplex has a capacity of 1500 seats and amenities that rival any contemporary Western IT business. From a staff restaurant employing highly credentialed chefs to a staff gaming room to a bowling alley in the soon to be completed basement, the staff in this company enjoys working conditions to be envied by most employees anywhere on this planet!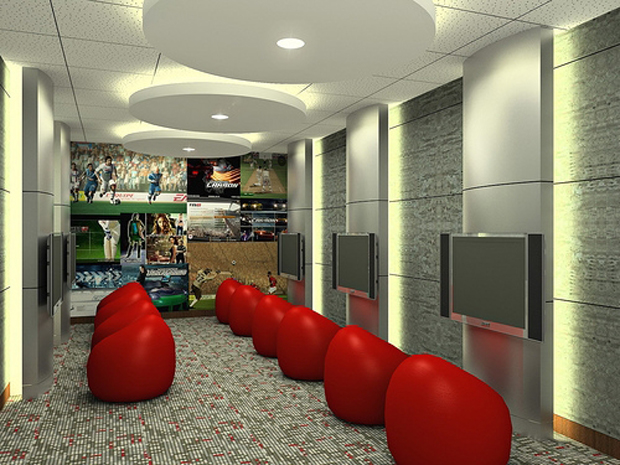 The gaming room at Directi headquarters
I am not going to go into detail concerning the business activities and products offered by the group, however companies like Skenzo, Logic Boxes and a host of other IT businesses are operating and growing within the Directiplex. The Directi website more than adequately details what the group is all about.
Skenzo as one of the main businesses has some remarkable people many of whom are buried among the 500 Directi staff efficiently working away at making Skenzo a global leader. The attention to detail and outstanding customer service is very obvious when you see it firsthand.
Divyank Turakhia takes "flying high" literally.
That's him on top of the airplane!

A tour of the facility is truly impressive with the drive and boundless enthusiasm of its founders obvious at every turn. Divyank and Bhavin Turakhia who are both less than 30 years of age, have inculcated a 'can do' spirit across all the various business units in a manner rare in my experience and, I am reliably informed, certainly unique in India.

Many will have read the Divyank DNJournal Cover Story written by Ron Jackson and gained some insight of the sense of destiny that exudes from the Turakhia brothers.

One of the most impressive meetings I sat in on whilst there was that of 50 senior managers who are all integrally involved in the interview and recruitment process of pending graduates from all 6 of India's best IT universities.

The lengths they go to, to ensure that Directi recruit the BEST graduates in the country had to be seen to be believed! Collectively they will interview and

research around 1,000 top scoring graduates in order to find the best 30-40. It is then that the battle ensues with the likes of Google, Yahoo and the other major foreign IT giants operating in India.
I guess it was only then that I fully realized the rationale behind the lavish and generous staff amenities and working conditions at the Directiplex. In order to woo and win the best people the company has to provide at least comparable world class staff packages and facilities. With the natural pull of international tech powerhouses like Google, a local Indian company has to offer as much and more to secure the best available graduates ….and that is exactly what Directi is achieving.
The founders' stated objective of becoming India's #1 technical innovation business is rapidly being delivered. Another objective of becoming leading global players in the technical space they choose to develop is also beginning to play out on a grand scale.
Directi may have been a reasonably well kept secret up until now, but I urge readers to 'watch this space' because the Turakhia brothers are sure to become not only preeminent technical entrepreneurs in India but also on the world stage.