NameBee.com and Boxcar.com signed on as sponsors to help defray the costs for the event with Name.com providing additional support, as well as a keynote speaker in Name.com Founder and CEO Bill Mushkin. 33 people registered for the event, including several local domain investors who were attending their first conference. They were all treated to nice rucksack gift bags and pint glasses provided by Name.com, as well as free flash drives provided by Mimi Rupp of the Kenyon and Kenyon law firm.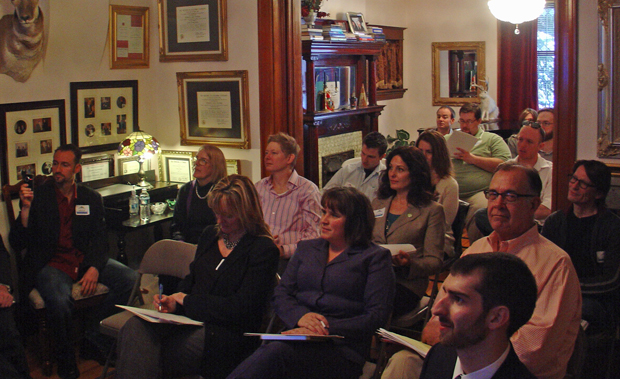 Part of the crowd at the 1st Rocky Mountain Domain Conference in Denver Feb. 26, 2011
Unseasonably warm (for Denver in February) 50-degree weather and sunny skies greeted attendees on conference day when they gathered at the show venue - a beautiful Victorian mansion that also serves as home to the Russian Consulate of Denver. One of the conference speakers, Rick Waters, CEO of Webcast1, said, "This unique setting gave this regional domain conference a special character and the warmth of the building put attendees and speakers at ease."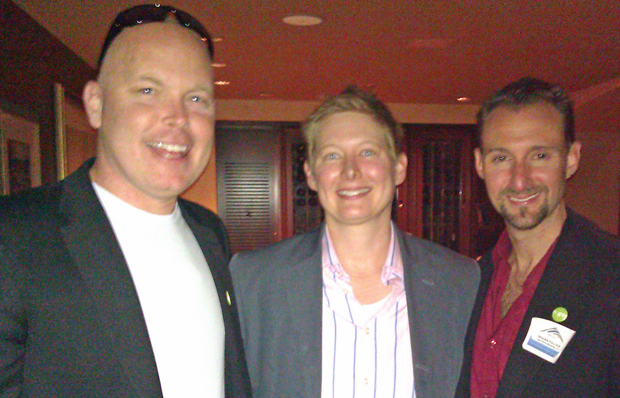 Three of RMDC's speakers (L to R): Rick Waters (Webcast 1),
Mimi Rupp (Kenyon and Kenyon) and Braden Pollock (Legal Brand Marketing LLC).
Adam Torkildson, VP of operations at Utah-based CustomerHook.com followed with a talk about the importance of branding, data capture and the website infrastructure needed to achieve better SEO results. Adam's presentation was followed by a panel discussion featuring Jay Barr, President of JHB International and Buttons.com, Braden Pollock and Rick Waters, with Michael Law serving as moderator.
(L to R): Jay Barr (Buttons.com), Rick Waters and Braden Pollock during their session.
In this session Jay, Rick and Braden discussed further opportunities Jay could explore to expand his e-commerce operation at Buttons.com, a site that is already one of the largest button and textile wholesalers in the world. Rick Waters covered the importance and advantage that businesses using blogs have and Braden talked about his new position as Chair and equity holder of Epik.com.

Before the next business session, a door prize was raffled off with Hal Meyer of Hog Advertising LLC (who came all the way from Idaho for the show) winning an 8GB iPod Nano that had been furnished by Name.com. That set the stage for the next speaker - Mimi Rupp, a trademark/new media attorney from Kenyon and Kenyon LLP in New York. Mimi has successfully litigated many high profile domain dispute cases for domainers including Mrs. Jello, LLC, Domain Spa and Future Media Architects. Mimi covered "Best Practices for UDRP-Proofing Your Most Valuable Domains".
The following day (Sunday, Feb. 27), Michael Law, Mimi Rupp, Annalisa Roger and Rick Waters headed up to the Copper Mountain Resort in Summit County for a day of skiing and snowboarding. Roger, Rupp and Waters all skied while Law was the lone snowboarder in the group. For Annalisa Roger and Rick Waters this was the first time skiing in the mountains of Colorado. The group benefited from about 10 inches of new snow that had fallen over the previous 72 hours. The group had a nice lunch at a mid mountain restaurant called the T-Rex Grill and after a day of skiing and snowboarding, enjoyed happy hour food and drinks at Jack's.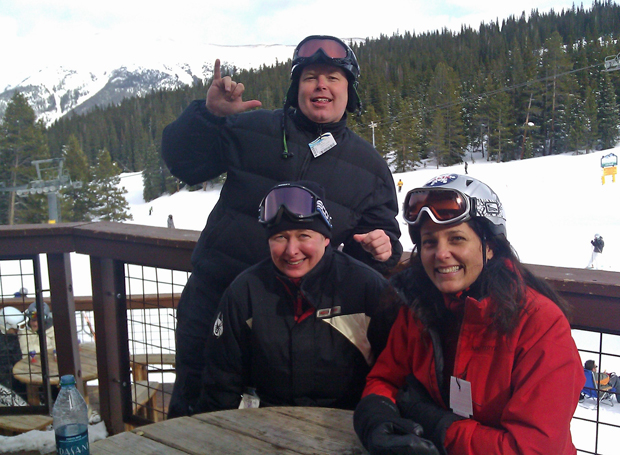 Rick Waters (standing), Mimi Rupp (left) and Annalisa Roger
enjoying RMDC's optional day at Copper Mountain Resort Sunday, Feb. 27, 2011