The domain aftermarket experienced a major comeback in 2010 with increases seen in all cetegories, including .coms, ccTLDs and non .com gTLDs. Of course the general economy was mired in one of the worst recessions on record at this time a year ago. We are still not out of the woods even now, but the 2010 figures that we just finished brteaking down show things brightened considerably in 2010.
The total dollar volume of all sales reported to us in 2010 rose 10.6% from the previous year, jumping from $102 million in 2009 to $112.8 million in 2010. That was still shy of the all-time record $120 million reported to us in 2007 but we are finally moving in the right direction again. (When reviewing the numbers in this article, note that the minimum levels that we track and report in our weekly domains sales reports start at $2,000 for .com domains and $1,000 for all other extensions. Total dollar volume levels would be considerably higher if we tracked the vast number of sales at the lowest end of the market).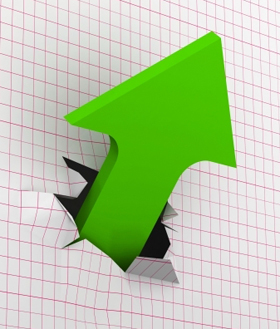 2010 certainly got a huge boost in the 4th quarter when the largest all cash domain sale ever reported - Sex.com at $13 million - entered the record books. That sale helped propel dollar volume for 4Q-2010 45.5% higher than the same quarter a year ago - $40.9 million in 4Q-2010 vs. $28.1 million in 4Q-2009. If you break out .com sales only, the jump is even bigger - 68% better than 4Q-2009 - with reported .com sales volume rising from $19 million to $31.9 million. Still, there was more to the market rebound than the Sex.com sale alone as you will see in the detailed breakdown of numbers below.
Take the ccTLDs for instance. They continued to be a bright spot, rocketing 25.2% higher in 2010 as reported sales rose from $17.8 million in 2009 to $22.3 million in 2010. Even the non .com gTLDs (.net, .org, .info, .biz and others), which have been lagging behind the other categories, registered a double digit increase. They jumped 11.8% from $10.2 million in 2009 to $11.4 million in 2010.
| | |
| --- | --- |
| | As the Sex.com sale amply demonstrates, one or more unusually high sales can skew the dollar volumes from one quarter to the next in a big way. So, we also look at the median sales prices (the number at which half of all reported sales were higher and half were lower). The impact of a few blockbuster sales has almost no impact on the median figure which gives a better indicator of where prices in general are going. |
In 2010, the median price for all sales reported to us (regardless of extension) rose 6% from $2,597 in 2009 to $2,750 in 2010. The .com median did better than that, jumping 16.7% from $3,000 to $3,500. The other categories also improved. The median price for non .com gTLDs went up 11.7% from $1,791 to $2,000 and country codes also improved a bit, going from $2,045 to $2,070.
In addition to increases in dollar volume and median prices we saw more transactions reported in 2010 than 2009. 15,900 sales were reported to us in the year just past vs. 15,600 in 2009. While that wasn't a major difference for the market at large the ccTLDs were a notable exception. They had the biggest percentage jump of any category - soaring 25.9% from 3,775 transactions reported in 2009 to 4,752 in 2010.
Now let's take a look at most recent quarter (4Q-2010) as that is the freshest market information we currently have available. I already noted the year over year 4th quarter dollar volume increases for the market at large and for .coms above. How about the remaining categories?

Those remained stable in 4Q-2010 with minor movement vs. the same quarter in 2009. The dollar volume reported for ccTLD sales dipped slightly, from $5.9 million to $5.5 million while the volume for non .com gTLDs rose a bit from $3.2 million to $3.4 million (as you can see the non .com gTLDs still trail the ccTLDs by a large margin - the volume of reported country codes sales in 4Q-2010 was 62% higher than the volume for non .com gTLDs).

When you look at the more telling median prices, all categories were stronger in 4Q-2010 than the same quarter a year earlier. The median prices for all extensions enjoyed a very healthy 27.2% jump from $2,200 to $2,800. Taken alone, .coms saw their median price rise

12.9% from $3,100 to $3,500 while ccTLDs moved up slightly from $2,132 to $2,150 and non .com gTLDs saw a 10.4% bump from $1,888 to $2,085.
Regarding medians, again remember that we start tracking .coms at $2,000 and all other extensions at $1,000. If we threw out the ccTLD & non .com gTLD sales below $2,000 (so that their medians would be based on the same range as .coms), then those non .com median prices would be considerably higher. We will probably do that in future reports to give you still another perspective on aftermarket sales.
In summary, we are starting off the New Year on an upswing. No ones knows what tomorrow will bring, but the momentum looks to have shifted decisively back to the upside for domain sales prices. Let's hope the train continues to gather steam as we continue through 2011!
*****