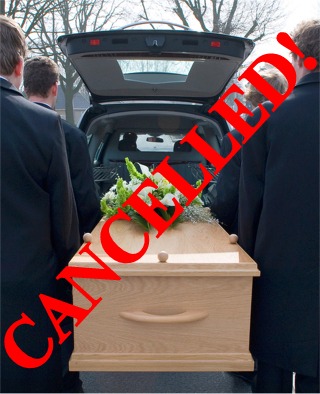 Funeral image from Bigstock
A funny thing happened on the way to the funeral - domain parking got out of the coffin and jumped from the hearse! How many times in recent years have you heard that domain parking is dead? If that is the case, then you have to ask why have so many new competitors entered a supposedly dying space - and why are their clients giving them such good reviews?

We've told you how Frank Schilling upended the domain monetization business with InternetTraffic.com. Fellow newcomers include Donny Simonton, who has quietly been making waves at Voodoo.com, and two new powerhouses based in Europe, Rook Media (who we will be doing a story about next month) and ParkingCrew.com, who I'm going to tell you about today.

Looking for some answers to why domain monetization seems to be enjoying a comeback, I connected with ParkingCrew's three founders; CEO Nico Zeifang, COO Stefan Wiegard and CTO Mario Witte. While their company is new, these guys, like Schilling, Simonton and Rook Media team, are no strangers to the domain
Zeifang grew up in the medieval town of Ravensburg, Germany where he spent the first 19 years of his life. By the time he was 17 he had already registered his first domain name. "I immediately caught the domaining bug and shortly afterwards spent most of my childhood savings when I acquired Hacking.net for $1,000," Zeifang recalled. "I flipped the domain to a security company for $4,500 a few weeks later and have been part of the domain game ever since!"

After he graduated from high school, Zeifang moved to Munich where he spent almost a year doing community service at a school for the deaf. While there he also acquired the domain Handys.at (an Austrian ccTLD that means "cell phones" in English). Zeifang paid Ä1,500 for the domain but managed to resell it for a whopping Ä35,000! That transaction really opened Zeifang's eyes and prompted him to incorporate his own domain related company.

He also continued his education, earning a bachelors degree in business administration from the University of St. Gallen in

ParkingCrew CEO Nico Zeifang at age 17 performing at a Ravensburg town festival. He registered his first domain that same year.

Switzerland and a masters degree in accounting and finance from the London School of Economics. Now armed with a sound education in both business and domains, Zeifang's company acquired and sold domains such as NY.org, NYC.org, Opium.com and thousands of others.
During that process Zeifang learned something. "While buying, parking and selling was a very profitable business, it didnít scale too well. That is part of the reason I became a partner in Team Internet (the parent company of ParkingCrew)," Nico said. "The other reasons are the fantastic group of people I work with as well as the strong desire to create a domain monetization company from domainers for domainers."
ParkingCrew COO Stefan Wiegard

COO Stefan Wiegard made it to Munich a good bit earlier than Zeifang did. After being born in the small town of Kempten his family moved to the German metropolis (about a 90-muinute drive from Kempten) when Stefan was just 3 years old. He went to both high school and college in Munich where his introduction to domains came through a desire to develop websites rather than buy and sell names as Nico had started out doing.

"It all started when I was 17 and wanted to build a city guide to bars, restaurants and clubs in Munich," Wiegard said. "I had to teach myself a bit of programming but ultimately focused on the research part of the job by going to various bars and clubs to take pictures and put them on my home page," Wiegard smiled. (As you might expect with his experience, Stefan is reportedly the guy to call on if you need a local tour guide. Wiegard agreed, saying "If any domainer is coming to Munich, just give me a call and I will show you around and have a beer with you. Or two!")
"Shortly after, my site attracted thousands of visitors a day and I asked myself: How do I best monetize this traffic? This was my introduction to the affiliate marketing industry. It was about the same time that I realized there is value to generic domains and I automatically built lists and operated my own drop catcher for .de domains which worked quite well for about 2-3 years and helped me build part of my portfolio," Wiegard said.
"When I got my first Google Adsense account in 2003 I was finally able to scale the build out of my domains and sites since I no longer had to find the best performing affiliate program for each niche but rather simply put PPC ads on my pages. The majority of the money I earned from Google Adsense was reinvested into domains which was part of the reason why our portfolio at times comprised about 100,000 domains," Wiegard noted.
Chief Technical Officer Mario Witte completes the ParkingCrew triumvirate with the high tech skill set every modern online company must have if they want to play in the big leagues. Witte grew up in northern Germany where his did was an engineer for the German Bundespost (that later became Deutsche Telekom).

"I had access to a computer from the time I was around 10 years old and I spent my childhood surrounded by electronics, phones, fax machines and computers," Witte recalled. "Back then software was still on cassettes, the internet was basically unavailable and so I learned to build my own stuff by programming BASIC. Later I also learned perl programming and switched from Windows to Linux."

"My first job in 2001 was at Geizkragen.de (a word that roughly translates to "tightwad"), a small startup mostly known for a website and forum about saving money. Luckily for me they had just started to built an affiliate network and I ended up working on that team of three developers building all of the platform. We

ParkingCrew CTO Mario Witte

were a lean operation and so my work at that time included everything from programming the platform, doing customer support to building our server hardware. A funny side note - the founder of Geizkragen.de was also was a domainer, but frankly I didn't see the value in domain names at that time and probably missed a big opportunity of entering the game relatively early!" Witte ruefully remembered.
In 2004 Witte moved to Munich to work for one of Germany's big affiliate agencies, nonstopConsulting. "It was my job to build the adserver and tracking software and scale it while the company was growing," Witte said. "Just one year later I got to know Stefan while he was doing an internship there. We immediately hit it off and stayed in contact after he left the company. Stefan kept trying to persuade me to quit my safe job and start a company with him. In 2009 that lead to us building our first zero click domain parking platform that, though only available to a select group of mostly German domainers, was so profitable that I saw the potential. After one long night with way too much red wine at Nicoís place, we wound up starting Team Internet!"
By that time Nico and Stefan had already known each other for several years, having first connected online in 2001. Two years later they met in person for the first time at at a Domainer Roundtable during Oktoberfest in Munich. "We soon realized that we shared the same mindset and a close friendship developed (Stefan was one of my best men during my wedding)," Zeifang said.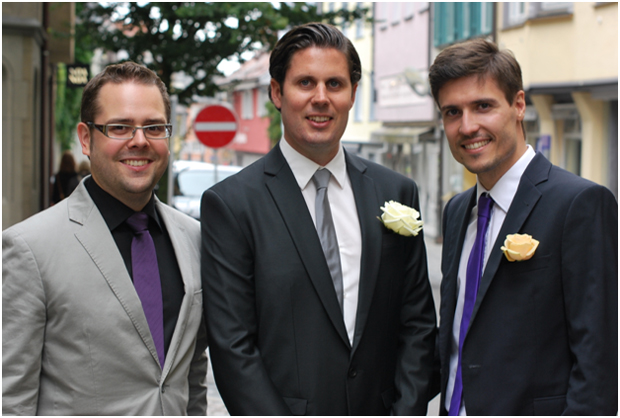 (L to R): ParkingCrew Co-Founders Mario Witte, Nico Zeifang and Stefan Wiegard at Nico's wedding.
Still It wasnít until 2007 that Nico and Stefan started doing business together, pooling most of their domain related investments in a joint holding company. "Mario clearly was the missing piece of the puzzle," Zeifang said. "Neither Stefan nor I are very technical people and the fact that Mario is an all-around great guy made him the perfect choice to be CTO for Team Internet. Despite spending 60+ hours a week in one office (the three of us have shared a room since the very early days of Team Internet) we spend a lot of free time together and often meet for dinner or cook at one of our places at the weekend (luckily our girls get along very well too)," Zeifang said with a smile.
As CEO Zeifang said, "I try to focus on the big picture. We have successfully launched two products that achieve great synergies (our publisher product ParkingCrew.com as well as our advertiser product DNTX.com) and we have big plans ahead (watch out for more domain related products being launched in the upcoming months). At the same time, I am still actively involved (on a day to day basis) in most of our bigger initiatives such as the implementation of new upstream feed provider technology and ad formats at ParkingCrew. Basically any initiative that has to do with AB-testing and data as I love to crunch numbers and fine tune the system for those few extra percentage points of performance. Our ParkingCrew team reports directly to me while Stefan oversees DNTX and Mario has to juggle both tech teams simultaneously."

Of his COO duties, Wiegard said, "Finance is the biggest part of my day-to-day business: analyzing revenue numbers, calculating cash flows, accounting, payouts to ParkingCrew customers and invoices to DNTX advertisers. We made sure that everybody had a clear understanding of his responsibilities within the team: Nico was responsible for biz dev and international markets from day one. Mario focused on tech and scalability. A lot of people warned us that friends shouldn't get involved in a joint business as usually this doesn't end well. I am very happy we didn't listen and proved them wrong!," Wiegard smiled.

Witte said his biggest challenge as CTO was getting ParkingCrew's optimization algorithm right. "While testing our feeds with our internal traffic we quickly found that our job wouldn't be done with building a few nice templates and throwing an ad feed on them," Witte said. "This was when we started to invest into a self-learning optimization technology that to this day keeps us ahead of the competition and allows us to operate with a very small team consisting mostly of tech people."
Witte added, "I spend a lot of time keeping in touch with our customers on tech issues and also keeping the technical side of our partnerships with other companies alive. And then there is the internal foosball league that requires quite a bit of attention!," Witte laughed.
Now that you know more about who Nico, Stefan and Mario are - let's get to how they have found success in a business that was supposedly dying. "I strongly disagree with the notion that parking is a dying business," Zeifang declared. "While we certainly do not see the same sort of payout levels that we saw in 2007, I havenít come across many businesses that can provide such a stable level of passive income as the asset class of domain names while being highly scalable."
"Nevertheless, I can understand where the perception of parking being a declining market came from and even though this might sound crazy, thatís why we entered this market. We owned a significant portfolio of domains ourselves and experienced the rapidly declining revenues first hand. At the same time, a lot of what we thought was valuable customer feedback we had given to the existing domain parking companies out there simply went ignored. Team Internetís motto is ďIdeas. Change. MarketsĒ and with ParkingCrew we set out to change a market," Zeifang said.
"The only thing we knew about parking came from a customer perspective which in hindsight forced us to do what makes us successful today: we had to learn everything from scratch which quickly made us focus on auto-optimization, continuous AB testing and crunching millions after millions of datasets in order to improve our learning-algorithms. This philosophy has allowed us to scale very quickly without having to significantly increase our headcount. Today we are still a very small team which allows us to keep overheads low and rev shares high which certainly contributed to our success," Zeifang added.

Zeifang said constant innovation is also critical to the company's mission. "We have two major initiatives taking place at ParkingCrew right now," He noted. "One involves the User Interface and will make navigation even more intuitive. The other initiative is on the performance side (revenues) and includes incorporating new upstream feed provider technology, experimenting with new ad formats and constant AB testing. First results from this

i

nitiative look great (overall up to 10% improvement with individual domains and portfolios improving by up to 25%) and we will be rolling this out across the platform in early Q2-2012."
Zeifang added, "Recently we also we unveiled Sales Navigation (improved features to manage For Sale settings), Seller Intelligence (it allows the user to find out more about the person that made the offer) and Compare Tool (an easy way to compare stats for two different timeframes to find out why exactly earnings went up or down)."
The ParkingCrew team also thinks having their home base in Europe works in their favor. Wiegard said, "I think the major advantage we have gotten from being located outside of the US is the understanding that the majority of internet users are located outside the US and that the audience a domain parking platform like ParkingCrew attracts is truly global. This has helped us to realize that every visitor that hits our platform contributes to the bottom line and needs to be monetized to the max."
"While most domain parking platforms know how to monetize a US visitor, the more exotic the location of the visitor gets, the less companies understand how to make the most of that single visitor. The same is true for device targeting: mobile phones, tablets - they all require special attention and are monetized differently," Wiegard noted.
In a closing note Wiegard said this about his ParkingCrew teammates, "They are exactly the sort of people I always dreamed of working with: innovative, unbiased (they let the numbers speak and the users decide), open-minded and just all-around great personalities that I really enjoy spending time with at and after work. I think it is this chemistry that really makes this a great team."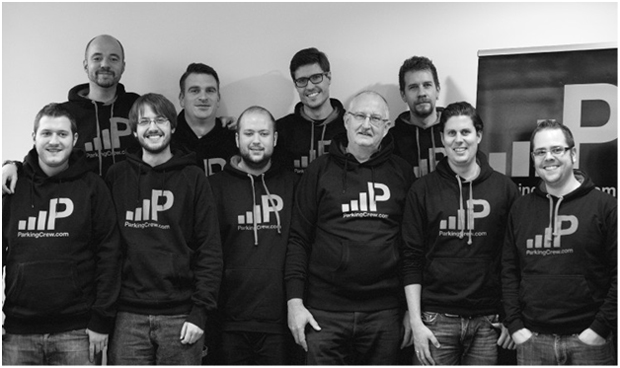 The ParkingCrew team
For a cool two-minute video summary of the ParkingCrew story, check out this clip at Vimeo.