At the 2014 T.R.A.F.F.I.C. West conference that closed in Las Vegas at the end of May I presented a report on how 2013 domain sales compared to the previous year. I haven't had a chance to get those numbers down in article form until now, but I think you will find them worth waiting for.
The numbers are based on sales reported to us by most of the leading aftermarket platforms as well as many private sellers. Those numbers are used to compile our popular weekly domain sales report that comes out on Wednesday evenings. Of course, the reported sales represent only a fraction of the overall market because the majority of sales are never reported. Even so, the tens of millions of dollars worth of sales we do record each year give us some useful insight into market trends.
Before we get to the year over year comparisons let's touch on the closing quarter of the year because I just released results for that time frame for the first time at T.R.A.F.F.I.C. as well. At first glance, 4Q-2013 was a bit of a downer with the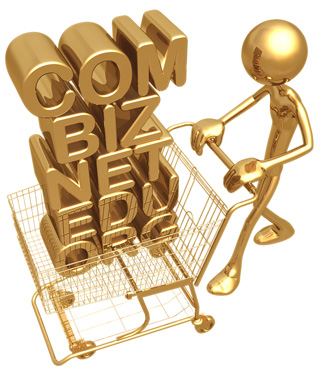 TLDs in cart image from Bigstock
total $ volume of sales reported to us, $26.9 million, representing a 13% drop from the $30.8 million reported in the previous quarter. However, upon closer inspection we saw that a single domain sale accounted for all of the drop off and then some! 3Q-2013 was the quarter that the year's biggest sale - IG.com at $4.7 million was reported. That one, bigger than the top three sales in the 4th quarter put together, easily made 3Q-2013 the best quarter of the year in terms of total $ volume.
The IG.com sale also demonstrates how just one or two big sales can skew that one metric. That's why we also look at other standards, like median sales prices - metrics that showed 4Q-2013 improving over the previous quarter as well year over year in other comparisons. In fact, even by the total $ volume standard, 4Q-2013 was up 3% over the same quarter a year earlier.
Percentage increases image from Bigstock

4Q shined even brighter in the median sales price competition. The median is the point at which half of all sales reported were higher an half were lower - a standard that, by eliminating the impact of an ultra high sale or two at the top, gives a truer view of the overall market. In 4Q-2013 the median price of all sales reported to us jumped 9% over the previous quarter to $2,900 and also improved 5.5.% vs. the same quarter a year ago. (Keep in mind that we do not track sales below four figures so our medians are higher than would be the case if we tracked the lowest end of the market as well).

Now let's move on the full year comparison between 2013 and 2012 and also dig deeper by breaking out comparisons in sub-categories like .com only, ccTLDs, and non .com gTLDs. We'll start at the highest altitude, total $ volume across all extensions. In 2013 $101.9 million worth of sales were reported to us - a very healthy 13% jump from the $90.4 million reported in 2012. When you break out .coms only - they rose more than the overall market, soaring over 18% year over year on reported 2013 sales of $79.9 million.
The other categories were not as fortunate. The ccTLDs saw a 9.5% drop in total $ volume in 2013, sliding form $14.7 million in 2012 to $13.3 million last year. Meanwhile, the non .com gTLDs (.net. org, .info, .biz and others) treaded water, eking out a 1% gain with $8.6 million in sales in 2013 vs. $8.5 million the previous year.
However, when you look at median prices all three categories had something to smile about. Median numbers tend to move in small increments because it takes a lot of sales the move the dial in either direction - again making that number a better barometer of the market as a whole. Across all extensions, median prices were up 2.6% (to $2,750) in 2013. .Coms only again fared better than the overall market with medians rising 2.6% to $3,180). The ccTLDs, despite seeing a significant dip in total $ volume, could celebrate a 1.6% improvement in median prices (to
$1,958). The biggest surprise had to be the non .com gTLDs 4.9% rise in median prices (to $1,888), the best percentage gain of any category for this metric.

As good as the 2013 year over year numbers were, the opening quarter of this year was even better - way better! The numbers make it look like the market has finally broken free of the recession with some exceptionally high percentage gains. I'll be breaking down 1Q-2014 for you, against both the previous quarter and the same quarter a year ago, in my next newsletter.

1st Quarter image from Bigstock